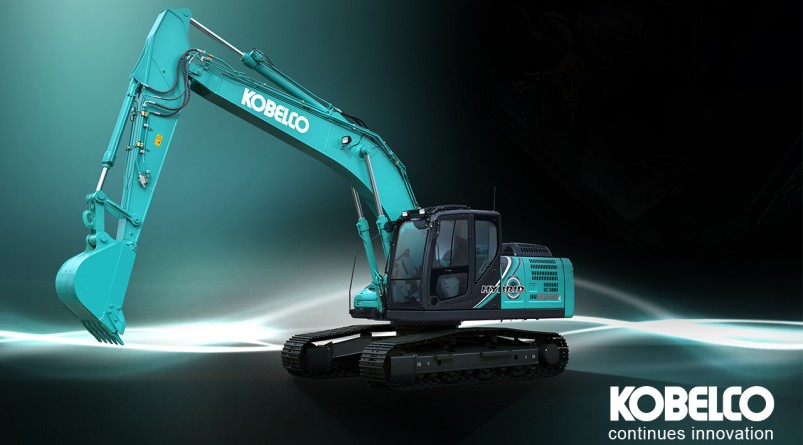 WHY KOBELCO HYBRID?
Kobelco is the 1st in the construction industry introducing Lithium-ion technology
Kobelco is the 1st in the construction industry introducing a 20 ton Hybrid that complies with Stage IV
Kobelco has the industries smallest CO2 footprint
No compromise to performance; production volume is equal to our standard -10 machines
Kobelco has 17 years of R&D into hybrid technology combined with Power Meets Efficiency
25kW large-scale generator motor to charge the battery, drives the swing motor or assists the engine and results in drastic improvement of fuel efficiency
Revolutionary Hybrid that delivers
the future today
More workload with less fuel = Power Meets Efficiency
Kobelco achieved both low fuel consumption and high efficiency with the newly developed hybrid system and the new hydraulic system.
With the newly adopted lithium-ion battery and high-output generator motor, the production volume is improved in all modes compared to the conventional hybrid machines.
Especially in H mode, more than 7% of production improvement was achieved compared to the conventional models. Of course, the fuel consumption has also improved significantly by 16.7% compared to the conventional standard machine. We are making full use of unprecedented, advanced technology in the industry.
SK210HLC-10 actually pursued not only low fuel consumption but also a large workload, and it will transform the concept of hybrid excavators.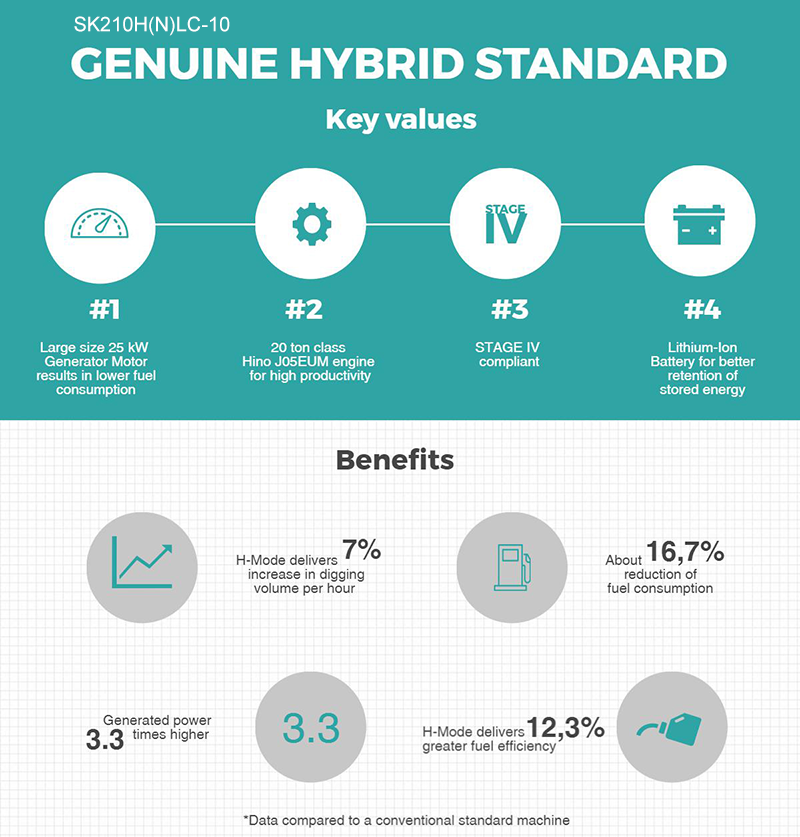 Kobelco continues innovation
Reduction of the impact on the environment is a common practice in the recent construction machinery industry.
In 2006, KOBELCO released the first hybrid excavator SK70H with fuel efficiency improved by 40% compared to the conventional machines in the same class. Then in 2009, sales of the hybrid excavator "SK80H" started. In 2012, the 20-ton class SK200H-9 was released, which established Kobelco as "the leading company in fuel efficiency".
And now we developed the SK210HLC-10, showing its true value of "genuine hybrid" and breaking the common sense of conventional hybrid machines.
OUR DEALERS
Use our intelligent dealer locator to find your nearest Kobelco Authorised Dealer.