A new step for Nicolas Service
Location: France
Kobelco dealer: TP Blanchard
Customer: Nicolas Service
Operation location: Normandy, France
Operator: Nicolas Lecompte
Three years ago, Nicolas Service in Normandy, France was a fledgling construction business specialising in landscaping, earthmoving and public works. Owner, Nicolas Lecompte, had just one machine at the time: a Cat 302.7 with an Engcon tiltrotator, but the business was growing so quickly that he needed to think about expanding his fleet.
However, to meet the varying requirements of his customers, Nicolas needed a machine that was capable of high productivity and versatility – a machine that could operate on small projects (often with a restricted working area) such as swimming pool construction, to much larger construction projects.
The machine Nicolas decided to purchase from his dealer, TP Blanchard, was a Kobelco SK140SRLC-7. This machine is one of the Japanese manufacturer's latest in a long line of powerful and efficient 14-tonne excavators. The Isuzu Motors Ltd 2,999cc turbo charged diesel engine has been created to be emissions standard Stage V compliant, while at the same time gaining a significant 10% increase in engine output (compared to the SK140SRLC-5). The performance increase ensures no loss of power on gradients and with heavy bucket loads and delivers a Drawbar pulling force of 140kN. Complete with a new hydraulic control system, digging cycle time has been reduced by 10%, compared with the previous model.
The SK140SRLC-7 is of a new generation of excavators to demonstrate Kobelco's prowess in excavator design and manufacture. Coupled with modern manufacturing processes and customer feedback, Kobelco has always believed that operator care and safety through design is paramount. The SK140SRLC-7 benefits from a modern cabin design with operating controls and systems that feature the latest available technology as standard to boost production efficiency through precise, easy to use and read controls, operator comfort and security. The cabin of SK140SRLC-7 is an arena of ultra-modern, easily accessible operating controls and components comparable to that of premium automobiles. The layout is designed to deliver a new experience in excavator operation, starting with a 10-inch colour monitor – the largest in-cab visual information screen within the excavator industry.
Nicolas chose the long frame configuration with a blade for his SK140SRLC-7, the short 2.38m arm equipped with a variable boom, and an additional 1-tonne counterweight in order to partially offset the additional weight added by the Engcon EC 219 tiltrotator. In addition, as Nicolas wanted to transport the machine himself, he decided to swap the standard metal undercarriage for the BS Geogrip Bridgestone 500mm rubber pads, which reduced the width of the machine by 2,600 to 2,490mm for easier transportation on roads.
With his big investment in new machinery, young entrepreneur Nicolas would like to see an increase in his turnover and has recently trained his employees so that he has more time to make customer visits. "We're going to get there," says Nicolas. "But without taking a risk, there is no chance of success!"
Text supplied and adapted from Louis Roizard, TP&A.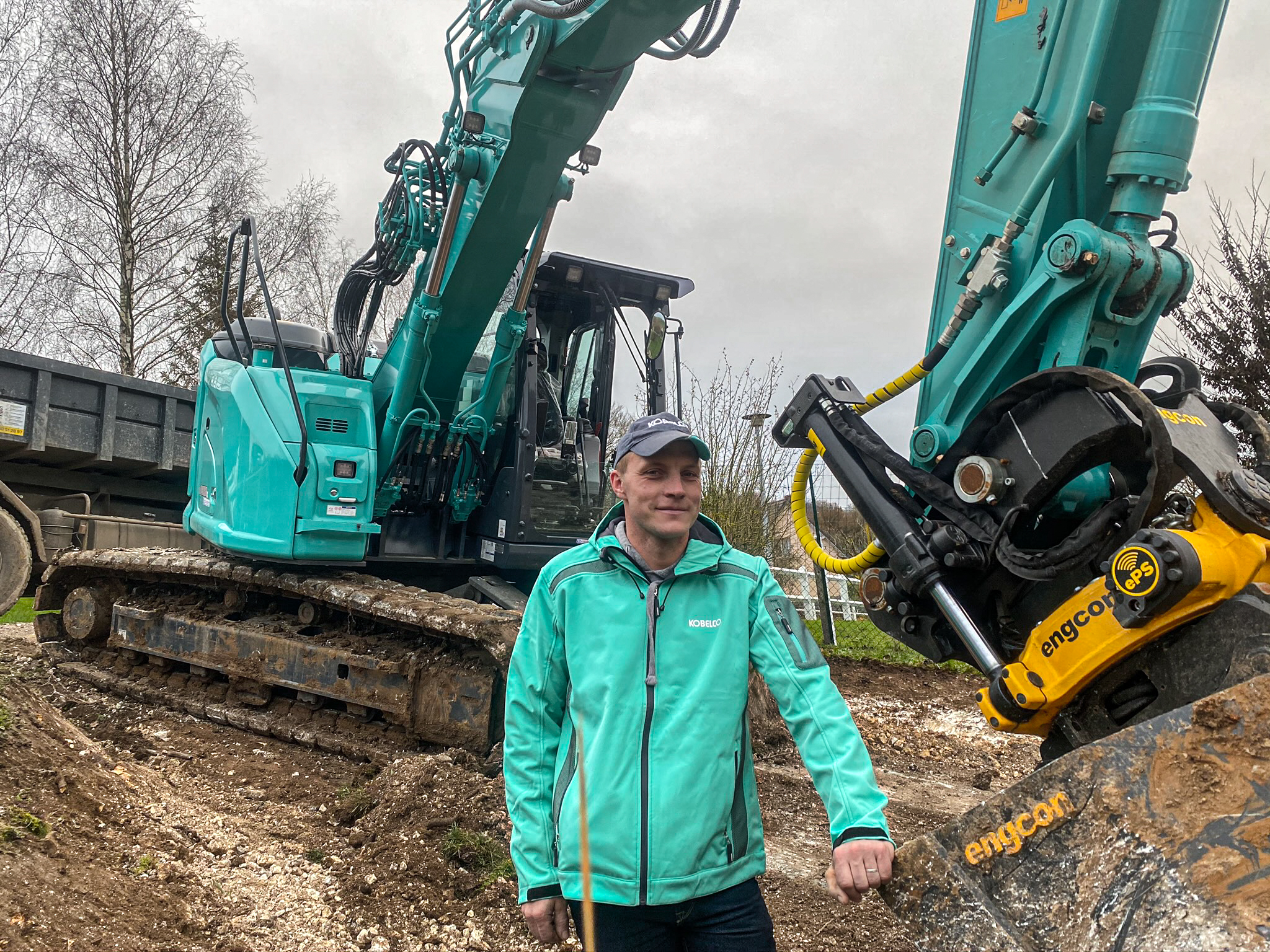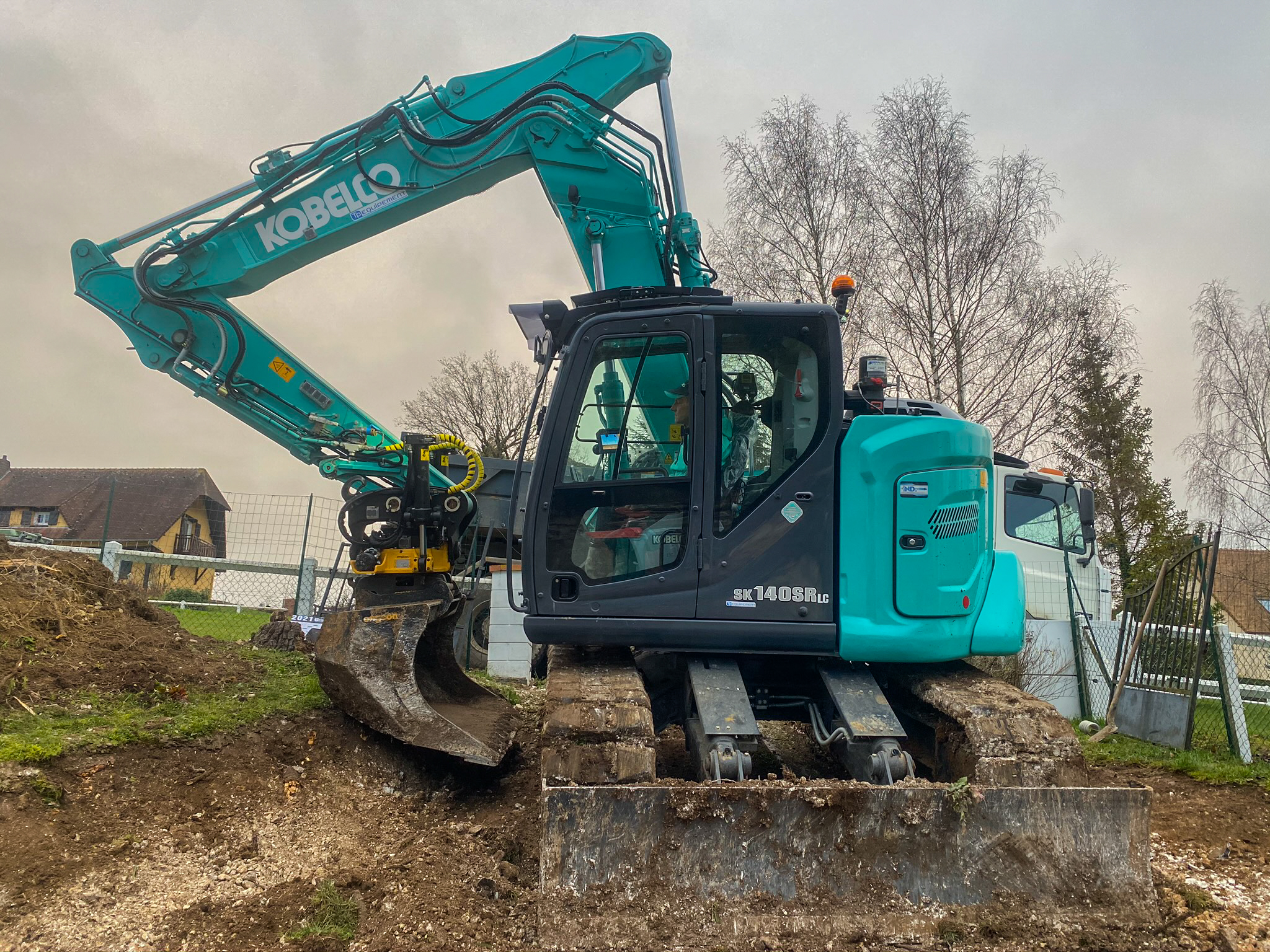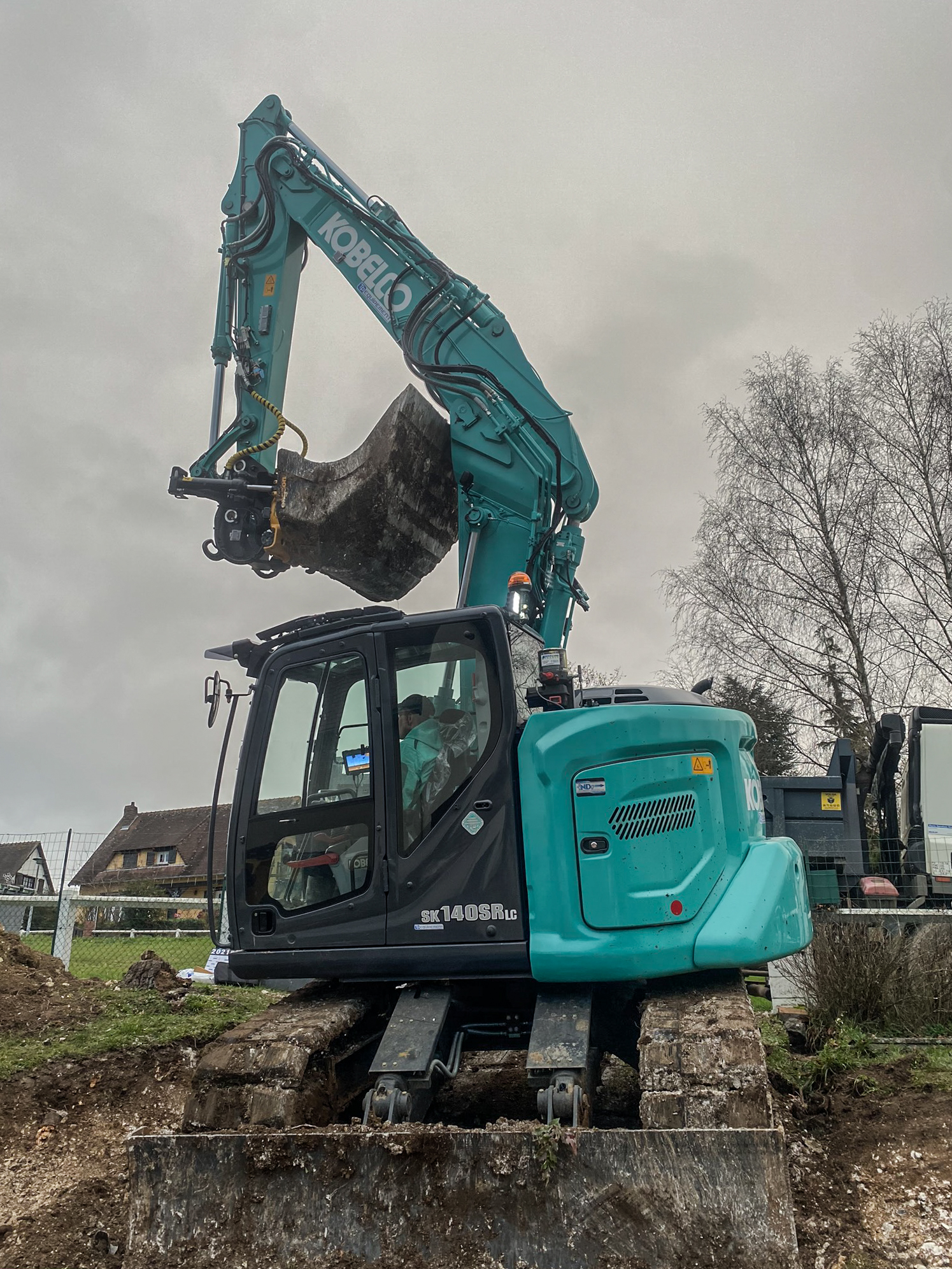 OUR DEALERS
Use our intelligent dealer locator to find your nearest Kobelco Authorised Dealer.