OUR PRODUCTS
Get to know all of our products in our product overview, including the conventional models, demolition & recycling models, mini excavators and the SR Series.
Your search results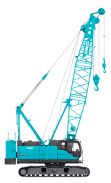 CKE800G-2
Max. lifting capacity
80 t × 3.0 m
Max. combination lenght
42.7 m + 18.3 m
45.7 m + 12.2 m
OUR DEALERS
Use our intelligent dealer locator to find your nearest Kobelco Authorised Dealer.