Norway – where industry is growing
Location: Norway
Kobelco authorised dealer: Beck Maskin AS
Customer: RKS Entrepenor
Machine: Kobelco SK300LC-10
Operation role: Civil construction
Operation location: Askim, a town and municipality in Østfold county, Norway.
Operator: Ole Krusinski, 40
For centuries Norway's industry and lifeblood has been wood production for use in construction and paper products. The times are changing with an upsurge in alternative industry – from craft beer production and construction hire centres to specialist packaging.
Norway is no different to European countries except, possibly and arguably, the quality of manufacture is equal to Japanese and German production. The one major stumbling block to home business growth is the Nordic terrain. Norway is predominantly a land of granite rock, which is a good footing for construction sites but it's problematic in getting groundworks to the required levels.
The site where the SK300LC-10 of RKS Entrepenor presently operates is in the town of Askim, about an hour from Oslo central. Originally an industrial area it is undergoing redevelopment and expansion. There is problem with this in that the present site backs onto housing. In reality, though, it's not such a problem because the SK300LC-10 is very, very quiet even when in H-mode when excavating rocks – huge rocks that have become more manageable once the ground explosives have done their job.
RKS Entrepenor also has a Kobelco SK260LC-10 at another location undertaking similar site preparation work and, funnily enough, it is a granite rock throw from Kobelco dealer Beck Maskin AS.

The man
You'd think, on first contact, that RKS Entrepenor is a one man team. Ole Krusinski (40) is the boss but he doesn't sit in an office chair and add up his workers' pay slips during the day. He's the operator of the Kobelco SK300LC-10 – obviously it's the boss's prerogative to play, sorry, work with the latest machinery – which he took delivery of in October 2016. Ole also operates this site's wheel loader and rock crusher, from which graded debris is then used for site hardcore on this or other sites. After talking to Wieslaw Kowaleski, operator of the RKS Entrepenor SK260, it's good to note all of Ole's sites are the same example of efficiency.
So while Ole Krusinski looks and talks like a hardworking operator, under his Kobelco cap and sunglasses is one shrewd cookie; a result of 25 years working in the construction industry, 20 of which have been operating excavators. Efficiency is also the main reason why Ole's RKS Entrepenor runs six Kobelco excavators.
Fuel is an expensive commodity in Norway and fuel efficiency is paramount – Ole nearly fainted when he learnt another construction company used 40,000 litres of diesel in one month. Ole has ten excavators, six of which are Kobelco machines: SK70, 75, 140, 210 and 260, with the latest acquisition being the SK300LC-10.
"I do not have a 500 [SK500LC-10]," says Ole with a thoughtful grin, the sort of look that suggests he's looking forward to owning and operating one. "But maybe very soon, I hope – if the diesel gets cheaper – I will buy one. Seriously, the company is changing a little bit. We are going for bigger and bigger works, so more staff, more machines… and more diesel." Although Ole jokes about diesel usage, you can tell fuel cost plays on his mind. And this is just one of the reasons why he chooses to run Kobelco excavators.
RKS Entrepenor's association with Norway south's Kobelco dealer Beck Maskin AS stretches back to 2006 and together, according to Christian Beck of Beck Maskin AS, forged a good working relationship. Christian said: "I can say Ole has already sold for us a couple of Kobelco machines by recommending Kobelco to other contractors in the area." Ole's immediate reply to this is in his native tongue, but judging by the laughter it was about pushing for a deal for an SK500LC-10. He then added: "The machine is going to be your best friend. I tell people if you buy Kobelco you don't have problems and you get your money back when you are finished. And you can just concentrate on working and not fixing."
The machine
The Kobelco SK300LC-10 and SK260LC are just two of a long list of Kobelco machines owned by RKS Entrepenor – the SK300LC-10 is the latest arrival. It is used as a universal machine within the civil construction world, but obviously its size and available performance puts ground preparation at the head of its work list. The size and weight of the freshly "blown" rock are comparable to the aftermath of a major rock-fall. It's not just clearing the explosive split rock, but also positioning it close to the on-site rock crushing machine. To avoid disruption as much as possible to the neighbouring houses, the working speed, digging power and bucket volume of the SK300LC-10 help speed up the work.
"Performance is good," says Ole. "For 98% of the time I am working in S-mode when working from track level and up. Only when I work track level and downwards, digging, do I have to use H-mode. This makes it very conservative in fuel usage. It is also strong with good hydraulics that are sensitive and responsive. It is very good to work with and it does most of the time what I want it to do."
Not only does the machine shift seriously heavy and cumbersome loads reminiscent of quarry work, but with an aftermarket hook attachment, Ole has to 'hook' steel cables mounted to large, heavy reinforced rubber mat (made from old truck tyres) and place them neatly and precisely over ground that has been drilled and filled with explosive charges. The rubber mats are needed to prevent shards of rock dropping onto the neighbourhood and muffle the blast noise.
So what other reasons can Ole relate why owning Kobelco machinery is a big deal to him? "The reasons are easy to explain," he says. "A Kobelco is cheap to own, it is not expensive to run. You get affordable running costs and you get a very good price on resale of Kobelco, especially the Short Radius machines… and they don't use so much diesel!"
Ole is the first to admit that he is a workaholic. He's the boss and sets an example, plus he wouldn't have the equipment he has if he didn't work to pay for it. Ole's work consists of an average 12-hour working day, six days a week. He would know, then, what life is like inside a cab of SK300LC-10.
"The cab is very good; I like the cab," he says. "I am 1mt 83cm tall and it is easy to get in and out of the cab. The weather is constantly changing so it is not possible to achieve the right setting on the air-conditioning unit but I'm sure it is the usual Kobelco standard.
"Everything about the controls is ok and in easy reach. There is one thing that needs to be sorted. Kobelco could do something with the seat because it becomes loose and when you swing the arm and stop it has a double effect to the operator. The seat has changed, I think, with the dash-nine models." Of course, a problem area like this isn't a small problem and the reason why a Kobelco warranty is in place and the Beck Maskin AS service team will be visiting very shortly. Or as Ole said: "I get what I need but I don't ask for much. Back up is very good – they always solve any problems."
Team Kobelco was surprised not to see a Roto-tilt unit attached to the SK30LC-10's arm. The reason for the only excavator in Norway not to have one attached is easy to explain. The bucket load size and weight of rock would break the Roto-tilt and for this reason it was locked away securely until needed. But yes, Ole is also a confirmed fan of the accessory Roto-tilt… although his reason for having one is a little more light-hearted: "The workers are too expensive in Norway and that's the real reason why we have Roto-tilt; it's cheaper to have one extra machine. Yes, it is strange but true."
Cost saving is attributed to the fitment of the aftermarket 3D GPS system for perfect site measurement and levels. Ole explains that even though a GPS system is approx. €25-30k it is very necessary now because it takes away the need for the ground workers. Additional lighting provided by Beck Maskin AS is also a must in Norway because of the short daylight hours in winter. Ole's efficiency charge also includes reducing downtime and that's why he paid for the accessory self-grease system.
Ole is quick to return to the SK300LC-10 because, obviously, time is money. While watching him shift huge rocks that fill and protrude from the bucket, we mentally question Ole's comment that the machine "could be a little bit more heavy at the back for stability." He was smiling, though, when he said this.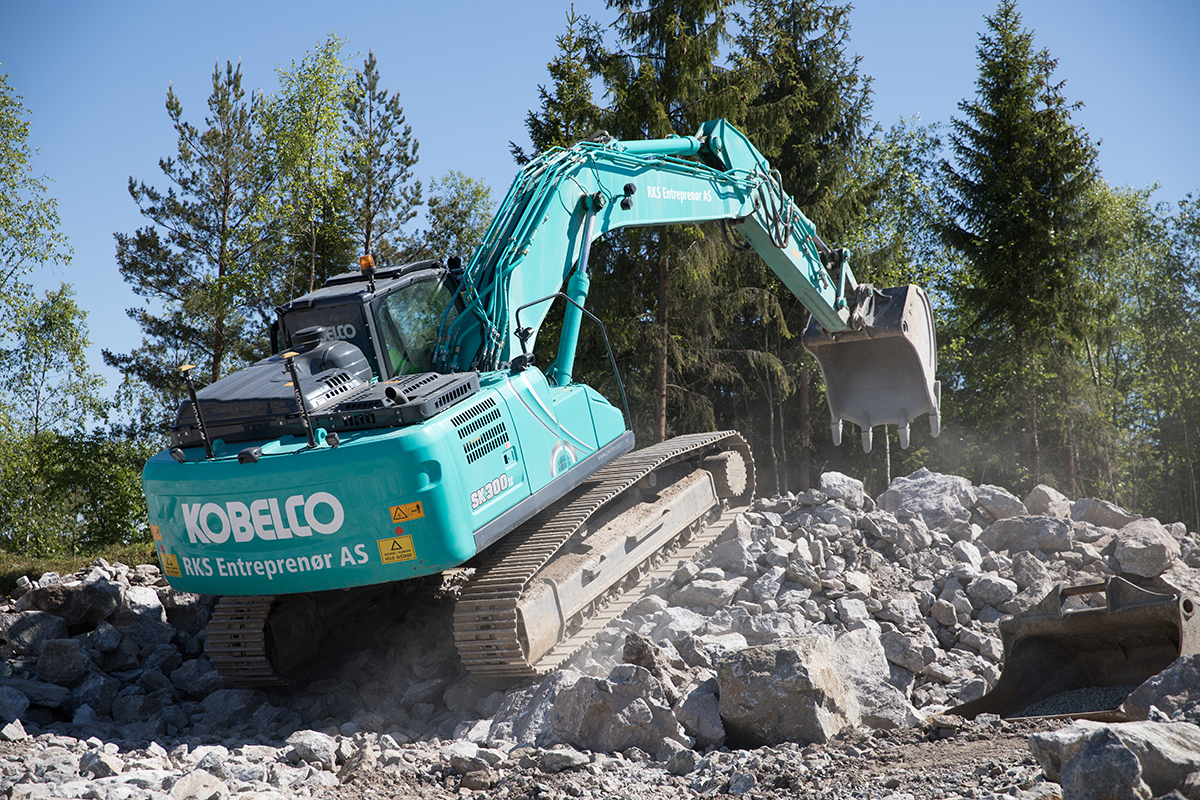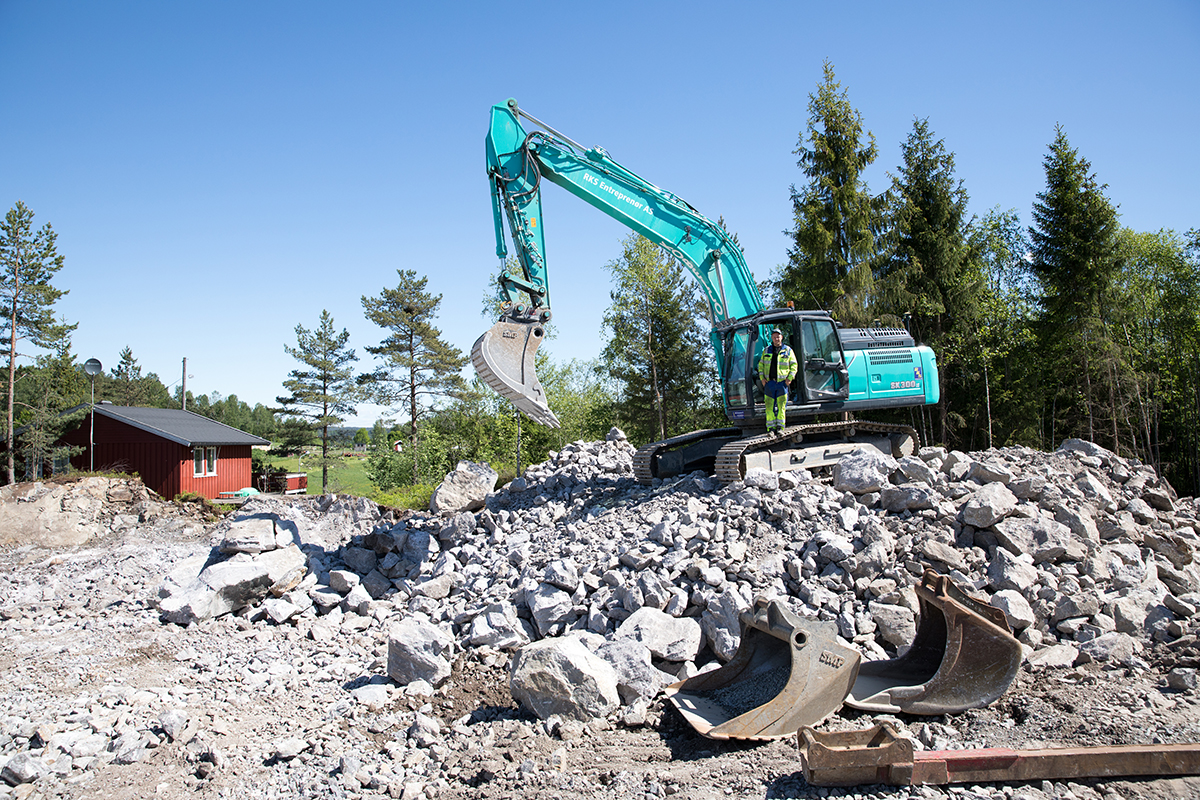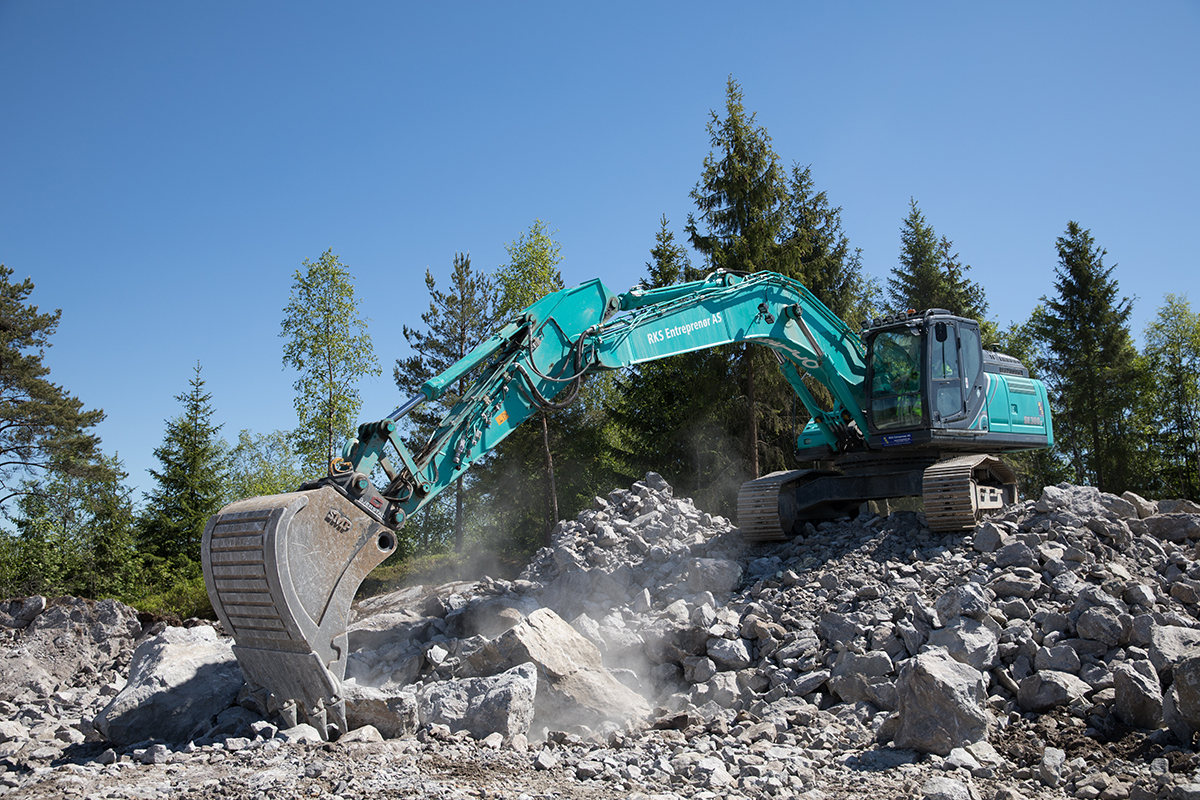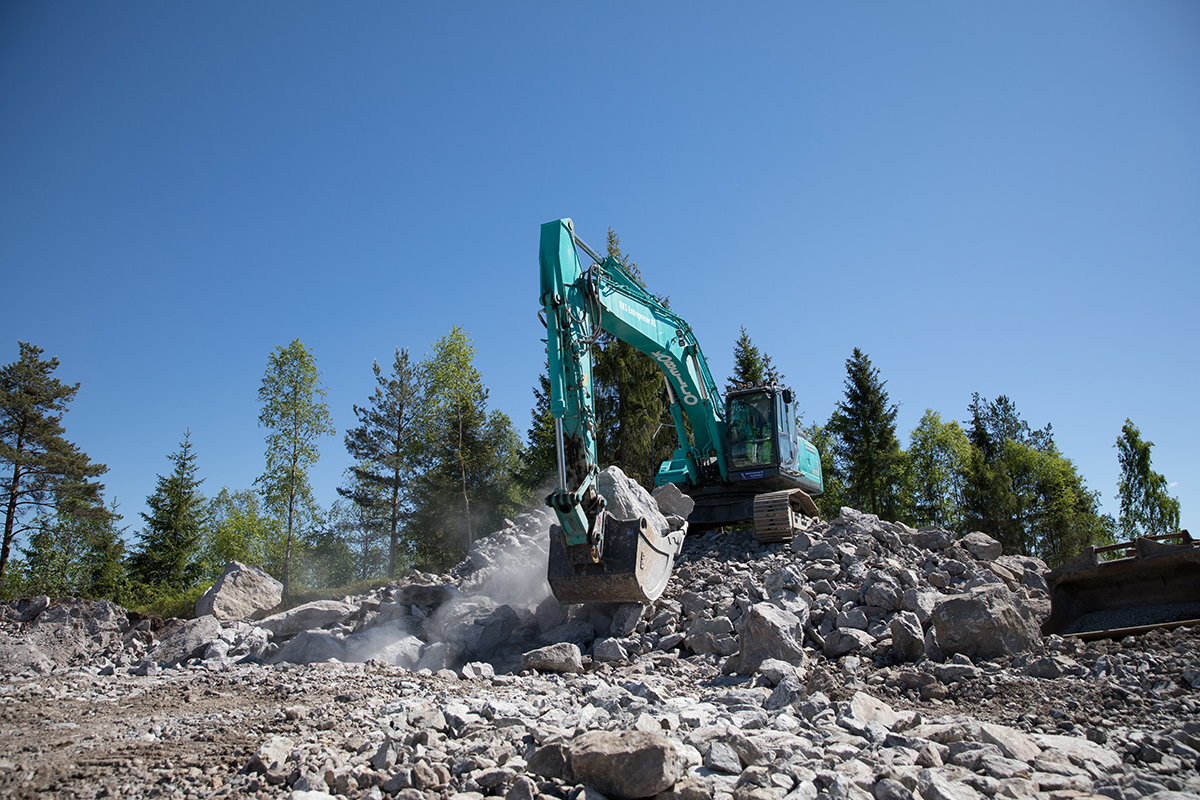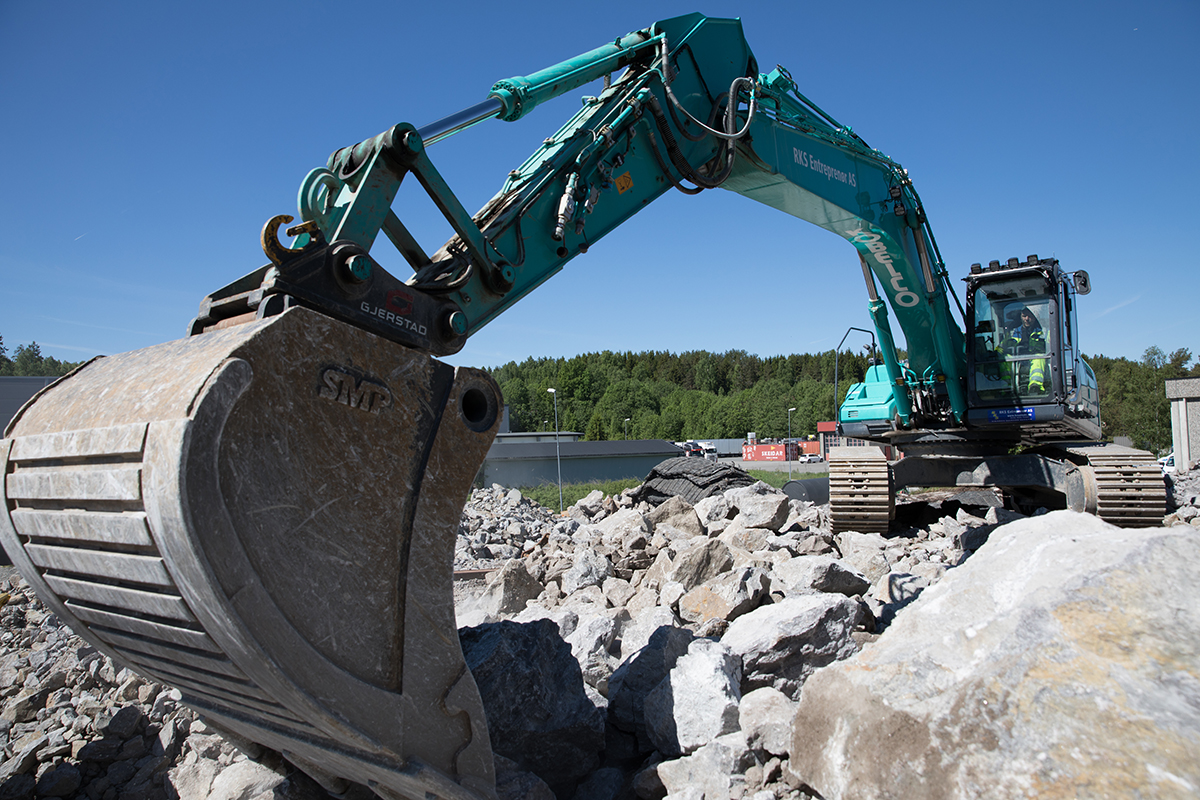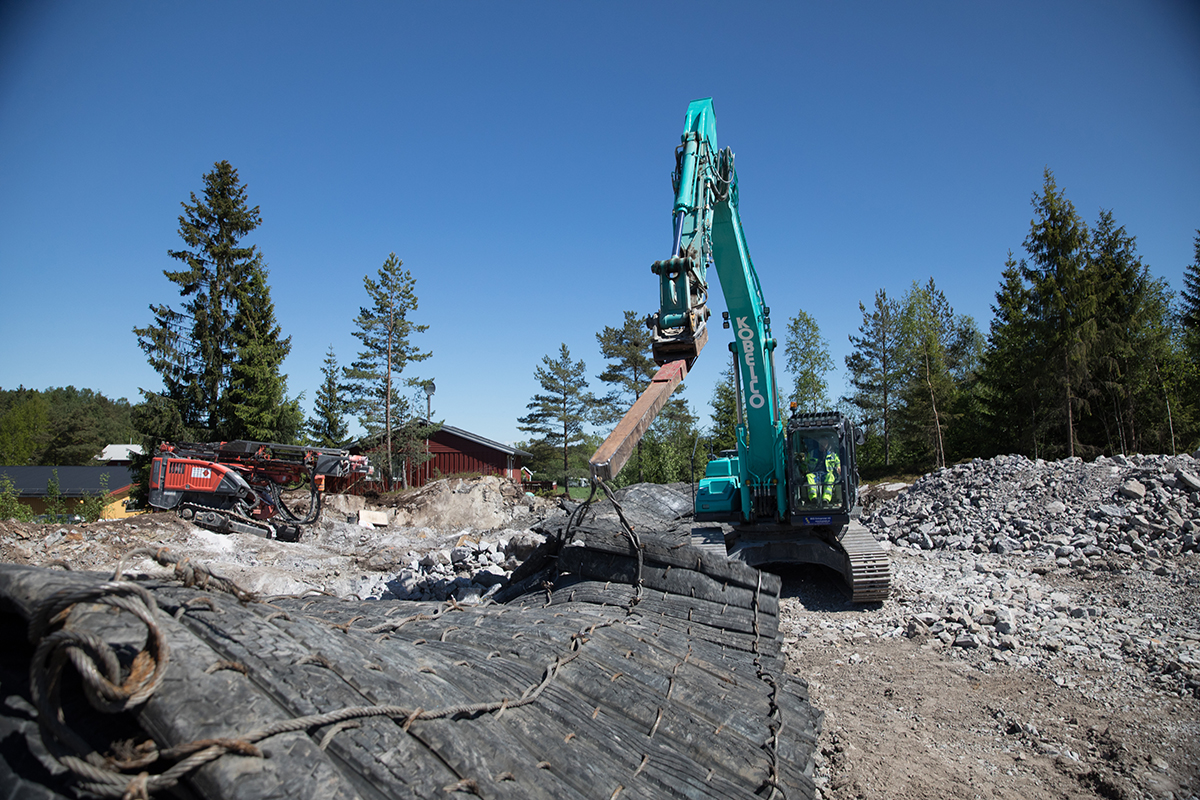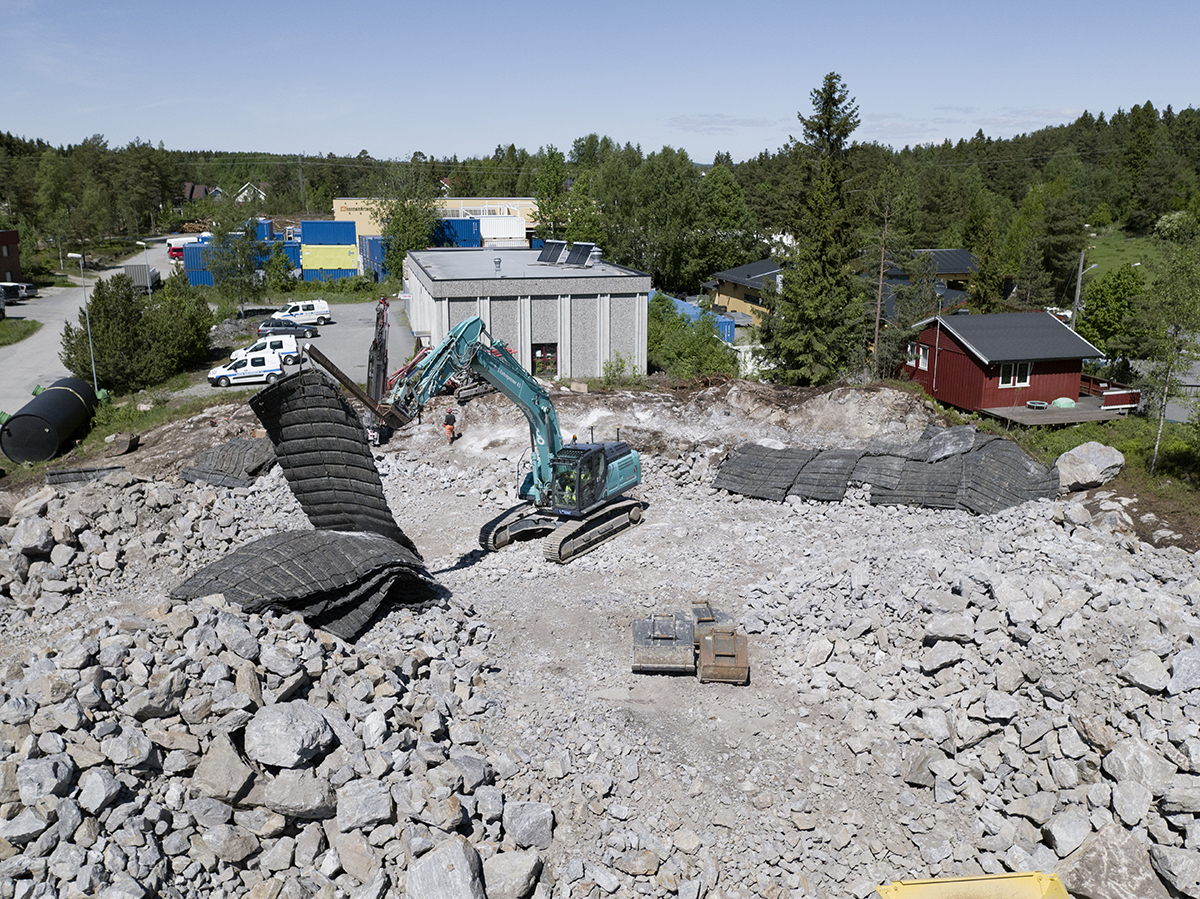 Highlights
Alexander Paulik
Posted 8 years ago
"The fuel consumption is very good. When loading trucks, it consumes about 8,5 liter per hour."
Read more
OUR DEALERS
Use our intelligent dealer locator to find your nearest Kobelco Authorised Dealer.