myKobelco SK210HLC-10
Hybrid excavator
Country: France
Customer: Locatlas
Operator: Yohan Jouanne
Kobelco authorised dealer: Lacampagne groupe Payant
Site operations company: SCAM Travaux Publics
Location: Aquitaine region of southwestern France
Southwest France is famous for many reasons. The Bordeaux area is particularly recognised for its wine production among surrounding natural splendour. Wide-reaching landscapes of forests, lakes, valleys and plains with lush vegetation are nearly all protected areas, such as Landes de Gascogne Regional Natural Park, and remain largely untouched by modern civilisation…
Although barely detectable, pipelines crisscross our lands in order to transport natural gas for use in the chemical industry and for production of electrical energy. These vital pipelines often have to take the most direct route possible, regardless of what stands in their way. For this reason, an army of contractors using specialist equipment are employed to place these pipelines, and also to ensure projects like this have little or no impact on the environment during or after such huge feats of civil engineering.
This is true of one such pipeline near Grignols in France. The only real tell-tale signs that a pipeline is here is the construction of a new gas main substation hidden by trees and what looks like a fresh forest track disappearing into the distant forests. Not bad considering there are two pipelines in the ground running parallel with each other for hundreds of kilometres. Even this manmade scar will blend in to its surroundings within a few years.
Understanding and helping lessen any impact on nature is French civil engineering company SCAM Travaux Publics. This Toulouse-based company was tasked with Transport et Infrastructures Gaz France's (TIGF) pipeline project. SCAM's commitment to minimising global impact includes the use of modern machinery, such as Kobelco's SK210HLC-10 – the first true hybrid excavator in the 20-tonne category complete with Stage 4 (Tier IV) compliance. This particular SK210HLC-10 is a long-term rental machine from rental equipment specialist Locatlas.
Operator of the SK210HLC-10 is Yohan Jouanne, a youthful-looking 30-year-old employed by SCAM Travaux Publics. His looks also hide the fact that he holds 15 years of excavator experience, including operating heavy class machines such as a 45t Komatsu and a 55t Caterpillar. So how did he feel to learn an all-new hybrid excavator would be his next working companion?
"I was excited to start with it," he said. "All excavator operators like to use new machinery. I have been using the Kobelco now for three weeks, long enough to know about it. Even though this is my first experience with Kobelco and first time with a hybrid, it is normal!"
Normal in Yohan's case is the way the machine operates – the controls, the everyday service checks and cabin layout. So what, if any, are the differences he has noticed? "The noise of the Kobelco is very, very low." While saying this, Yohan gesticulates with his arms to mimic the swing of the upper deck with a heavy load. This can be explained easily because the SK210HLC-10's battery drives the swing motor and not the engine.
Because it is late in the day, Yohan is keen to get away from his working site and return to his family, but even so he has time to talk about his Kobelco experience so far and how it compares to other machinery he has used. "Nothing compares to Kobelco in terms of control use especially the swing system," he continues. "The swing of the boom is very reactive, quick and sensitive to input. It is very precise compared to older machines."
As a bystander, it is easy to appreciate just how quiet the Kobelco SK210HLC-10 is as it goes about its working business. The engine does not appear to get louder if it is digging or travelling. Or any other task Yohan puts upon it. It's almost as if it glides silently along rather than simply travels. But then it is equipped with durable rubber tracks instead of regular steel tracks you would normally associate with excavators. The rubber tracks were specified by Locatlas and fitted before being delivered by Kobelco dealer Lacampagne – Groupe Payant. It is not only the lack of mechanical sound that stands out about the SK210HLC-10 but also its colour scheme of silver.
Because the SK210HLC-10 is the first 20-tonne class machine with the latest hybrid technology of a large lithium-ion battery and 25 kW power-assist generator motor, does this new technology create additional everyday service tasks? "No," replied Yohan, before adding, "it is normal in this area, too. Everything is as a standard excavator – the battery and charging systems look after themselves. The self-grease system makes life even easier. It is no different to any capacity or make of machine. As said, where it is different is the machine is very fast in operation plus the controls are soft in use."
However, one area that Yohan does find hard to understand is why there is no side access to the fuel tank to refill with diesel. "We do not use the on-board electric refuelling pump because we keep our fuel in containers on the works vehicles with our own delivery system," he explains. "This means we have to get on top of the machine to refill the tank."
Yohan smiles at the question of does the SK210HLC-10 have enough power for the work required of it. It turns out the hybrid has ample power, and combined with the speed of the swing motor and the battery assisting boom operation, the machine is excellent at maintaining and exceeding productivity levels when excavating.
With regards to fuel consumption, Yohan smiles again. Because stored electric is always available to be used, the Hino engine is never working to its full capacity. Therefore fuel economy is greatly improved. Another plus point from this is the reduction of emissions.
One point of discussion was the carrying of the long pipes to be placed into the ground. Slung from the boom requires delicate control of the boom when travelling. "The one problem we have at the moment," says Yohan, "is that I am doing a lot of pipe work, which involves travelling with the gas pipes attached. If I have to manipulate the tubes while travelling, when I lift the boom it jolts, almost like it jumps and can make it difficult."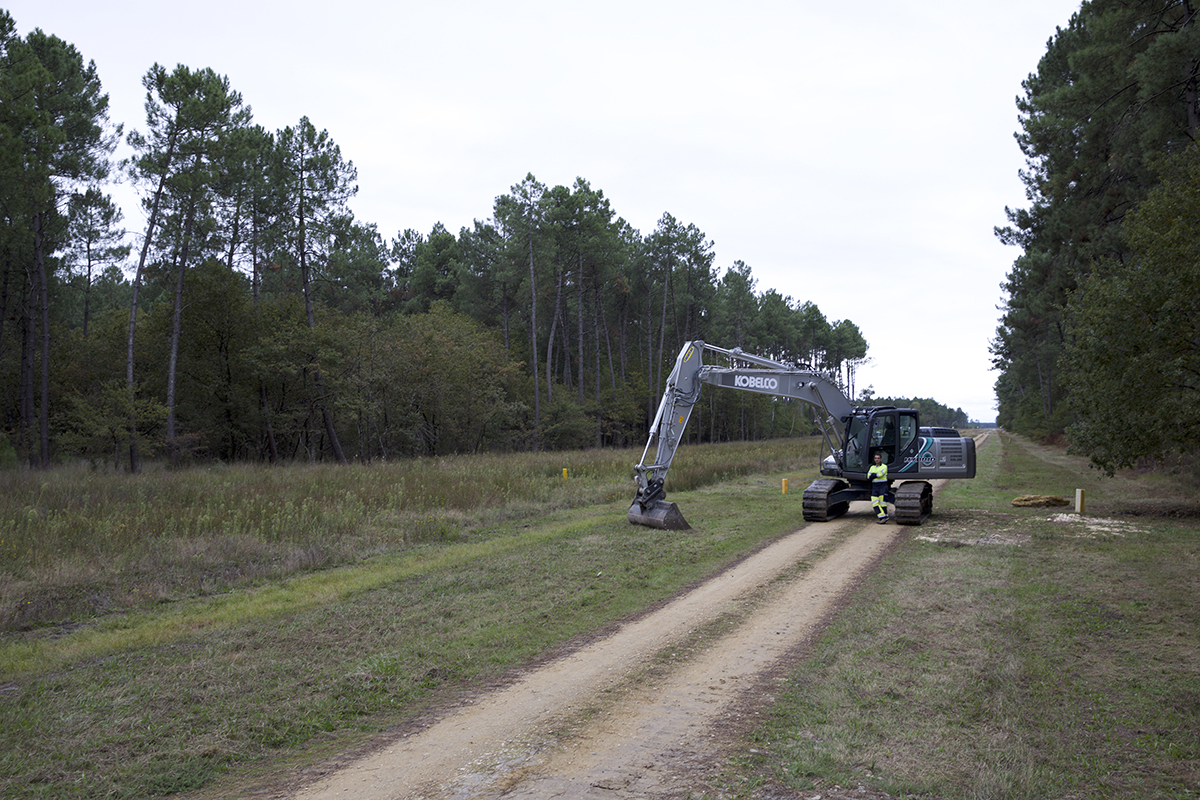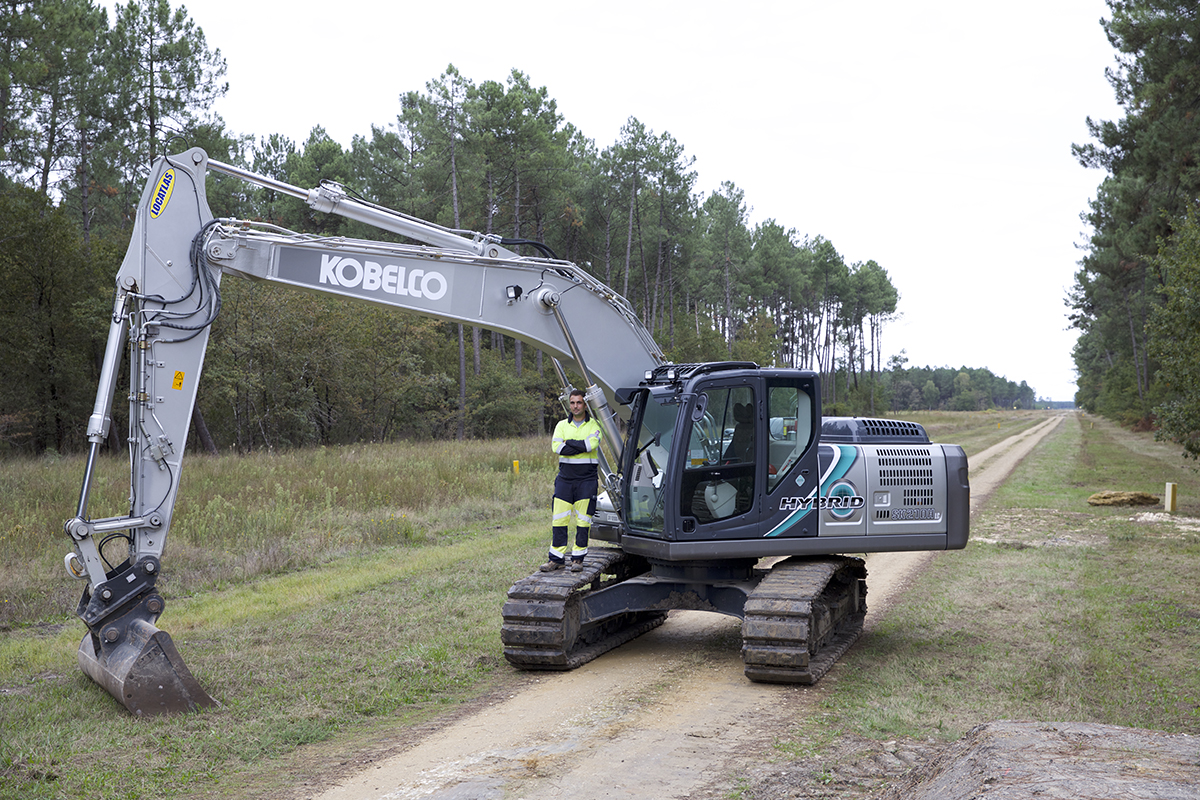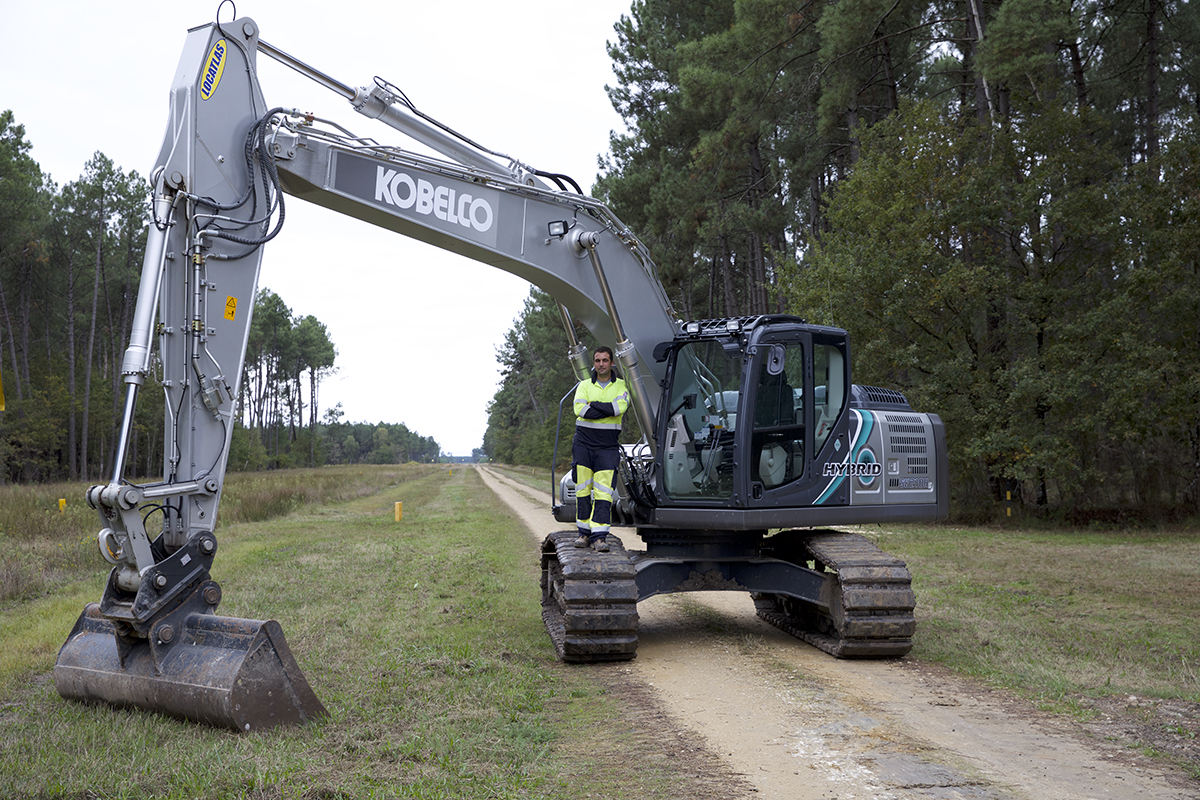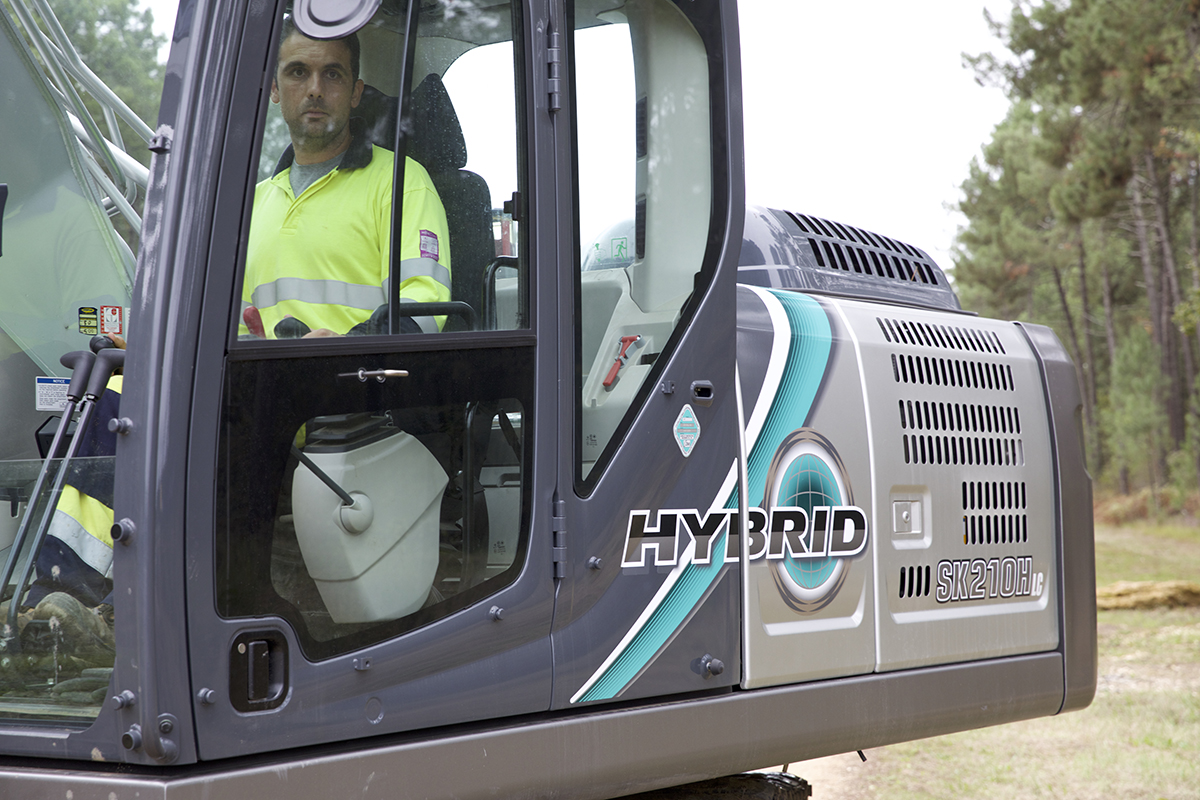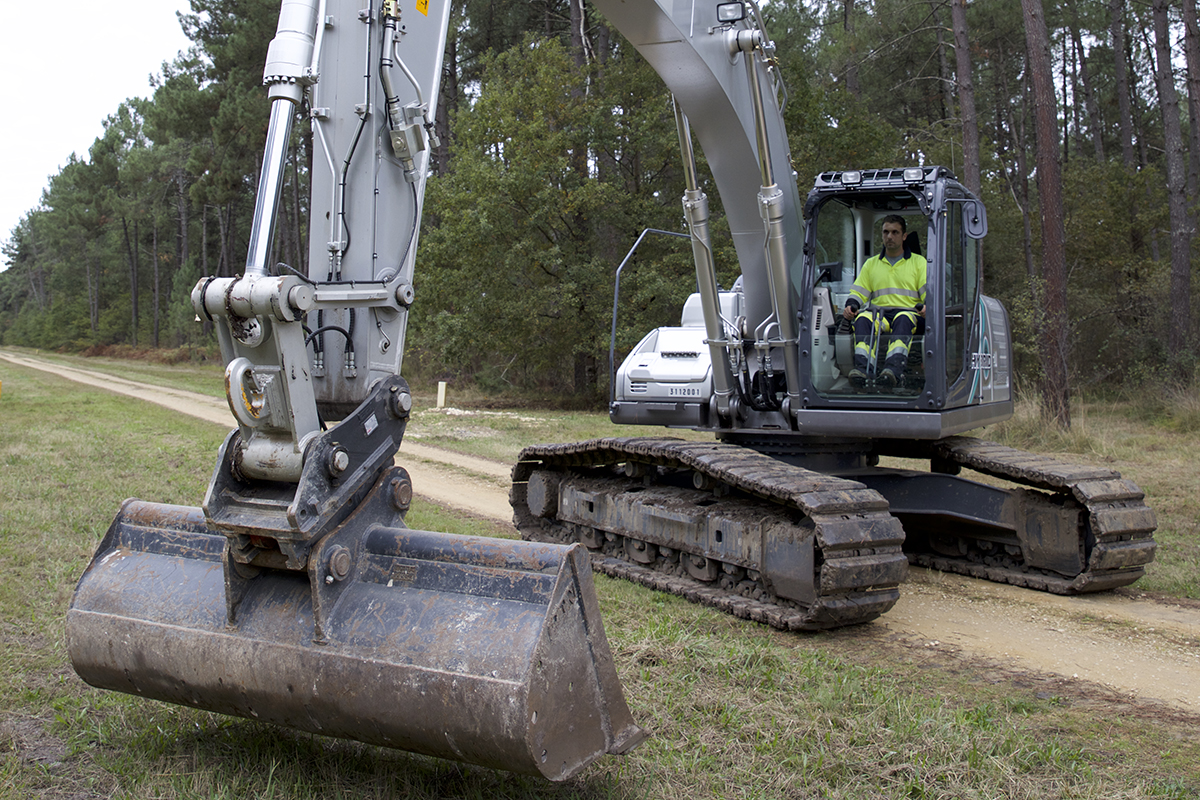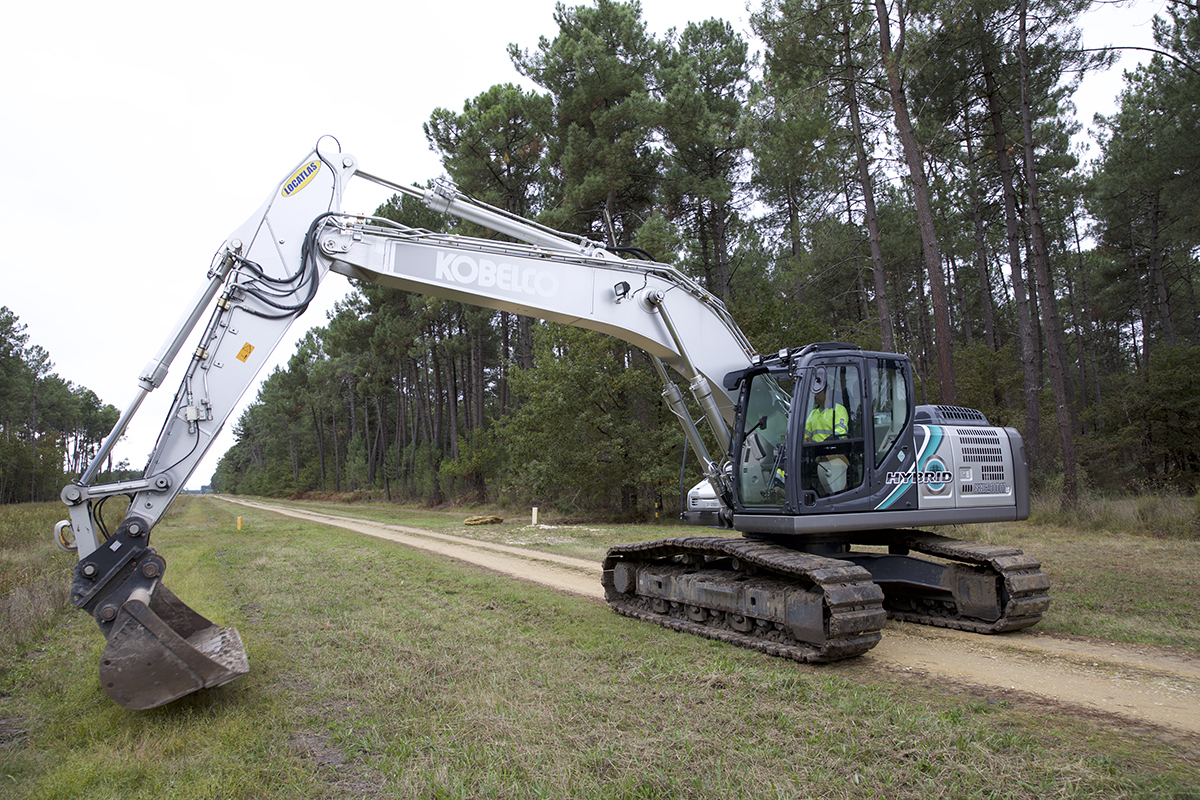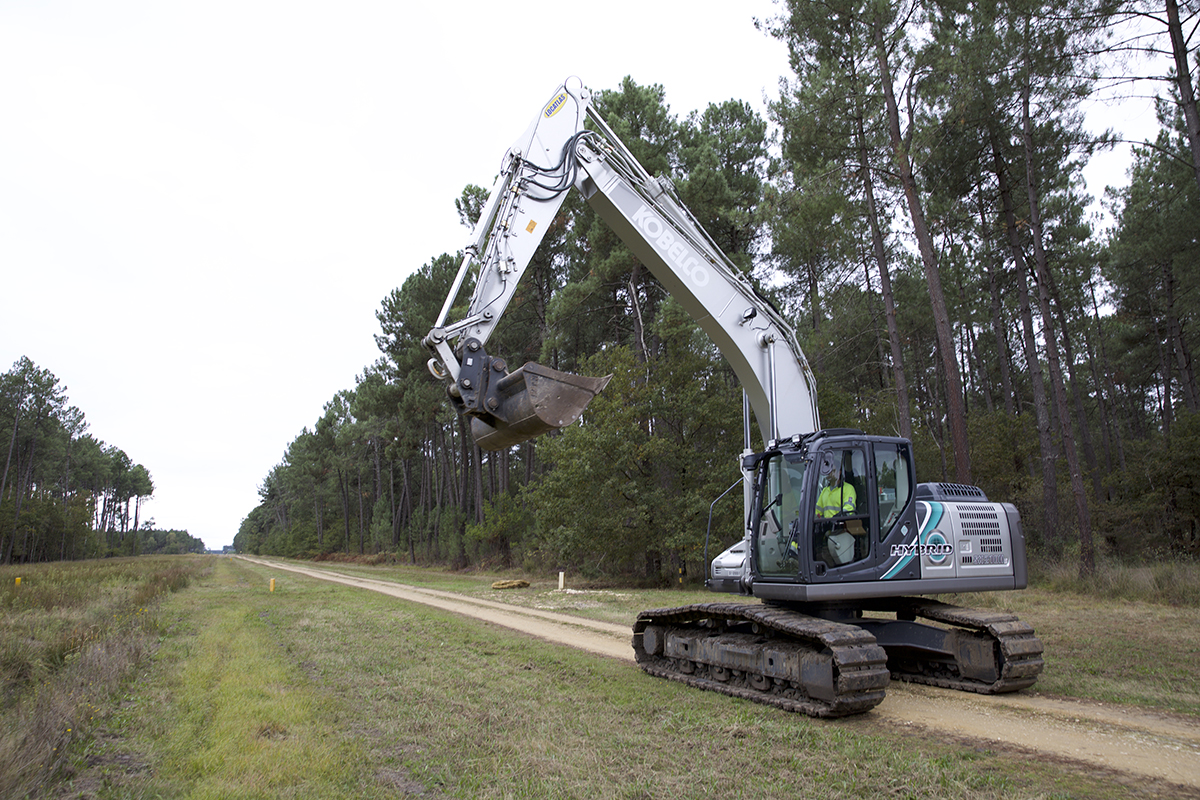 OUR DEALERS
Use our intelligent dealer locator to find your nearest Kobelco Authorised Dealer.