Kobelco Construction Machinery reaffirms its commitment to Europe
09 April 2014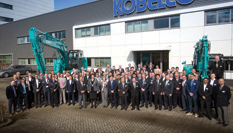 Official opening ceremony of European headquarters signals first European dealer conference
ALMERE, April 9, 2014 – Kobelco Construction Machinery Europe B.V. (KCME) has proved it's here to stay with a series of activity that confirms the Japanese manufacturer's commitment to the region. Yesterday saw the recently established Almere headquarters in the Netherlands celebrate its official opening ceremony followed by the first KCME dealer conference since the manufacturer's return to Europe.
The event underlined the excavator specialist's continued focus on developing productive partners with selected dealers and emphasised the straightforward way in which they will work and communicate with each other.
A major element of the conference was unveiling the new European headquarters, which will provide a direct, efficient and responsive service for European customers, ensuring full aftersales support for the pioneering Japanese technology. This combined with the appointment of in-market business managers has helped the already fast, but controlled dealer network growth.
European dealers who meet the required quality standards have already been appointed in Germany, France, UK, Norway, Sweden, Finland, Switzerland, Austria, Netherlands, Belgium and the Baltic states.
Kobelco Construction Machinery's (KCM) commitment to Europe was further emphasised by the attendance of three key business leaders at the event: KCM President and CEO Mr Jun Fujioka, KCM Director and Executive Vice President Mr Yuzuru Ieki and KCM Director and Executive Officer Mr Takeshi Miki. They were supported by the European team who have vast combined experience with other leading manufacturers in the construction industry.
KCME Managing Director Makoto Kato commented: "This event was a major milestone for KCME. Since announcing our official return to Europe we have been working hard in the background to build the foundations for a strong and successful business that will go the distance. We are here to stay and are focused on increasing Kobelco's market share in Europe. The strong brand heritage and product offerings give us the perfect platform to do that but the final piece of the jigsaw is productive partnerships with the right dealers. We believe we now have that third element and we are looking forward to providing strong products and aftersales support for our dealer partners and their customers."
Ends

For media enquiries, please contact Sander Gesink on +31 36 2020 352 or email
sander.gesink@kobelco.com

About Kobelco
Kobelco Construction Machinery Europe B.V. is wholly owned by Kobelco Construction Machinery Co., Ltd. Japan. The European Headquarters were re-established in Almere, The Netherlands in 2013 and include the sales and marketing function for Europe, Middle East, Africa and Russia-CIS as well as a parts warehouse to support aftersales service across the region.
Kobelco is dedicated to sales and services of crawler excavators from 1t to 50t. The Japanese manufacturer is well-known worldwide as a leading excavator specialist. Kobelco machines are well-regarded for their advanced technology, including an innovative noise and dust reduction system, advanced hydraulic circuitry for power and superior fuel efficiency.