CKE1350G-2's luffing jib is right choice
23 March 2020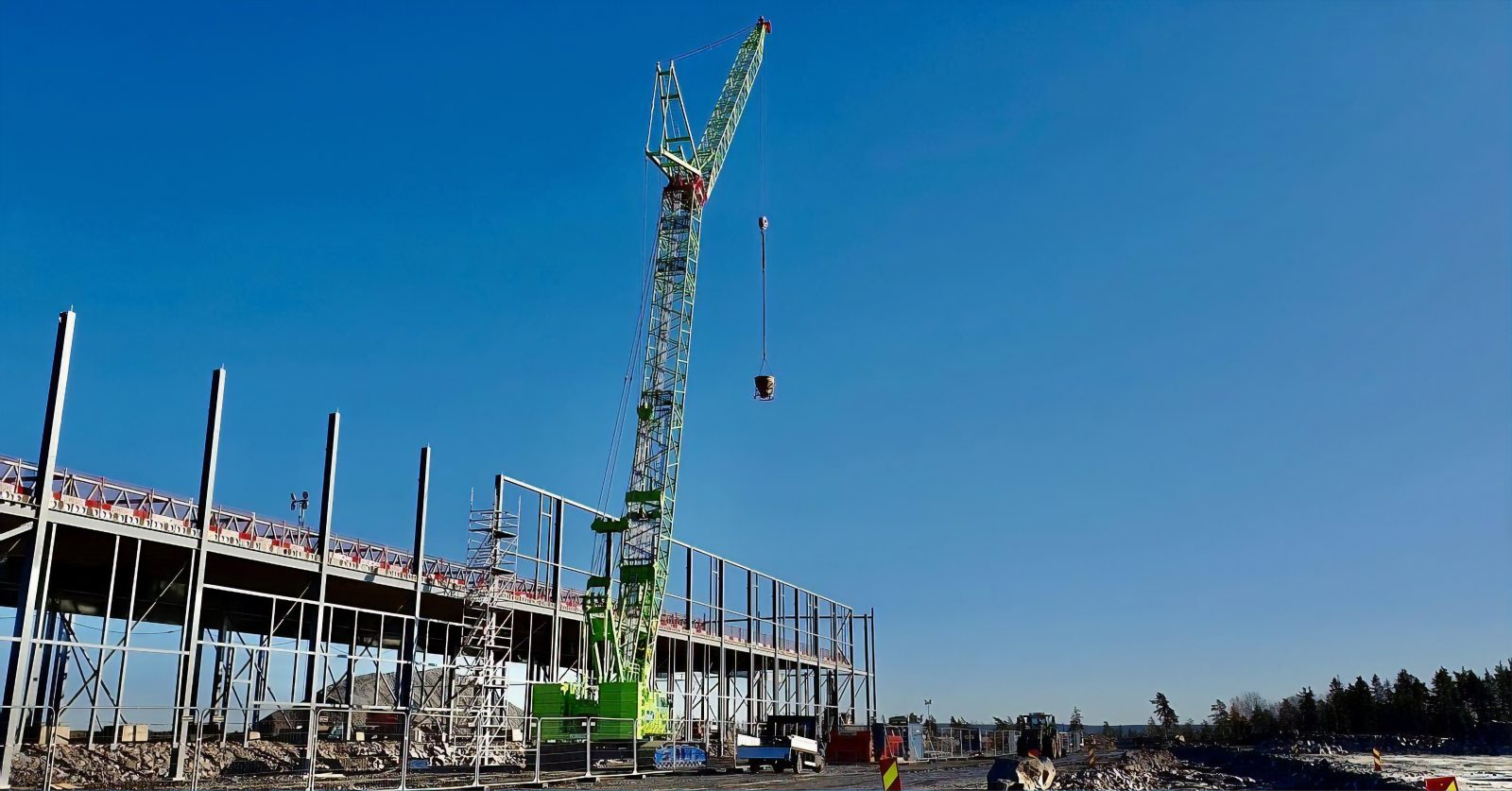 CKE1350G-2's luffing jib is perfect solution for extended lift during construction of logistics centre for DSV
Nordic Crane's new Kobelco CKE1350G-2 crawler crane is using a 32m-long main boom together with a 32m-long luffing jib to complete construction of a "state-of-the-art" logistics and distribution centre in Oslo, Norway for DSV, Denmark's largest transport – road, rail, air and sea – and logistics provider.
The 150-tonne maximum capacity CKE1350G-2, the first Kobelco crawler crane in Nordic Crane's rental fleet, is working for pre-cast concrete producer Contiga Heidelberg Cement at the site, which is situated on the outskirts of Oslo close to the city's ring road and transport network.
Having been delivered to Nordic Crane in September last year (2019), the crane was assembled and tested under the supervision of Kobelco's engineering team at the company's depot. Once this was complete the CKE1350G-2 was moved the short distance to the site in October, using a step deck/drop trailer and six "standard" flatbed trailers from Nordic Crane's own fleet, where it remained until the end of February.
The CKE1350G-2's duties at the site include lifting pre-cast concrete and steel elements of up to 15 tonnes to a maximum distance of 26m and a height of 8m for the construction of the logistics and transport hub's storage facilities.
To complete the lifts the CKE1350G-2 has been fitted with a 32m-long main boom and 32m-long luffing jib, which thanks to the cable guy support at the top of the boom allows for easy erection of the rear strut without the need of an additional crane during assembly. Thanks to the extended boom configuration and the CKE1350's excellent manoeuvrability, once assembled there is no need to extend or retract the outriggers every time it needs to move around the site.
Another plus when using the luffing jib is that the CKE1350G-2 can work closer to the structure under construction thanks to the ability to raise and lower the jib between 68 and 88 degrees.
Commenting on the job, Nordic Crane's General Manager, Trond Strøm, said: "The CKE1350G-2's excellent manoeuvrability and versatile luffing jib/main boom combination have proved to be the right choice for this job. We have been impressed with the after sales service of the Kobelco team and look forward to using our new CKE1350G-2 on the next job and strengthening our relationship with Kobelco Cranes further."