KCME appoints new dealer in the Caribbean
14 February 2017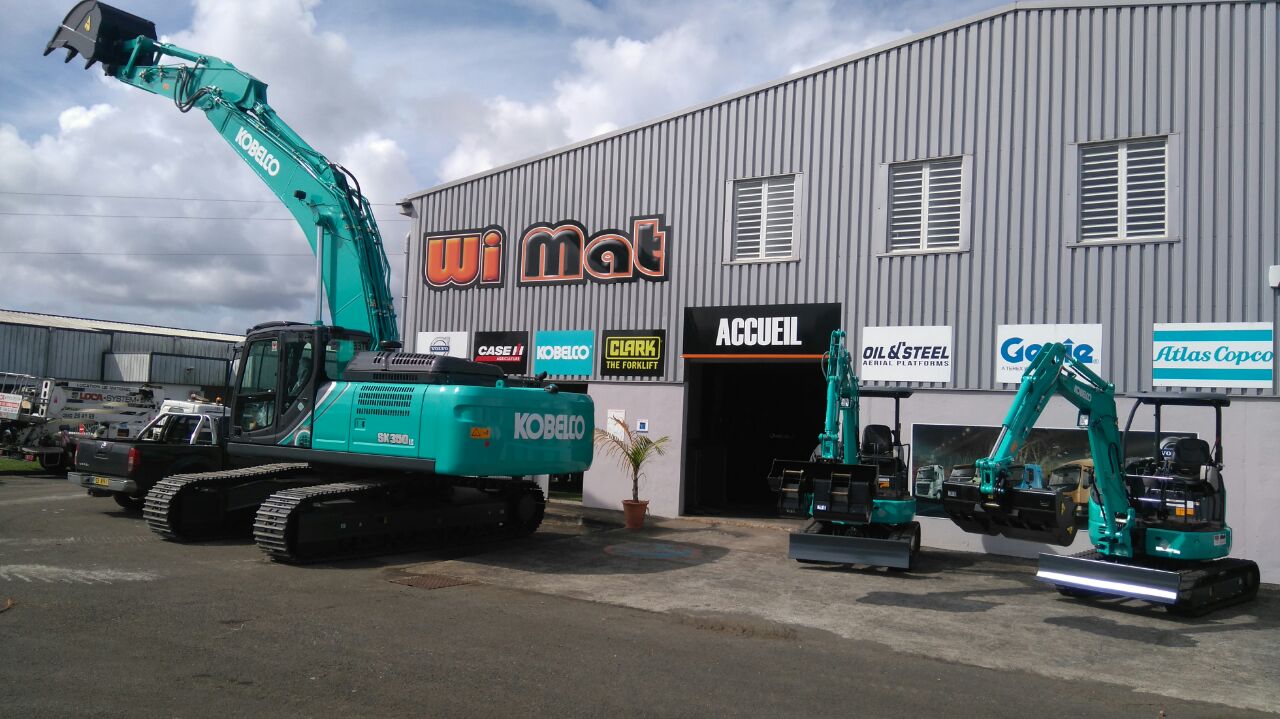 WiMat operates in the French islands of Guadeloupe and Martinique
Kobelco Construction Machinery Europe B.V. (KCME) is pleased to announce the addition of WiMat to its expanding European network. This appointment furthers the growth of Kobelco suppliers within the European Union and underlines KCME's commitment to manufacture and supply market leading specialist earth moving machinery to accommodate the growing global demand for Kobelco quality products.
WiMat is a relatively young construction and agriculture company with two active branches operating in Guadeloupe and Martinique – two islands in the eastern Caribbean Sea that part-form the overseas regions of France.
Since 2006, under the direction of founder and CEO Vianney Simonnet, WiMat has grown from a small rental business with a compactor and a tractor loader backhoe into an exceptional rental company. In 2009, WiMat became an authorised supplier of leading brand equipment to run parallel with the rental side of the business. Kobelco equipment to be stocked by Wimat includes the SK28SR-6, SK55SRX-6 and SK140SRLC-5 – ideal machines for the rugged, varied terrain and increasing construction projects on the Guadeloupe and Martinique Islands.
WiMat focuses heavily on providing excellent customer service via spare parts availability and aftersales service quality. Modern workshop facilities and on-site service are geared to achieve fast response and minimum downtime.
Managing Director of KCME, Makoto Kato, commented on the association with WiMat: "It is said that success breeds success and this is very true with the Kobelco brand and its range of products. WiMat's reasons to be an authorised Kobelco supplier were based on the famed Kobelco product reliability and success of the brand on mainland France. "Of course there were other factors that proved influential in this young company's decision to join our increasing network of Kobelco product suppliers. Exceptional working performance and fuel efficiency are perfect examples of how Kobelco machines deliver reduced operator costs and, equally as important, our future carbon footprint. Low noise and compact dimensions of our class-leading excavators also help reduce the impact of construction, these are particularly important considerations amongst the natural splendor and populated locations of the French island territories."
The continued expansion of authorised Kobelco dealers underlines Kobelco Construction Machinery's long-term commitment to Europe. A full and easy to view list of the complete European Kobelco dealer network is available via our Dealer Locator