Kobelco appoints Hasel İstif Makineleri A.Ş. as dealer in Turkey
20 January 2014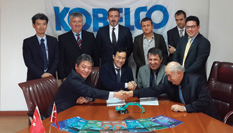 ALMERE, January 20, 2014 – Kobelco Construction Machinery Europe B.V. and Hasel İstif Makineleri A.Ş. have signed an official dealership agreement. Hasel will be responsible for the sales and service of Kobelco excavators throughout Turkey.
Hasel has an excellent reputation and is well known in Turkey for their high-quality products, and most importantly for their professional after-market and service capabilities. The company is based in Istanbul but also has several branches and service / parts facilities throughout Turkey.
Makoto Kato, Managing Director of Kobelco Construction Machinery Europe B.V. said: "Customers in Turkey look for high quality, robust equipment that will work as hard as they do. Kobelco excavators are the ideal machines for that. We are proud to have Hasel as our new dealer and we look forward to a fruitful cooperation."
Hasel will attend the Ankomak exhibition which will take place in Istanbul from 21-25 May. This will be the first occasion where people can experience the comeback of Kobelco excavators in Turkey.

About Kobelco
Kobelco Construction Machinery Europe B.V. is wholly owned by Kobelco Construction Machinery Co., Ltd. Japan, dedicated to sales and services of a full range of crawler excavators in the 1t to 50t classes.
Kobelco is well-known worldwide as a leading excavator manufacturer. Kobelco machines are well-regarded for their advanced technologies, including an innovative noise and dust reduction system, advanced hydraulic circuitry for power and smooth controllability and superior fuel efficiency.
For more information about Kobelco Construction Machinery Europe B.V. or Kobelco products, please visit https://www.kobelco-europe.com.
For any queries, please contact:
Sander Gesink
Brand Marketing & Communication Manager
Telephone: +31 36 2020 352
Email: sander.gesink@kobelco.com