Kobelco CKE900G plays central role in delivering TBM launch pad for Align JV's High Speed 2 contract
24 March 2021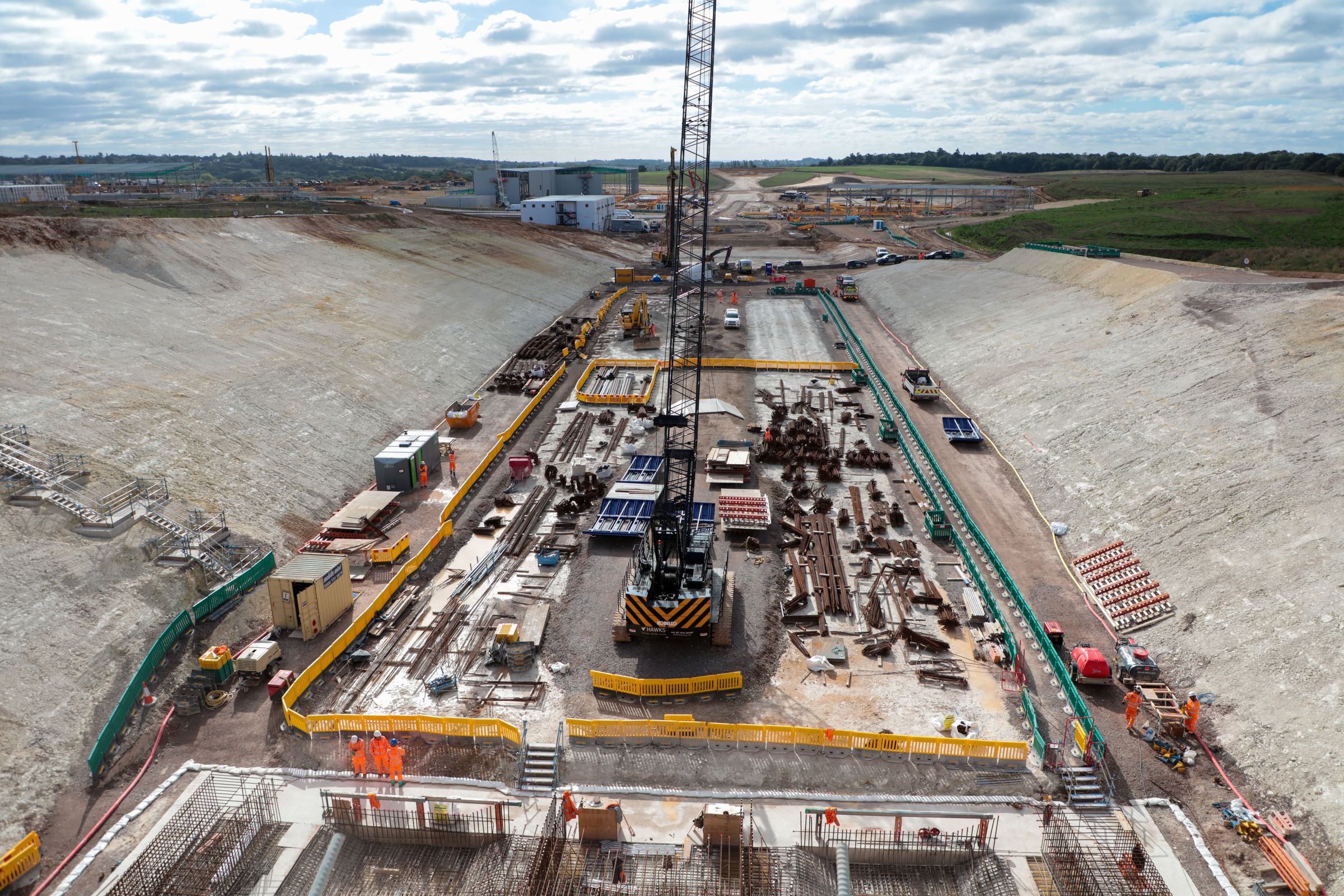 Kobelco CKE900G plays central role in delivering TBM launch pad for Align JV's High Speed 2 contract
A Kobelco CKE900G-2 crawler crane on-hire from Dartford-based crane rental company Hawks, has played a key role in delivery of the tunnel-boring machine (TBM) 'launch pad' for the UK's prestigious, £98 billion High Speed 2 line (HS2), as part of the Align joint venture's C1 package.
The £1.6 Billion C1 package, awarded to the Align joint venture (Bouygues Travaux Publics, Sir Robert McAlpine, and VolkerFitzpatrick) in July 2017, consists of 21.6km of high-speed rail infrastructure, including a 3.37km-long viaduct, the 16km-long, 9.1m-diametre twin-bored, Chiltern tunnel (the longest on the project), and five ventilation shafts with associated infrastructure.
The 90-tonne capacity CKE900G arrived on site in July 2020 on a six-month rental contract to aid construction of the approximate 150m-long, 50m-wide TBM 'launch pad', next to what will eventually be the finished tunnel exit at Mantle's Wood, north of the village of Hyde Heath, Buckinghamshire.
During construction of the concrete podium, the CKE900G was used for "typical civils duties", according to Hawks' Managing Director Elliot Hawkins, including moving rebar for the launch pad, and 17m-high headwall's 636 'soil nails' – some up to 20m long, as well as pre-cast concrete elements, concrete delivery hoppers and small pieces of construction equipment.
"The CKE900G is a very flexible and reliable crane" explains Elliot, "so was exactly what was needed to complete the work on time, especially as the site was running virtually 24/7. Having bought the machine in 2015, our first Kobelco crawler, we knew it had been maintained and serviced correctly over its 6,500 hours of operation, giving us the confidence that it was more than up to the job."
"This is backed up by Kobelco's own commitment to quality control," adds Elliot. "When I first visited the Kobelco crane factory in Japan, that commitment was evident from the start of the manufacturing process to the finish and was one of the things that impressed me most and is one of the main reasons we decided to put our faith in the Kobelco brand.
"The machines may be 'simple' engineering-wise," explains Elliot, "but that engineering is top class, which gives us all the confidence we need to compete and win work on high-profile project, large-scale infrastructure projects such as HS2."