Kobelco Construction Machinery continues to expand French network
28 April 2020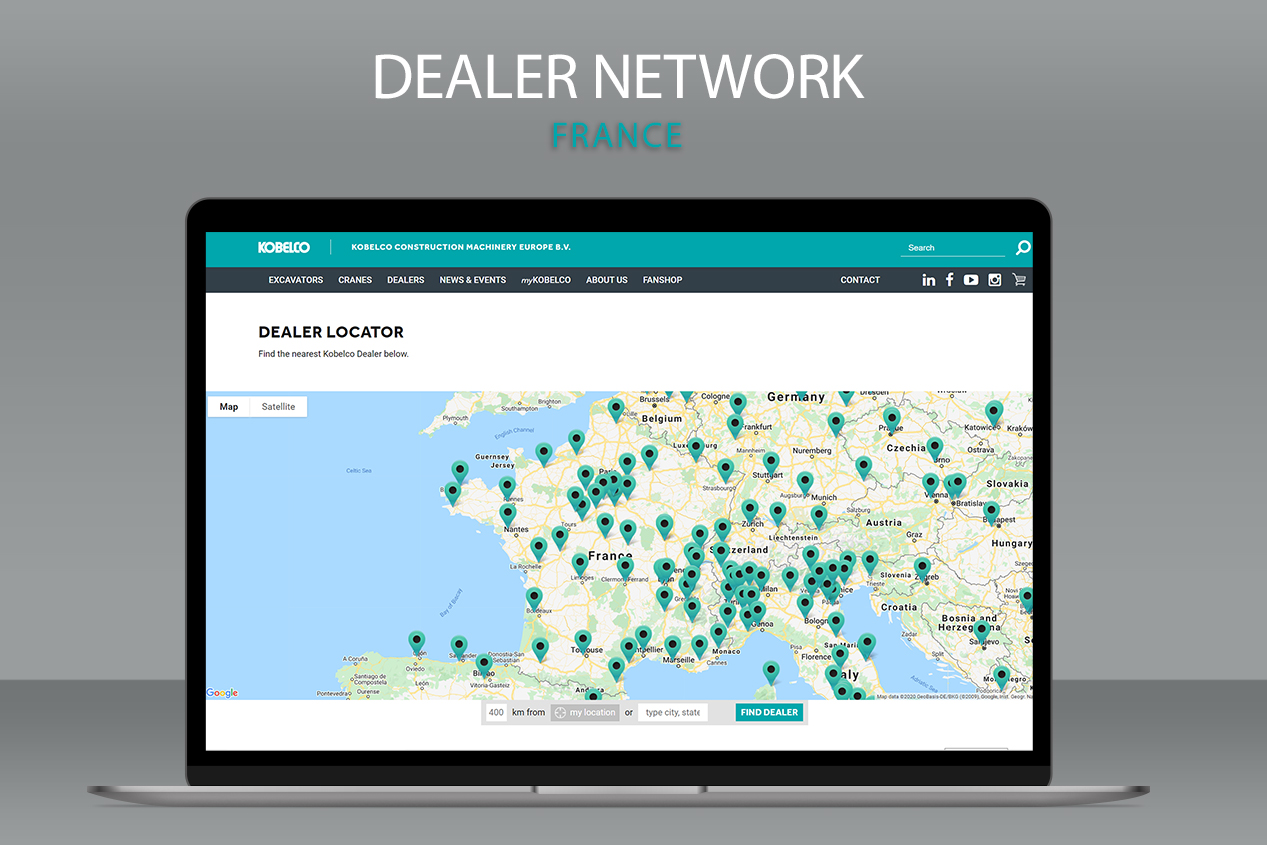 Kobelco Construction Machinery Europe B.V. (KCME) is pleased to announce the expansion of its French network with six new authorised dealer partners.
Neomat, Gap Sud Mécanique, Comet Loc, ACHD, Serge Monod Equipement and Kobest joined the KCME network at the start of 2020, providing improved coverage of France and demonstrating KCME's commitment to better servicing customers in its French speaking regions.
Neomat joined KCME on 1 January 2020 and covers a significant area across France including Ile de France region (Paris area) and Oise. The company, which was only established in 2019, is a sub company of the family group PAYEN, which has specialised in the distribution of Public Works materials for more than 50 years. As a KCME dealer, Neomat will focus primarily on the sales and service of compact excavators, including the SK140SRLC-7, as well as demolition excavators for the Grand Paris project. A rental fleet will also be created in order to demonstrate the Kobelco product performance and low fuel consumption.
Gap Sud Mécanique was appointed on 1 February and covers the Alpes de Haute Provence and Hautes Alpes regions. The family-run business specialises in the sale and service of brand new and used CE equipment, rental and the sale of loader cranes for trucks. The company is very customer service-centric and will use KCME's European warehouse in Amsterdam to ensure that machines are delivered quickly to its customers across France. Although Gap Sud Mecanique's territory is relatively small, customer demand for machines in this area covers the full Kobelco range, from the smallest SK08 minis to the largest SK850LC-10 machines.
Comet Loc was also appointed as an official KCME dealer on 1 February as a result of a previous relationship with the manufacturer, and covers the Alpes Maritimes and Var regions. Comet Loc has an excellent reputation in customer responsiveness and service, with specific expertise in equipment for farmyards and vineyards. This dealer also has a big rental operation, managing a fleet of 80 excavators from 1.5-30t.
ACHD was recruited by KCME on 6 March and will help support significant coverage of France including in the Burgundy and the Rhone regions. ACHD has specialised in the compact equipment sector for more than 15 years but is now looking to expand its portfolio into heavy machinery. The company, which employs a workforce of 12, is looking forward to demonstrating Kobelco's technological expertise through the SK75SR-7 Side-Drain and SK140SR-7 Side-Drain machines, the innovative hybrid technology in the SK210HLC-10, and showcasing Kobelco's pioneering demolition models.
Serge Monod Equipment (SME), which specialises in the sales of new and used CE equipment and agricultural and landscaping machinery, was appointed as a KCME partner on 13 March and covers the Savoie and Haute Savoie regions. The company, which has 21 employees, prides itself on its excellent customer service and fast delivery.
When SME managing directors Laurent Legouhy and Raphaël Saillet, were looking to expand the company's CE equipment portfolio, they were keen to partner with a high quality construction brand, so Kobelco was the obvious choice. Like Gap Sud Mecanique, SME will use KCME's central European warehouse to ensure that machines are delivered quickly to its customers across France, particularly to those based in the Alps, where access and working conditions are challenging.
Finally, new dealer Kobest, which was appointed on 1 April 2020, covers the Aisne and Champagne-Ardennes region. The company is committed to providing a high quality after-sales service, thanks to its team of highly skilled technicians. Although Kobest is a very young company, its founder, Simon Hofmann is the third generation of the family to start distributing TP equipment. Kobest will focus specifically on Kobelco's latest machines, including the SK85MSR-7, SK130LC11 and SK140SRLC-7.
In addition to expanding its French dealer network, KCME has also welcomed a new member to its marketing and field sales team. Roland Danion, who has 20 years' experience in the construction industry, joins the team as Retail Sales and Marketing Manager and is responsible for the whole of France.
Forty-six-year-old Roland joins KCME from Hydro CTA, and prior to this he had been the Sales Director of a large CE Equipment dealer in North-Western France. In his role as Retail Sales and Marketing Manager for KCME, Roland will be the direct contact for national accounts, support the Kobelco dealer salesforce and manage all local events. He will work closely with Business Manager, Jean-Philippe Delion as well as Product Support Manager, Vincent Gribonvald, and Team Leader Spare Parts Representative, Mignon Terpstra.
KCME Managing Director, Makoto Kato said: "France is one of KCME's key markets and so we are delighted to welcome these six new dealers to the Kobelco network. The appointment of Neomat, Gap Sud Mécanique, Comet Loc, ACHD, Serge Monod Equipement and Kobest demonstrates our commitment to servicing our customers in the French speaking regions, while the recruitment of Roland to the KCME team highlights the importance we place on providing the best possible support to our dealers."
A full and easy to view list of the complete European Kobelco dealer network, including our expanded dealer network in France, is available via our Dealer Locator on the official Kobelco Construction Machinery Europe B.V. website.