Kobelco Construction Machinery extends dealer network in Europe, Russia & CIS and Maghreb
26 June 2015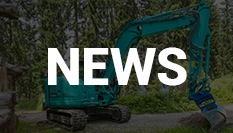 Kobelco Construction Machinery Europe B.V. (KCME) is pleased to announce a substantial growth of authorised Kobelco dealers to its expanding European, Russia & CIS and Maghreb network.
The recent addition of six authorised dealers within Europe, Russia & CIS and Maghreb is a direct result of the ever growing demand for Kobelco construction machinery. Customers across the world recognise the Japanese manufacturer's products deliver exceptional fuel economy, low emissions, and performance with reliability. KCME's expansion mirrors the strong dealer recruitment within Europe and further underlines the fact Kobelco is firmly focused on customer support. Authorised Kobelco dealers are now placed in the following locations:
Europe

Biuro Handlowe Ruda Trading International Sp. z.o.o.
Associated area: Poland
Address: ul. Zegadlowicza 10, 40-555 Katowice, Poland
Tel: +48 78 15 00 525
Email: janusz.widuch@bh-ruda.pl
Web: http://www.bh-ruda.pl/
Russia & CIS

FKR Machinery Ltd
Associated areas: Central Federal District, Volga Federal District, Far Eastern Federal District, Siberian Federal District, Ural Federal District and Belarus
Address: 119296, Russia, Moscow, Leninskiy prospect, 73 /8, Office 1
Tel: +74 95 98 14 545
Email: ab@fkrm.ru
Web: http://www.fkrm.ru/
GMK Korund, Mining & Construction Machinery Group
Associated areas: Kazakhstan, Turkmenistan, Uzbekistan, Tajikistan and Kyrgyzstan
Address: ul. Tokhtarova 38, 070004 Ust-Kamenogorsk, Kazakhstan
Tel: +77 23 22 65 480
Email: info@korund.kz
Web: http://www.korund.kz/
Maghreb

COGETP
Associated area: Algeria
Address: Rue de la Briqueterie, Zone d'Activité, El Achour, Alger, Algeria
Tel: +213 555 99 48 93
Email: contact@cogetp.com
Web: http://www.cogetp.com/
Fénie Brossette
Associated area: Morocco
Address: Route 1015, Zone Industrielle, Ahl Loghlam, 20400 Casablanca, Morocco
Tel: +21 25 22 63 91 00, +21 25 29 02 28 96, +21 25 29 02 28 88
Email: i.cohen@fenie-brossette.ma / k.berrada@fenie-brossette.ma
Web: http://www.feniebrossette.ma
SOCOMA
Associated area: Tunisia
Address: Route de Mornag, Borj Ben Gorbal, MC39 Ben Arous, Tunisia
Tel: +21 62 68 27 373
Email: ermanno.isoardi@massuccot.com
Philippe Le Bourhis, General Manager Sales and Marketing Europe and Russia & CIS of Kobelco Construction Machinery Europe B.V., speaking about the latest dealer growth, said: "Recent developments by KCME has led to an upsurge in authorised Kobelco dealers that will further aid customers in terms of equipment sales, service and aftersales care within regions that require specialist and very capable machinery.
"Together with the back-up of KCME's aftersales and spare parts operations based in the Netherlands, new and existing Kobelco customers within Europe, Russia & CIS and Maghreb are assured of comprehensive support that is second to none."
A full and easy to view directory of the European, Russia & CIS and Maghreb Kobelco dealer network is available via a Dealer Locator on the official Kobelco Construction Machinery Europe B.V. website. For details please visit sandbox4.dutchwebdesign.nl/kobelco-europe-new
Ends
For media enquiries, please contact Sander Gesink on +31 36 2020 352 or email
sander.gesink@kobelco.com

About Kobelco
Kobelco Construction Machinery Europe B.V. is wholly owned by Kobelco Construction Machinery Co., Ltd. Japan. The European Headquarters were re-established in Almere, The Netherlands in 2013 and include the sales, service and marketing function for Europe, Russia & CIS and Maghreb. A modern parts warehouse supports aftersales service across the region.
Kobelco is dedicated to sales and services of crawler excavators from 1t to 50t. The Japanese manufacturer is well-known worldwide as a leading excavator specialist. Kobelco machines are highly-regarded for their advanced technology, including an innovative noise and dust reduction system, advanced hydraulic circuitry for power and superior fuel efficiency.