Kobelco Construction Machinery heads to SaMoTer 2017
30 January 2017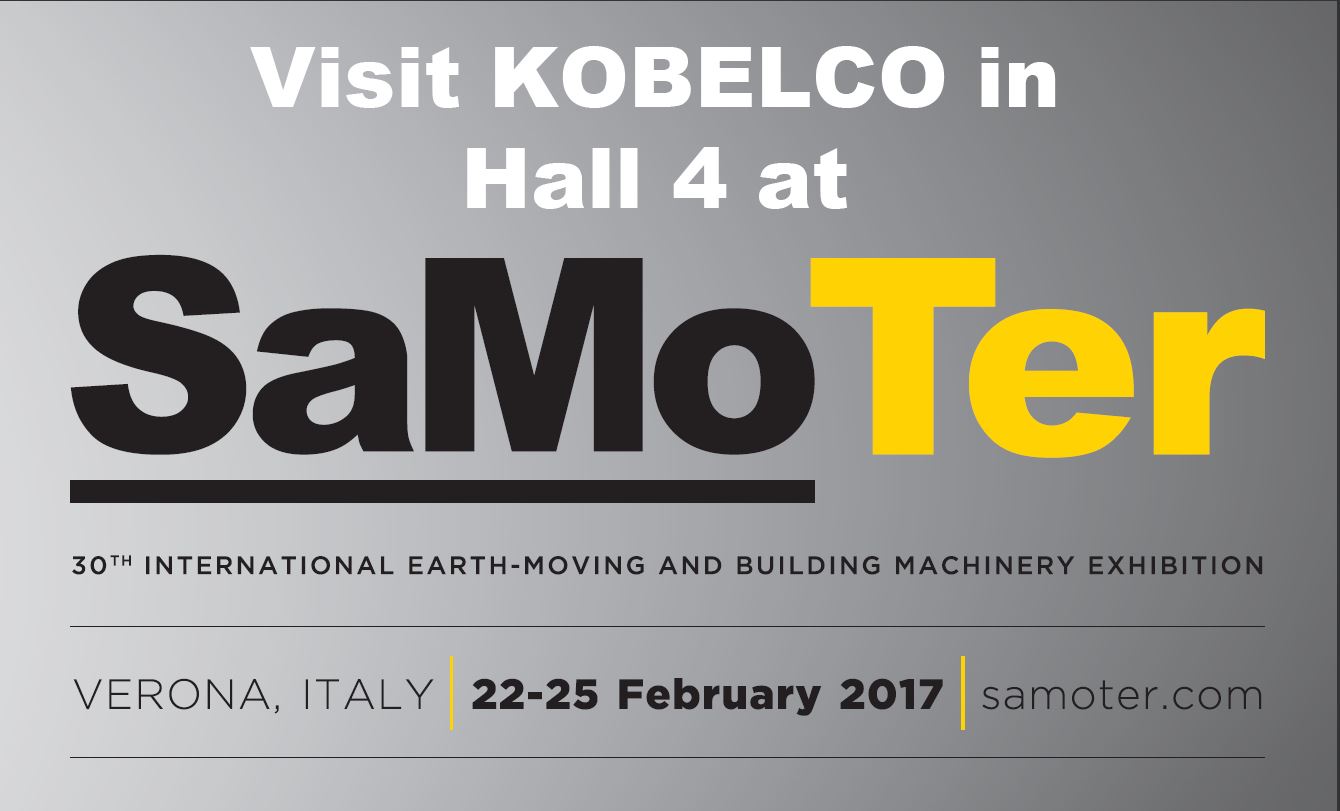 A new foundation for growth
Kobelco Construction Machinery Europe B.V. (KCME) is committed to providing industry-leading construction equipment and is looking forward to showcasing its latest models at SaMoTer in Verona on 22-25 February. The manufacturer's attendance at this year's event is particularly important as it recently announced the appointment of four new Italian dealers, marking its entry into Italy.
SaMoTer is Italy's leading construction exhibition and 2017 is its 30th anniversary. Taking place every three years, the event welcomes more than 450 exhibitors from the construction industry as well as more than 40,000 visitors from over 50 countries. KCME is keen to use the event as a platform to introduce the Kobelco brand to the Italian market.
The demand for mini excavators and heavy machinery in Italy has significantly increased over the past three years. KCME boasts an extensive line-up of high performance excavators from small 1-ton and short radius machines for compact job sites, to larger models up to 8.5-tons for quarries and heavy duty jobsites. With this in mind, the manufacturer will showcase a wide range of its excavators at SaMoTer, including the following machines:
The SK55SRX-6 is one of the latest mini excavators to be launched to the European market. Powered by the latest generation Yanmar engine, this machine commands maximum performance while still meeting stringent emissions regulations, and can deliver up to 23% reduction in fuel consumption.
The SK85MSR-3 with two-piece boom enables operators to work across a wide operating range while still providing smooth hydraulic operation, high performance and increased fuel efficiency. This model is ideally suited to compact jobsites as its adjustable boom enables more digging space within the same area.
The new SK180N-10 promotes excellent working performance and fuel efficiency and is ideal for mountainous or remote areas where the working conditions are particularly tough. The machine's narrow carriage track of just 2,500mm also enables easy transportation.
One of Kobelco's largest models, the SK350NLC-10, leads the way in class thanks to its exceptional low emissions and reduced operating costs. The machine's enhanced durability means that it can withstand the toughest terrain and working conditions and is well suited to applications such as demolition, general excavating and quarrying.
In addition, visitors to SaMoTer will be able to see the SK17SR-5, SK18, SK28SR-6 and SK35SR-6 mini excavators, the SK140SRLC-5 and ED160BR-5 short radius machines and the larger SK300LC-10 excavator on the stand.
KCME Managing Director, Makoto Kato, said: "We're delighted to be attending SaMoTer for the first time in 2017 – Italy is an important new market for us. Kobelco's mini, midi and short radius ranges are ideal for Italy's urban landscape, while our larger, high performance machines are built to withstand some of the toughest working conditions while still saving fuel at the highest industry standard. We're looking forward to showcasing our credentials and meeting many of our Italian customers at SaMoTer, as well as learning more about their requirements for specialist earthmoving equipment."
Visit us at SaMoTer in Hall 4.