Kobelco Construction Machinery introduces three new mini-excavators
30 April 2014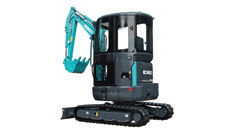 ALMERE, April 30, 2014 – Kobelco Construction Machinery Europe B.V. (KCME) is pleased to announce the arrival of three new mini-excavators to market. The new Japanese-built SK27SR, SK30SR and SK35SR extend and complement the existing wide range of specialist earthmoving and construction excavators available from the growing European Kobelco dealer network.
Each of the three machines feature an exceptional new dozer blade design to reduce over-spill during levelling operations. The added benefit of a boom offset function allows the arm to traverse across the front of the carriage for parallel digging along trenches or wall boundaries. Coupled with zero tail swing (0 mm overhang) – a Kobelco-inspired industry standard – all three machines are among the most compact in class and perfect for tight, challenging work conditions especially in an urban environment.
The SK27SR, SK30SR and SK35SR also feature triple-oil pump technology (IFPS – Integrated Flow Pump System) to ensure continuous and refined digging, travel and load performance. Ergonomic cab controls, positioned for ease of use, fully exploit the available performance with refined and precise control. Performance, reliability and easy service assistance come as standard with the latest Yanmar large capacity engines. Clean and powerful operating performance also delivers superior fuel efficiency and the desired low-operating cost that is expected from Kobelco.
To further ensure operators benefit from Kobelco design and experience, the safety cabs have been revised to give larger working interiors and a wider front viewing area without compromising external dimensions. Easy routine maintenance, extended service intervals and a European spare parts back-up complete the Kobelco experience.
Commenting on the introduction of the three new machines, KCME Product Marketing Manager, Peter Stuijt, said: "Kobelco is proud of its 80-year heritage and its continued commitment to using the latest technology throughout its product range – a range that has significantly increased in recent months and underlines our commitment to the European market after a successful reintroduction."
"With the arrival of three new mini-excavators, we are on target to provide a range of specialist earthmoving and construction machines to an established and growing Kobelco dealer network. This, in turn, ensures the demand for particular machines for specific roles within industries can be easily and quickly achieved by Kobelco."
The SK27SR, SK30SR and SK35SR machines will start to arrive in Europe in May 2014. For the full machine specifications visit sandbox4.dutchwebdesign.nl/kobelco-europe-new
SK27SR
Ends
For media enquiries, please contact Sander Gesink on +31 36 2020 352 or email
sander.gesink@kobelco.com
About Kobelco

Kobelco Construction Machinery Europe B.V. is wholly owned by Kobelco Construction Machinery Co., Ltd. Japan. The European Headquarters were re-established in Almere, The Netherlands in 2013 and include the sales and marketing function for Europe, Middle East, Africa and Russia-CIS as well as a parts warehouse to support aftersales service across the region.
Kobelco is dedicated to sales and services of crawler excavators from 1t to 50t. The Japanese manufacturer is well-known worldwide as a leading excavator specialist. Kobelco machines are well-regarded for their advanced technology, including an innovative noise and dust reduction system, advanced hydraulic circuitry for power and superior fuel efficiency.