Kobelco crawler crane duo for port expansion
16 April 2020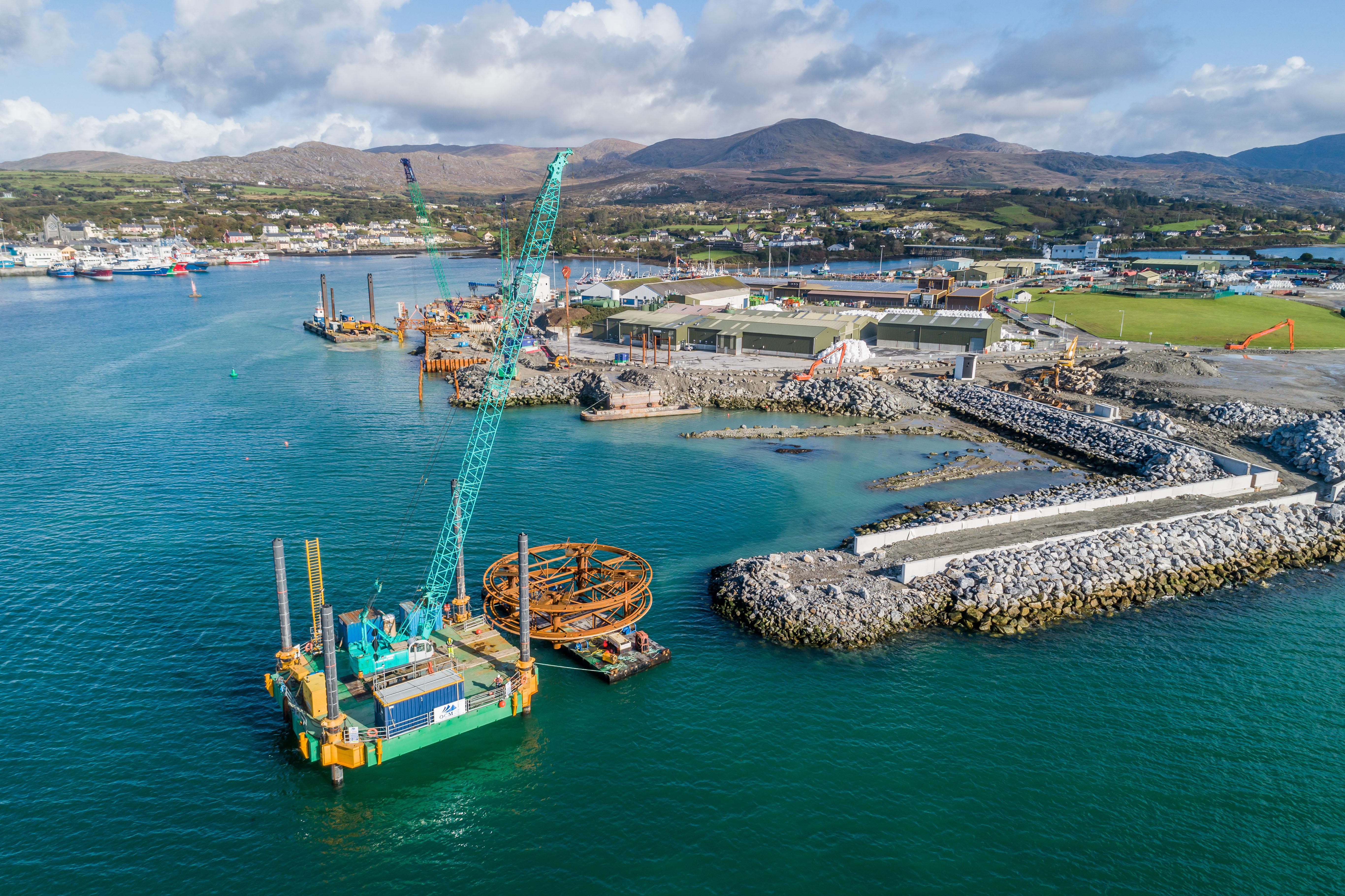 Kobelco BM700 and CKE1100G crawler cranes work together to complete Dinish Wharf expansion project in Castletownbere, Ireland
Dungiven, Northern Ireland-based Ideal Form Crane Hire has supplied a Kobelco BM700 to marine, civil engineering and building contractor Keating Construction for work on the expansion of the Dinish Wharf in Castletownbere, County Cork, Ireland.
The €23 million (£19.95 million) expansion, which includes a new 216m-long quay structure, comprised of 15m-long 1016 tubular piles, a sheet piled anchor wall and precast elements that will form the new quay's face, dredging 55,000m3 of materials, two new breakwater structures and a reclamation area for quay storage, will double workable quay space, enabling significant expansion in fish landings, on-shore processing and general marine activity at the port, including facilitating landings by vessels up to 100m long.
The 65-tonne capacity BM700, which has over 20,000 hours on the clock, is working alongside Keating Construction's own 100-tonne capacity CKE1100G to install 44, 900 mm diameter piles, weighing between 10 and 12 tonnes, at Castletownbere for Ireland's Department of Agriculture, Food and the Marine.
Working on a jack-up barge, theBM700 is fitted with a 42.7m jib and 23.6 tonnes of counterweight. Duties include lifting reinforced circular piling frames onto a floating barge and pitching of 21m-long AS 500 straight web sheet piles, which form a closed cylindrical structure to retain a soil fill. A total of 108 sheet piles make up the cell cofferdam at the end of the harbour's breakwaters, with a total of four cells to be constructed.
To drive the sheet piles into the rock, the BM700 is using an ICE 1423C vibrating piling hammer, which has a head weight of 4.5 tonnes at a radius of 17m. Once the cell is complete the BM700 removes the inner cell frame in four sections, with each section weighing approximately 9 tonnes.
Keating Construction's CKE1100 has been fitted with a 42.7m jib and 34.6 tonnes of counterweight for the project. Duties at the site include lifting precast concrete elements, which can weigh up to 15.5 tonnes, off-loading/loading of 20m-long, tubular and sheet piles weighing up to 11.5 tonnes, driving of tubular piles using a 14.5 tonne BSP CX85 piling hammer.
Other duties include servicing a pile top drill rig, drilling 4m into the rock head, and lifting concrete elements, formwork and rebar.