Kobelco enters Spanish and Portuguese markets with four new authorised dealer partners
26 September 2018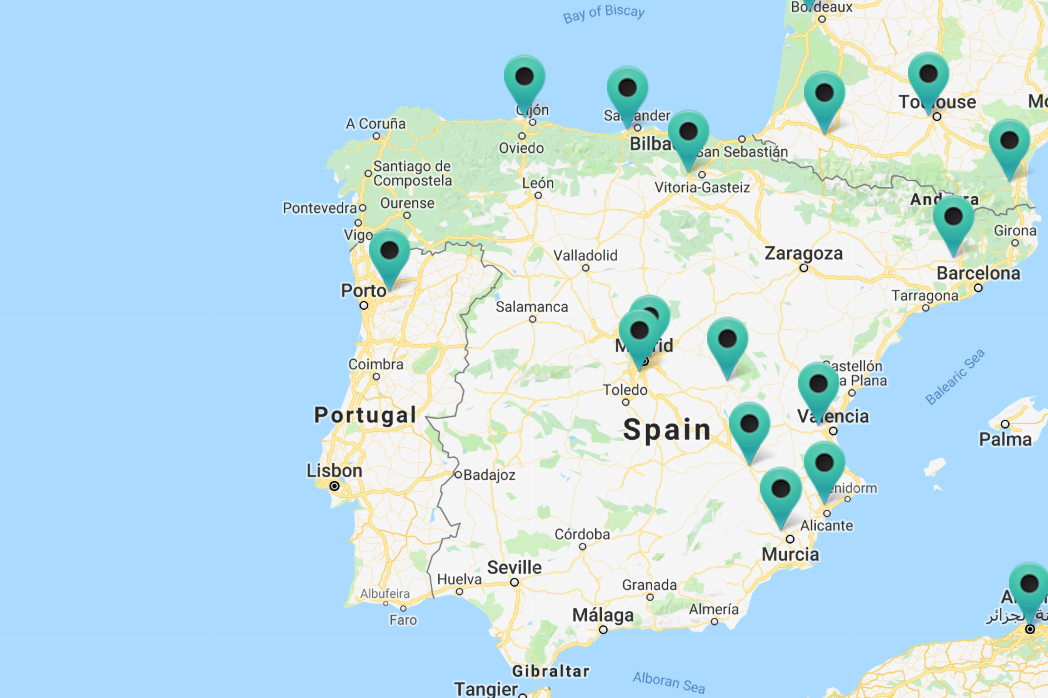 Kobelco Construction Machinery Europe B.V. (KCME) is pleased to announce the expansion of its European network with four new authorised dealer partners.
Over the past three years, the Spanish and Portuguese construction industries have seen significant growth, mainly driven by residential and commercial construction, and the appointment of Maquinaria J Aurteneche, Malcop s.l and Aldimak (in Spain) and Fuelmac, Lda (in Portugal) demonstrates KCME's commitment to service its customers in these regions.
Maquinaria J Aurteneche was appointed as an official Kobelco partner in January and is KCME's first Spanish dealer. Established in 1945 in the north of the country, the family-run company specialises in the sale of construction, excavation and forestry machinery, offers machine rental and is well-equipped for aftersales servicing and providing spare parts support. So far, the new dealer has taken delivery of a number of mid-range and large Kobelco models.
Maquinaria J Aurteneche's General Manager, Jesús María Aurteneche Antía, said: "We were keen to join the Kobelco brand because of its proven experience in the construction sector, extensive sales network and excellent technical service."
Appointed in February, Malcop s.l covers a number of central and eastern areas of Spain, including Madrid, Toledo, Valencia and Alicante. The company, which was founded by brothers, Antonio and Pablo Ruíz, has been in operation for more than 27 years, specialises in groundworks, excavation, demolition and recycling and offers customers a number of additional support services including specialist technical assistance and a mobile workshop. Malcop s.l offers its customers the full range of Kobelco machinery.
Antonio Ruiz said: "We're very happy to start working with Kobelco as it is a brand renowned for its excellent quality, extensive range and business support. Kobelco has a fantastic reputation in the construction sector."
Aldimak joined the Kobelco brand in June and will service KCME's customers in the Catalonia and Andorra regions. While the dealer has always specialised in the sale of earthmoving equipment, it has recently expanded its portfolio to include forestry machinery and also has some experience in the recycling and demolition sectors. Aldimak is dedicated to aftersales servicing and even has its own global maintenance programme to help customers maintain their excavator fleets. The first Kobelco machines are expected to arrive at the dealer by the end of August.
Aldimak founder, Jaume Alberich, said: "We have been aware of the Kobelco brand for many years. Our customers had been impressed with the brand's availability, reliability and performance, so we wanted to find out for ourselves. So far we have been impressed too!"
Finally, Fuelmac, Lda was appointed as the official Kobelco dealer partner for Portugal in 2017. Based in Amarante, the family-run dealership is a subsidiary of a larger group of companies with more than 25 years' experience in the construction industry. Fuelmac, Lda specialises in the sale of construction, demolition and forestry equipment as well as public works and offers its customers comprehensive servicing and aftersales solutions. Fuelmac, Lda's founder, José Peixoto, said: "We believe that Kobelco is a high quality brand with high quality machines that boast exceptionally high performance. We're looking forward to developing our long-term relationship."
KCME Managing Director, Makoto Kato added: "We're proud to expand our European dealer network into Spain and Portugal for the first time with four new authorised dealers. The construction sector in these two regions is experiencing some positive growth and we're delighted to welcome Maquinaria J Aurteneche, Malcop s.l, Aldimak and Fuelmac, Lda to the Kobelco brand. We're really looking forward to working closely with these new partners and seeing our machinery working on job sites across Spain and Portugal very soon."
A full and easy to view list of the complete European Kobelco dealer network is available via our Dealer Locator