Kobelco extends its line-up in the 50-tonne class with the introduction of two new models
10 May 2021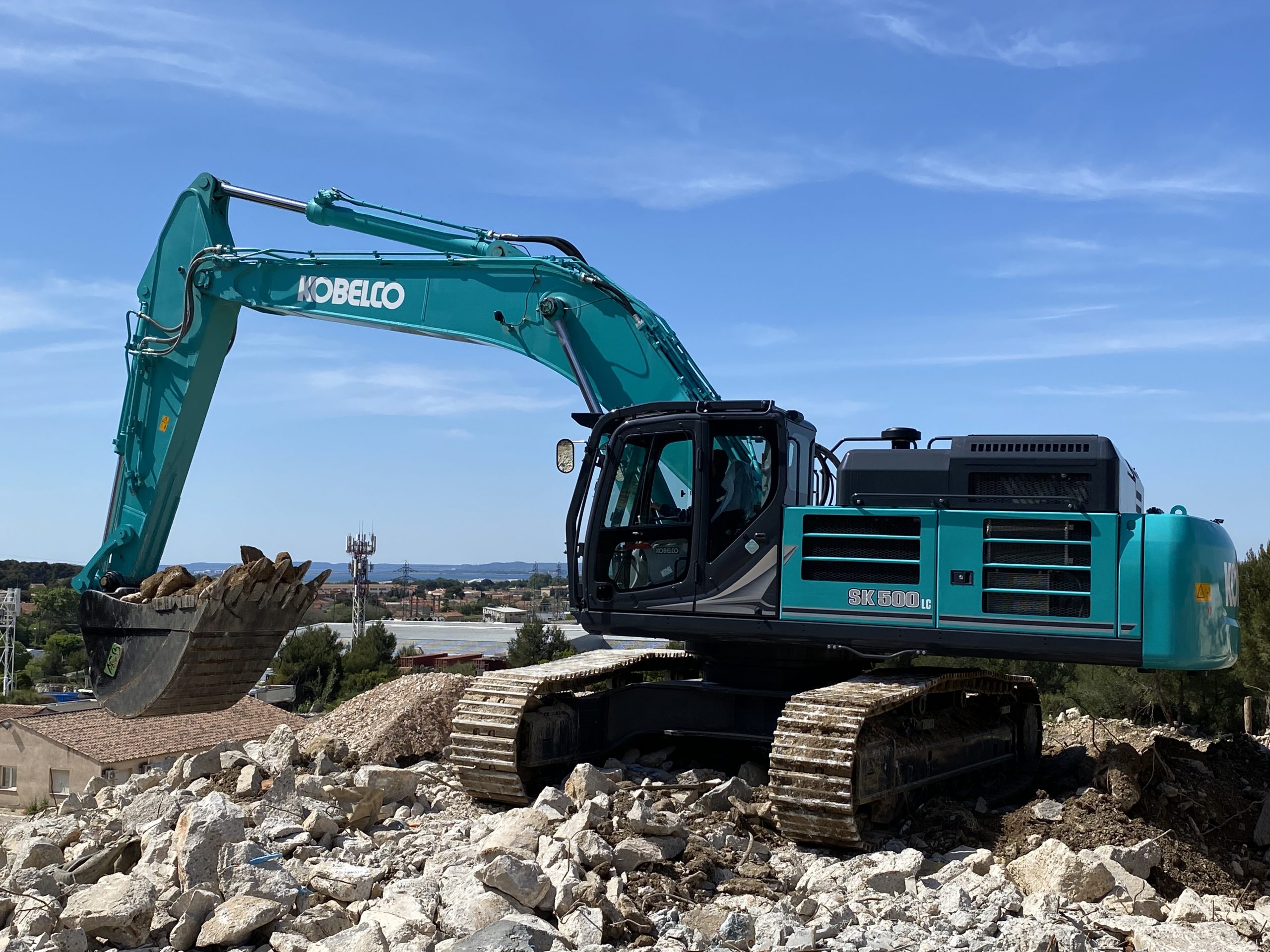 Next generation Kobelco giants
Kobelco extends its line-up in the 50-tonne class with the introduction of two new models
Innovation is at the heart of Kobelco philosophy – developing its excavators to suit the ever-increasing demands of the customer has been a key part of the Japanese manufacturer's 90-year success. It is this continual innovation and progression that has now led to the launch of the next generation in Kobelco machinery. The all-new SK500LC-11 and larger SK530LC-11 benefit from increased speed and performance, improved reliability and maintenance, state-of-the-art ergonomics and design and are Stage V compliant.
Weighing in at over 50 tonnes, the SK500LC-11's engine performance is top of the 50-tonne segment, thanks to the new turbocharged, Stage V-compliant 13-litre Hino engine. For the customer, these improvements in performance mean the SK500LC-11's cycle time has been shortened by 5.1% (compared to H-mode on the SK500LC-10), fuel consumption has improved by 5.4% (compared to S-mode on the SK500LC-10) and productivity has increased by 6.2% (compared to Eco-mode on the SK500LC-10).
The SK500LC-11 is best suited to general construction applications, while the SK530LC-11 is ideal for general construction and quarrying. As you'd expect from heavy excavators operating in such harsh environments, lifting capability and stability is of particular importance. The SK500LC-11 has a higher operating weight (50,400kg) when compared with the previous SK500LC-10, leading to increased stability. Both the SK500LC-11 and SK530LC-11 benefit from high hydraulic pressure (Heavy Lift) for greater lifting power at close radius, allowing for smooth and steady operation while moving heavy objects. The machines also have excellent lifting performance when compared with competitor machinery, particularly at a working radius of up to 9m over the side.
For comparison, the SK530LC-11 has an operating weight of 53 tonnes and benefits from an adjustable undercarriage. Its track gauge can extend to 2,890mm, promoting top-of-the-market stability and superior lifting performance, while when retracted, the overall width of the crawler is just 2,990mm (vs 3,350mm on the SK500LC-11). This decreased width enables better transportability, particularly in mountainous regions where the roads may be narrow.
Following Kobelco's PERFORMANCE X DESIGN concept, the SK500LC/SK530LC-11 also boast a completely new standard in cabin design and ergonomics – Kobelco understands that operators working long hours on the jobsite need a comfortable workspace and improved operability. With this in mind, the machines' spacious cabins incorporate a number of features to improve aesthetics, comfort and safety.
The Kobelco-branded Grammer heated and air suspended seat provides excellent shock absorption and superior ride comfort, absorbing vibration even on the roughest terrain. The seat also moves together with the armrests and hydraulic controls for reduction of operator fatigue. In addition, the position of the armrest and hydraulic controls in relation to the seat can be adjusted very easily at the same time, offering an optimal ergonomic workspace for drivers of any size.
The jog dial also controls multiple functions on the large 10-inch colour monitor and can be operated even with gloved hands. For optimum comfort, the SK500LC/SK530LC-11 comes with air conditioning as standard and the cabin is equipped with a DAB+ radio (FM/AM, AUX, USB, Bluetooth and hands-free telephone) and a 12V power outlet.
When it comes to operator safety, no corners have been cut with the new generation 11 models. Excellent visibility on the jobsite is provided via three standard cameras located on the left, right and rear sides of the machine (offering birds-eye and eagle-eye views), allowing the operator to customise viewing needs. The easy-to-operate menu screen also facilitates reading of important information, including fuel consumption, maintenance intervals and digging mode at-a-glance, as well as setting modes for attachments.
Easy maintenance is assured via improved layout of the radiator and oil cooling system, easier access to the urea tank and two-stage air filter. An optional walkway on the left side of the machine can also be installed for easier inspection and cleaning of the machine's cooling system elements. Engine reliability is also significantly improved on the new generation 11 models. The engine fan belt is now equipped with an auto-tensioner for reduced maintenance requirements, a reversible cooling fan has been introduced to guarantee radiator cleanliness, and heated urea lines help to prevent clogging issues at colder ambient temperatures.
Both the SK500LC-11 and SK530LC-11 models are available with standard boom and three arm variations, or as a Mass Excavation model with a short boom and short arm.
Commenting on the launch of the all-new Kobelco SK500LC-11 and SK530LC-11, Product Manager, Peter Stuijt, said: "The SK500LC-11 and SK530LC-11 represent a new generation in excavator performance and design. Years of research, coupled with feedback from our customers, has resulted in the development of new breed of heavy machines that excel in performance comfort and operability.
"First impressions of the SK500LC-11 from our dealer, Comet Loc, in southern France are extremely positive, with operators reporting that the new machine is very fast, accurate and easy to drive. They also report that the stability is very good when loading rocks, and the high level of comfort in the new cab is appreciated. We look forward to getting more feedback during demonstrations of the new model at the 2021 Dig Tour."
For more information about this machine and to see a full and easy-to-view directory of the European, Russia & CIS and Maghreb Kobelco dealer network, please visit the official Kobelco Construction Machinery Europe B.V. website at www.kobelco-europe.com
To download English press release click here >>
For the Dutch press release download here: click here >>
For the Italian press release download here: click here >>
For the French press release download here: click here >>
For the German press release download here: click here >>