New Kobelco CKE1350s for HS2's OOC
27 August 2021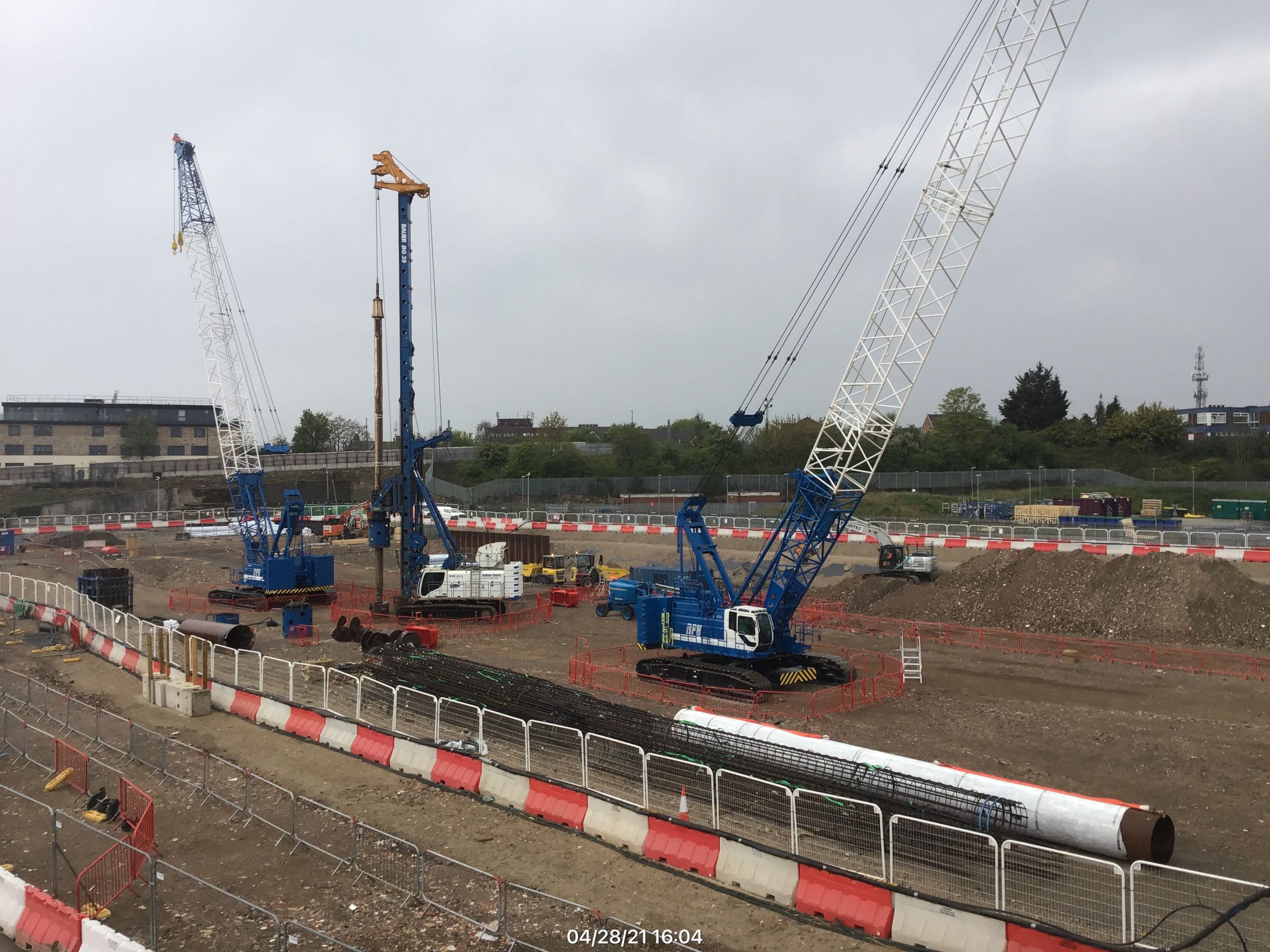 Sub-contractor SB3 is using four Kobelco CKE1350 crawler cranes at High Speed 2's Old Oak Common during construction of the station box.
The SB3 joint venture (Soletanche Bachy, Balfour Beatty Ground Engineering), working for the Balfour Beatty, Vinci, Systra (BBVS) joint venture at the £1 billion Old Oak Common (OOC) main station, is using four Stage V/Tier 4 Final Kobelco CKE1350 crawler cranes during construction of the station box's diaphragm walls and associated structures.
Two of the CKE1350s are new, having been delivered to Balfour Beatty in January this year specifically to work on construction of HS2's OOC railway station. All four machines arrived on site in April and May and will be working there for approximately 12 months.
"Two of the four machines are playing a supporting role during construction of the station box's 1.8km-long, 25m high diaphragm walls," said Nick Moon, Business Manager – Crawler Cranes, Tower Cranes & Piling Equipment, Balfour Beatty Plant & Fleet Services, "while the other two are being utilised for general lifting duties, including lifting cages and piling rebar."
The two newest CKE1350s, both of which were supplied with a 61m main boom and 18.3m fly jib, were retrofitted with Groeneveld's automatic lube system, which automatically lubricates all bearings, gears, pins and bushes, alongside ROPs/FOPs guards to doors and windscreens, during commissioning.
For added safety during operation on what Nick describes as "a tight site", BBVS fitted both with an Orlaco camera system with winch view and load zoom capabilities, alongside its own 360° view camera system, while Kobelco also fitted cab guards from Cab Care to protect the machine during transportation.
At present, explained Nick Moon, two of the CKE1350s are working with a 27.4m main boom, while the other two are using 36.6m booms. Maximum lift for all four machines is 35 tonnes at 20m.
The CKE1350s also have an impressive array of lifting options, including a 70 tonne, three sheave hook block, a 35-tonne single sheave hook block, and a 13.5 tonne Ball Hook to maximise their work potential at the site.
When complete, OOC will be the largest sub-surface station in the UK, with a box structure 850m-long, 70m-wide, and 20m-deep, with the West London hub connecting London to the Midlands. It will have 14 platforms in total, with six 450m long high-speed rail platforms situated underground within the 850m long station box, which trains will access via twin tunnels, which will eventually take the high-speed trains east to the Southern terminus at Euston Station.
Construction of the station box will involve excavating 740,000m3 of London clay, while the box's diaphragm walls will be 1.8km in length and the internal support to the HS2 station superstructure will be provided by 25m deep-bored piles.
"Old Oak Common is one of the largest, most complex civil engineering projects in the UK," said Nick Moon, "as such we're extremely pleased to be helping deliver this prestigious and iconic project, and to be using Kobelco crawler cranes to do so.
"Our crane fleet is over 70% Kobelco. They're very well-known and tested cranes, and as such were added to the lifting plan in 2020. They're simple and easy to operate machines, that are extremely reliable, making them ideal for long term projects, such as HS2."