Power meets Efficiency
28 July 2015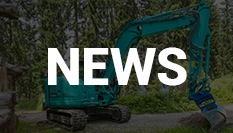 Generation 10 SK260LC-10/SK260NLC-10 achieve low emissions with high output
ALMERE, July 28, 2015 – Kobelco Construction Machinery Europe B.V. (KCME) is pleased to announce the arrival of its latest "Generation 10" specialist earthmoving and construction excavators available from the growing European Kobelco dealer network.
The SK260LC-10/SK260NLC-10 is the next Kobelco conventional excavator to comply with Stage 4 of the exhaust emissions regulations. The combination of 80 years excavator manufacture allied to modern technology and customer feedback has led to Generation 10 SK260LC-10/SK260NLC-10 leading the way in class due to exceptional low emissions and reduced operational costs while delivering an increase in working performance.
In pursuit of fuel efficiency, the SK260LC-10/SK260NLC-10 again raises the standard with acclaimed technology-led development. Compared to previous Generation 9 equivalent model, S-mode (normal work) fuel consumption has decreased by 9%, while Eco-mode sees a 10% reduction – this represents exceptional fuel savings to the customer and this is further enhanced with a 5% productivity improvement in H-mode operation. One of the main contributors to improved fuel consumption is the implementation of a new Kobelco developed engine-cooling fan design that requires less operating energy to reduce engine workload.
SK260LC-10/SK260NLC-10 powered by Hino engines carry the very latest in 'clean technology' by incorporating DOC (Diesel Oxidisation Catalyst) and the combination of SCR (Selective Catalyst Reduction) and DPF (Diesel Particulate Filter). Altogether these key systems reduce the amount of DEF/AdBlue fluid consumption used in the post-exhaust gas system, which also dramatically reduces the effects of particulate matter discharge and ensures Stage 4 emissions regulations are complied with. The reduction of harmful NOx by approximately 88% further enhances the environmental credentials of Kobelco machinery. For this reason, Generation 10 machines will feature a globe motif within its corporate decal/colour scheme to denote Global awareness.
Quality of design and manufacture not only lends itself to clean, powerful and cost effective operating performance, working hours and a long working life of the machine are also increased, again enhancing cost efficiency. An example of advanced design technology can be found with the Kobelco Arm Interflow System (AIS). When lowering the boom, a new hydraulic regenerative system enables the boom's weight to force hydraulic fluid to the shovel arm. This means the use of forced fluid from an external force i.e. pump is greatly reduced. Less engine/hydraulic workload denotes cost efficiency.
Serviceability on the new Generation 10 SK260LC-10/SK260NLC-10 is further improved with several key updates. The upper deck has a revised layout and aid easy access to the engine compartment. At the same time the machines gain a cleaner profile. More importantly, from a safety and work point of view, the operator has a clearer view to the right hand side. Other updates include: new compact and easily replaceable canister-type hydraulic oil return filter; a new fuel filter with greater filtration area; a new reinforced air cleaner element. Operator-read diagnostics via the cabin monitor help to ensure work continuity, such examples are on-screen and audible warnings for hydraulic oil temperature and clogged oil filter.
High durability working performance of Kobelco construction machinery is amplified by Generation 10. Featuring the latest engineering aspects in boom and arm design by incorporating revised structural sections, reinforcement points and pin bosses, Generation 10 SK260LC-10/SK260NLC-10 are easily achieve the daily demands of vastly differing working environments and conditions.
Additional operator benefits of Generation 10 include safety cabs revised to include control levers with a lighter-feel, a new 'lock' lever and control lever box. Additional air-conditioning vents and revised rear storage tray complement Kobelco's renowned cabin comfort. Easy daily and scheduled maintenance, extended service intervals and a European spare parts back-up complete the Kobelco experience.
Commenting on the introduction of SK260LC-10/SK260NLC-10, KCME Product Marketing Manager, Peter Stuijt, said: "Once again Kobelco has produced a product that matches and exceeds the requirements and standards of today's customers. Class-leading fuel economy with high work performance is the direct result of Japanese design and engineering.
"As can be seen with the impressive specification and features of SK260LC-10/SK260NLC-10, Japanese technology and customer-led feedback has successfully come together as one to provide customers with reliability, operator comfort, low cost and high work efficiency while returning a remarkably small carbon footprint."
A full and easy to view directory of the European, Russia & CIS and Maghreb Kobelco dealer network is available via the Dealer Locator on the official Kobelco Construction Machinery Europe B.V. website. For details please visit sandbox4.dutchwebdesign.nl/kobelco-europe-new
Ends

For media enquiries, please contact Sander Gesink on +31 36 2020 352 or email
sander.gesink@kobelco.com

About Kobelco
Kobelco Construction Machinery Europe B.V. is wholly owned by Kobelco Construction Machinery Co., Ltd. Japan. The European Headquarters were re-established in Almere, The Netherlands in 2013 and include the sales, service and marketing function for Europe, Russia-CIS and Maghreb. A modern parts warehouse supports aftersales service across the region.
Kobelco is dedicated to sales and services of crawler excavators from 1t to 50t. The Japanese manufacturer is well-known worldwide as a leading excavator specialist. Kobelco machines are highly-regarded for their advanced technology, including an innovative noise and dust reduction system, advanced hydraulic circuitry for power and superior fuel efficiency.