Big jobs with compact equipment – The new SK19 mini excavator provides the ideal combination of performance and functionality
17 February 2022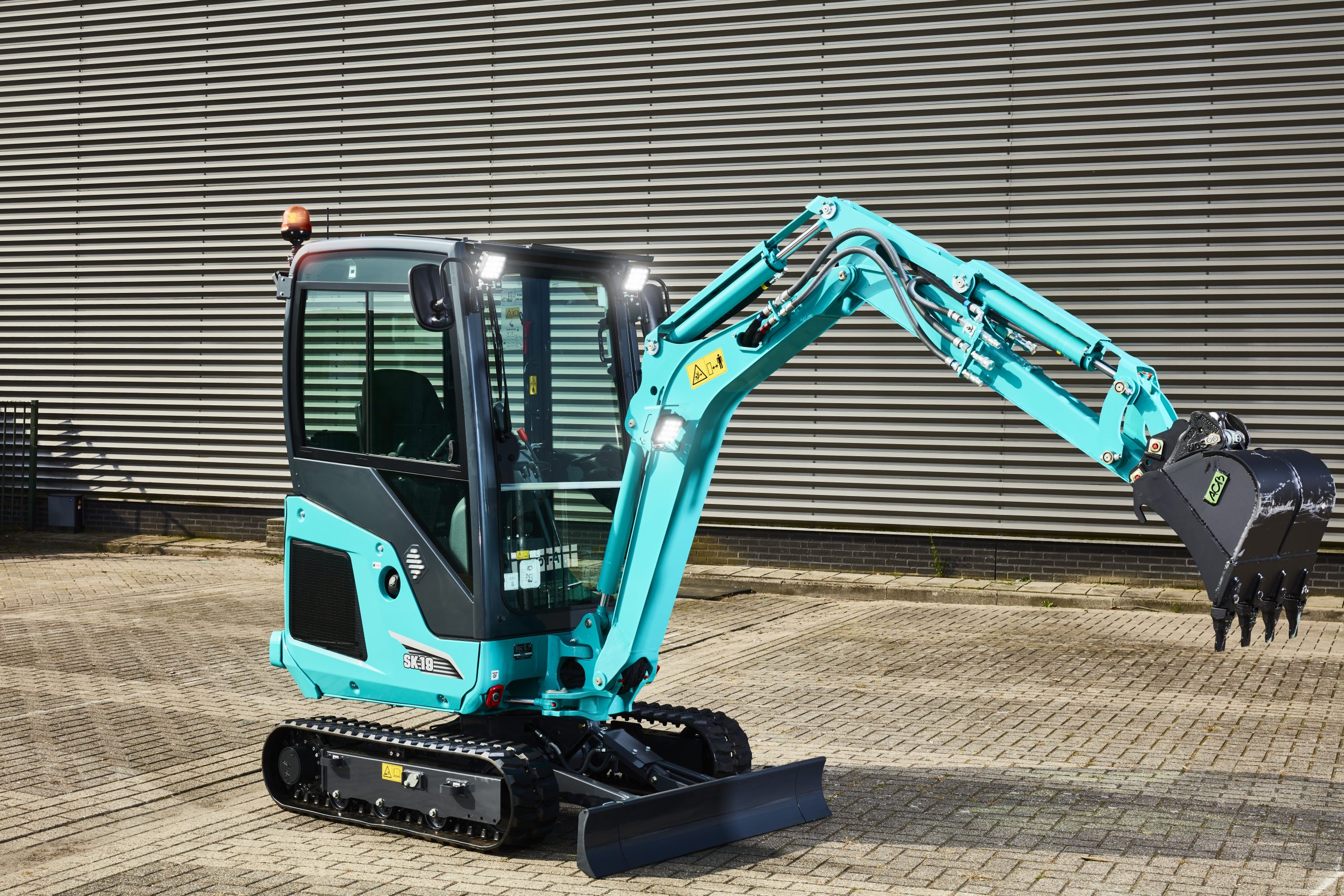 Small and restricted jobsites, such as residential areas and inside buildings, require machinery that delivers high performance as well as a small working footprint. The all-new Kobelco SK19 mini excavator combines a compact body with a high-output engine for high power and efficient operation, excellent stability with superior weight distribution and a well-designed, comfortable cab.
The Kobelco SK19, which replaces the previous SK18-1E, delivers superior performance thanks to its bigger engine, new hydraulic system and newly designed working equipment. For example, the Yanmar Stage V-compliant engine delivers a 38% increase in power output (13.1kW versus 9.5kW), 10% increase in bucket digging force (16.7kN versus 15.2kN) and 26% increase in arm digging force (long arm/short arm @ 9.3/11.4kN versus 7.4kN). Lifting capacity has also been increased by 24% (based on 2.5m reach, -0.5m from ground level over the front), while travel speed, digging reach and digging depth are also significantly improved.
For jobsites that require close working against walls, ditches and roads, the SK19 benefits from a number of important features. The width of the crawler is 980mm when retracted to enable access to tight passageways, which increases to just 1,320mm when extended. The compact tail swing provides operating efficiency in limited spaces, while the boom swing angle is 12% wider than the previous SK18-1E.
Durability and reliable construction is assured through the reinforcement of the SK19's key machine parts. The boom, arm and swing bracket all have large cross-section segments for added attachment strength, and spring steel cylinder rod guards are standard for the bucket and arm cylinders. The dozer cylinder rod guard also protects the dozer cylinder from damage.
Like with all Kobelco machines, the safety of the operator and other workers on the jobsite is of paramount importance. Both the SK19's cabin and canopy meet ROPS, TOPS and FOPS safety standards and the LED boom light, optional LED front/rear lights and optional LED pluggable orange beacon provide excellent illumination on-site. The rear-view mirrors (left and right) and optional rain visor also enhance visibility of the jobsite. All models are also available with long and short digging arms.
Operator wellbeing was also high on the agenda when developing the new SK19, and as a result, the machine features a number of features to make long operating hours more comfortable. USB ports, 12v power supply and cup holder come as standard while the wrist rests on each control lever box ensure fatigue-free operation. The additional (optional) counterweight provides extra stability. Easy access to the engine compartment, engine oil filter, air cleaner and fuel filter keeps downtime for routine maintenance to a minimum.
Commenting on the launch of the all-new Kobelco SK19, Product Manager, Wesley Elverding, said: "Mini excavators are vital to our overall product line-up, and the introduction of the SK19 demonstrates how we are developing our mini excavator technology and machine concepts. Tailored for productivity, the new SK19 offers increased arm digging forces and shorter overall cycle times, best-in-class hydraulic auxiliary lines, versatility and improved stability."
For more information about this machine and to see a full and easy-to-view directory of the European, Russia & CIS and Maghreb Kobelco dealer network, please visit the official Kobelco Construction Machinery Europe B.V. website at www.kobelco-europe.com
To download English press release click here >>
For the Italian press release download here: click here >>
For the French press release download here: click here >>
For the German press release download here: click here >>
For the Spanish press release download here: click here >>