Trimble and Kobelco Announce Factory-Fit Machine Control Solution for Kobelco SK210LC-10 Excavators in Europe
05 April 2019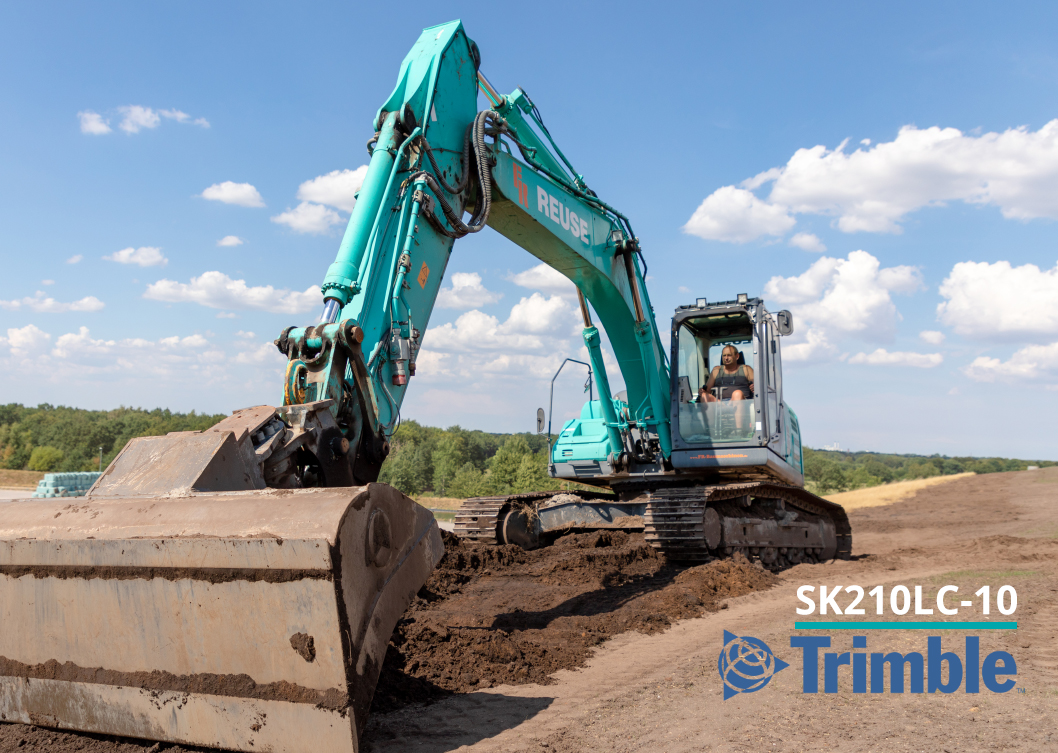 Kobelco Construction Machinery Europe B.V. (KCME) and Trimble are pleased to announce that Kobelco will offer the Trimble® Earthworks Grade Control Platform for the SK210LC-10 excavator as a factory-fit Machine Control solution for the European market. This solution offers customers 2D machine control to increase on-site productivity and quality, with the convenience of a factory-fit solution.
Excavator Automatics
With Trimble Earthworks, contractors can now take advantage of grade control automatics for excavators, allowing operators to create smooth, flat or sloped surfaces more easily. When the excavator is placed in Auto mode, the operator controls the stick, and Trimble Earthworks controls the boom and bucket to stay on grade, reduce overcut and increase production. By automating excavator operation, Trimble Earthworks allows operators to achieve grade consistently, with high accuracy and in less time.
KCME will offer a 2D machine control factory-fit option that includes a 10-inch Android™ tablet display running the Trimble Earthworks software application. This option includes rugged Trimble hardware, designed and tested for the harsh conditions found on construction sites.
Upgrade to 3D
Contractors can upgrade their 2D system to 3D by consulting with a local SITECH® dealer. SITECH is Trimble's global distribution network, providing installation services, personalised training and local technical support for Trimble construction technology.
Availability
Factory-fit Trimble grade control for the Kobelco SK210LC-10 is expected to be available in Europe from Kobelco's dealer network in 2020. Kobelco and Trimble are also developing the system to expand to other models.
KCME Managing Director, Makoto Kato, said: "We are pleased that our European customers will soon have the ability to choose Trimble Earthworks 2D machine control for their new Kobelco SK210LC-10, direct from the factory. The machine is also designed for easy 3D upgrade with the local Trimble dealer, SITECH. This will enable our Kobelco dealers to reduce the delivery time to end-users and increase availability of their workshop for efficient servicing." Trimble Business Development Manager for EAME, Jean Francois Sourdoire, said: "The collaboration between Trimble and Kobelco takes excavator performance to the next level with Trimble Earthworks semi-automatic excavator machine control. The improved productivity and quality control that the Trimble Earthworks Grade Control Platform and Kobelco machine integration enables will benefit our mutual customers."
Please visit KCME on stand FN.1016 at BAUMA 2019 to find out more about the Kobelco.