UK's SECH buys Europe's first CKE3000G
07 May 2019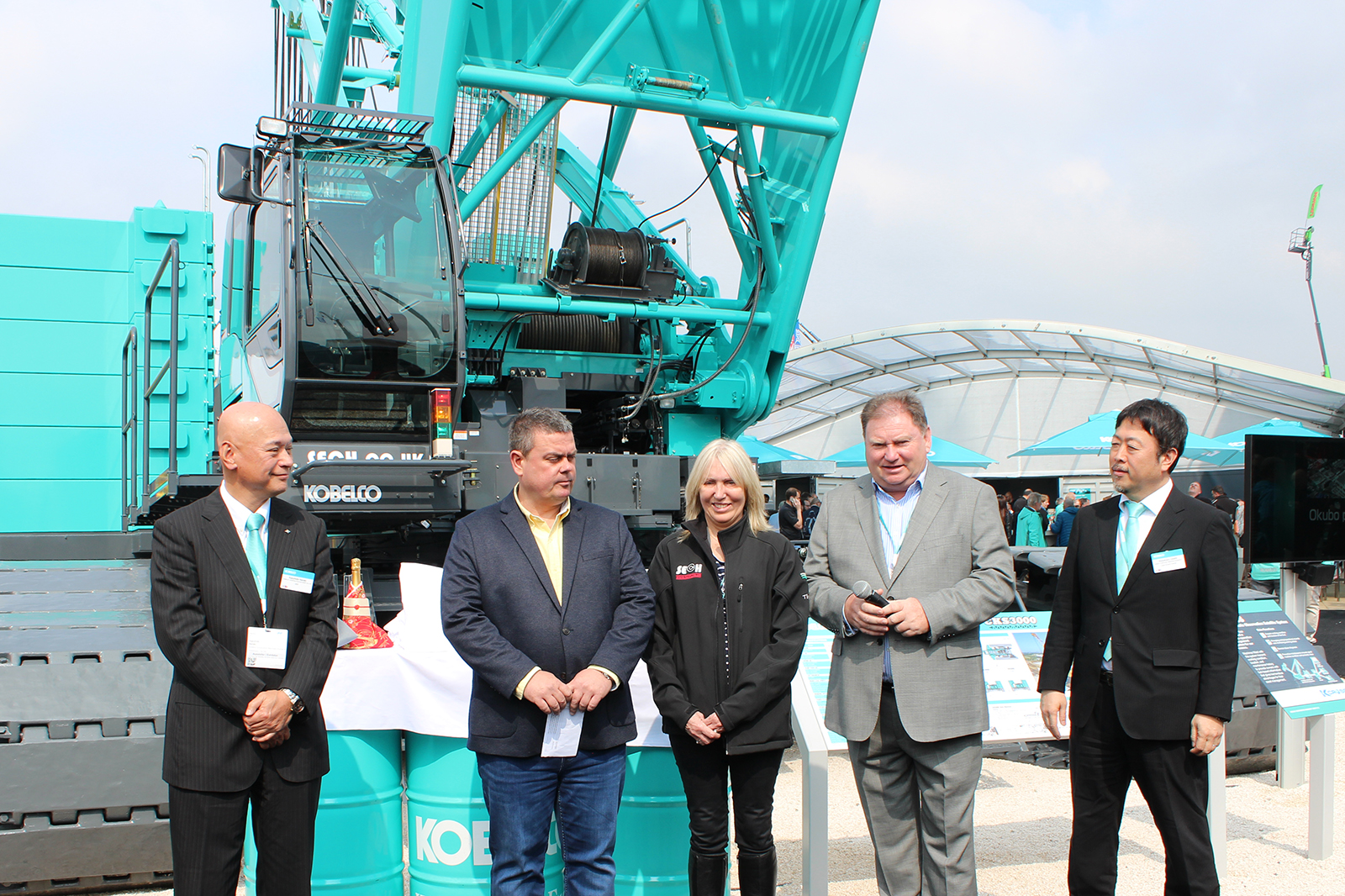 UK-based SECH completes acquisition of Europe's first 300 tonne capacity Kobelco CKE3000G crawler crane.
UK crane rental company SECH, which provides telescopic and lattice boom crawler cranes for hire across the UK from its headquarters in Hockley, Essex, just outside London, has completed the acquisition of the first 300 tonne capacity Kobelco CKE3000G at a special ceremony at Bauma, Munich, Germany (8-14 April, 2019).
Speaking about the decision to buy the CKE3000G, Matt Cox, SECH's managing director, said: "The CKE3000G is an exceptional crane with great lifting capacities. We have been running a Kobelco CKE1100G machine in our rental fleet for nearly two years now and after careful evaluation we chose Kobelco's new CKE3000G because of its design and operational simplicity, Kobelco's proven reliability and excellent performance.
"Another plus for us, was that the new Kobelco CKE3000G also has duel winch operation (double drum spooling), allowing for heavier loads to be lifted – for example into much deeper shafts with greater control and efficiency."
The CKE3000G has three lifting modes, including Standard model (maximum lifting capacity 300 tonne at 5.5 m), heavy lift (maximum lifting capacity 189.8 tonnes at 8.8 m), and super heavy lift (maximum lifting capacity 350 tonnes at 8 m).
Launched in December 2017, the first two units were delivered to Indonesian contractor Guna Teguh Abadi (GTA) Construction in March 2018.
The CKE3000G ordered by SECH will initially be delivered with a standard main boom, however, a 60 m luffing fly jib and a 30 m back mast and tray is also available, giving the crane both heavy lift (HL), and super heavy lift (SHL) capabilities, and a maximum lift capacity of 350 tonnes at 8 m radius.
A multi-purpose, "all-rounder", the CKE3000G is suitable for a range of applications, loads and job sites. Attachments include fixed jib, heavy fixed jib and luffing jib. For heavier lifts there is a super heavy lift configuration, also with a luffing jib.
Compared to the Kobelco 250-tonne capacity CKE2500G-2, the CKE3000G has greatly improved duties – the new machine lifts 40% more in standard specification and 60% more when used with a luffer. In its SHL configuration it can easily compete in the 400-tonne class.
For ease of transport the width of all components is less than 3 m (10 ft), while power comes from a Scania 13-litre, 331kW engine that meets Stage IV/Tier 4 Final emission standards without the need for a particulate filter.
Commenting on the deal, Mark Evans, Kobelco Cranes Europe's sales & operations manager (Kobelco Construction Machinery Europe), said: "We are pleased to have completed the sale of the first 300-tonne capacity CKE3000G for Europe to SECH. This is the first Kobelco crane of this size that has been sold into this all-important market and marks the first step in the next phase of Kobelco Cranes' expansion of its product line-up for the region."
CAPTION: (L to R)
Kazuhide Naraki, Global President – Kobelco Construction Machinery; Matt and Debbie Cox, SECH; Mark Evans, Kobelco Cranes Europe's Sales & Operations Manager (KCME); Masakazu Usami, Division Director Cranes (KCME).