Efficient, powerful and clean
Operators: Giuliano Santimaria
Customer: Cologna Inerti SRL
Dealer: Bassan Construction Limited
Machines: SK210HNLC-10 (Hybrid)
Location: Pojana Maggiore, northern Italy
The jobsite
In a world where protecting the environment is high on everyone's agenda, there is increasing pressure on companies, particularly in the construction industry, to reduce their carbon footprint. However, for many construction firms, there is a delicate balance between minimising costs for the customer and keeping emissions as low as possible. Kobelco Construction Machinery has always been committed to reducing the carbon footprint of its excavators without compromising performance, and its SK210H(N)LC-10 Hybrid is testament to this.
On a jobsite in Pojana Maggiore in northern Italy, around an hour's drive from central Verona, a Kobelco SK210HNLC-10 Hybrid is being used on a project for a company whose environmental values are similarly aligned with Kobelco's. Cologna Inerti SRL, which is located in Cologna Veneta, has been contracted to complete a manufacturing plant extension for Energreen SRL – an Italian-based manufacturer of 'green' maintenance machines including salt spreaders and hedge cutters.
However, Energreen's commitment to the environment goes beyond its machinery and can be seen throughout the new 20,000 sq metre factory extension. The building incorporates a host of environmentally-friendly features such as solar panels to power the factory's electricity and a special warming/cooling system. In addition, Cologna Inerti is currently in the process of fitting the new factory's fresh water supply system, including a 2,400m pipeline around the perimeter of the building. Once operational, this system will also divert waste water from the factory to an artificial reservoir, which will then be collected, filtered and cleaned, and pumped back into the factory for reuse.
Cologna Inerti began working on the Energreen factory extension in February 2019 when the 40,000 sq metre site was just green field. Currently five months into the project, the build is on track to be completed in November.
The customer
Cologna Inerti's history can be traced back more than 50 years. First established as Fratelli Sandonà in the early 1960s, the family-run company is a company managed by the cousins Luca and Simone Sandonà, it is specialised in agriculture with a specific focus on the maintenance of farmland and agricultural buildings. Over the next 20 years, the brothers invested in a range of small excavators and other equipment and expanded into earthworks, small demolition projects and land clearing.
After changing its name to Sandonà Scavi in the 1980s, the company continued to expand its services and increased its fleet of equipment to cover excavation, road construction, the building of aqueducts, bridges and sewers, as well as other earthmoving projects. This led to the creation of subdivision, Cologna Inerti SRL, which now specialises in general construction and utilities.
In addition to the two Sandonà brothers, the company employs 12 staff and has a fleet of 50 machines from 1-40 tonnes, including two Kobelco SK350NLC-10 excavators, an SK210NLC-10, two SK85MSR-3s and a number of Kobelco mini excavators. The Kobelco SK210HNLC-10 Hybrid being used on the project at Pojana Maggiore is on long-term rental from Kobelco Construction Machinery Europe N.V. dealer, Bassan Construction Limited. Simone Sandonà explains that they wanted to try the SK210HNLC-10 Hybrid first before committing to purchasing it.
"Our first Kobelco machines were SK350NLC-10s, which are currently levelling land for corn production on a jobsite five minutes away from here. These machines have now done around 4,000 hours with no problems. However, we only had a small budget for the Energreen project and we were keen to contain our costs as much as possible. Our dealer, Bassan, was confident that we would see significant savings in fuel consumption with the Kobelco SK210HNLC-10 Hybrid so we decided to rent it and see for ourselves. Bassan has an excellent reputation and provides a fantastic service so we trusted their advice!
"We've now had the SK210HNLC-10 since February and it has been working around 10 hours every day. We're very pleased with the fuel economy of the machine, the upper rotation and swing is very powerful and the torque is very good too. We're also using a special attachment tool to lay the pipes for the factory's new water system, which means that there is no need for an additional groundsman. This is also saving us labour costs.
"Overall I am very happy with the performance of the Kobelco SK210HNLC-10 Hybrid. When this project is completed, we will take it to another site where we are working on a 300,000 sq metre distribution centre. I think we will probably end up purchasing the machine from Bassan as we are very pleased."

The machine
Cologna Inerti's main reason for choosing the Kobelco SK210HNLC-10 Hybrid for this project was for its excellent fuel economy but the machine is also considered one of the best in class in terms of CO2 emissions. Given their own environmental philosophy, this feature was particularly appreciated by Energreen on the construction of their new plant. The machine's narrow tracks – identified by 'N' in the model name – also make the SK210HNLC-10 an ideal choice for Italy, as the reduced size complies with the country's strict transportation regulations.
The Kobelco SK210H(N)LC-10 is the first true hybrid specialist excavator in the 21-tonne operating class.  Kobelco has been at the forefront of hybrid technology since 1999 when development for a hybrid excavator first began. Since then, Kobelco's technical excellence and experience has now enabled the Japanese manufacturer to deliver the very latest in hybrid technology to one of the most demanding working-weight classes.
The use of a large lithium-ion battery – an operating class world-first – allows a greater retention of stored electricity, which provides the necessary electrical output to a new Kobelco-developed 25 kW power-assist generator motor. The efficient Stage 4 (Tier IV) Hino Motors turbocharged diesel engine is the same engine that powers the conventional SK210LC-10. The 25 kW power assist of the new SK210H(N)LC-10 generator motor is comparable to the engine output of a much larger 5-tonne excavator.
With the engine in low-to-normal loading, the generator motor reverts to charging the new lithium-ion battery. The stored electrical content also powers the new all-electric swing motor and gives greater control functionality in terms of response and smooth operation.
The operator
Sixty-two-year-old Giuliano Santimaria has been operating excavators for more than 40 years and finds the Kobelco SK210HNLC-10 Hybrid extremely easy to operate. He is currently using the machine to dig a trench for the pipeline for the factory's new water system before using the special 'L' attachment tool to lay the pipe into the void.
"I am usually used to operating conventional excavators, such as the Kobelco SK350NLC-10, but I like the SK210HNLC-10 Hybrid. I think that is a very high-quality machine, very comfortable and I'm particularly impressed with its 'instant' power. The machine's swing is very smooth and easy to control. This enables me to be really precise when laying the water discharge pipes."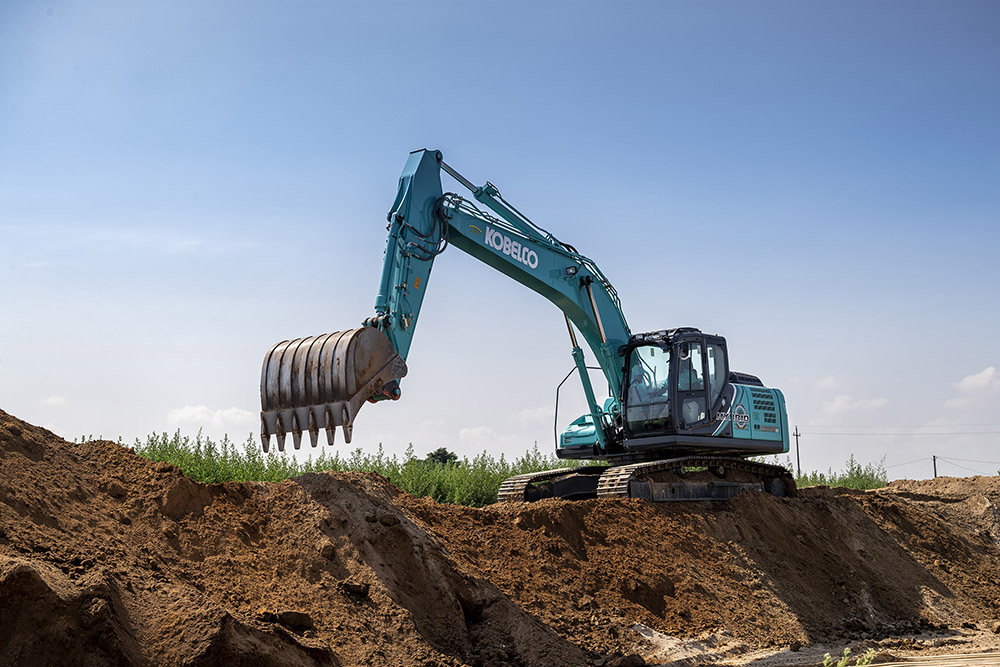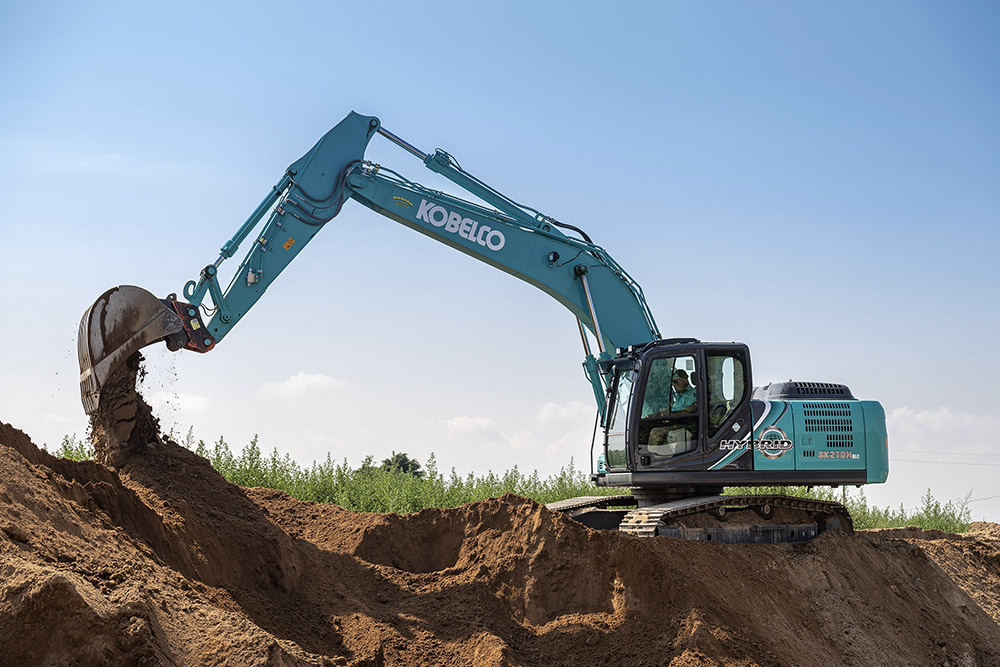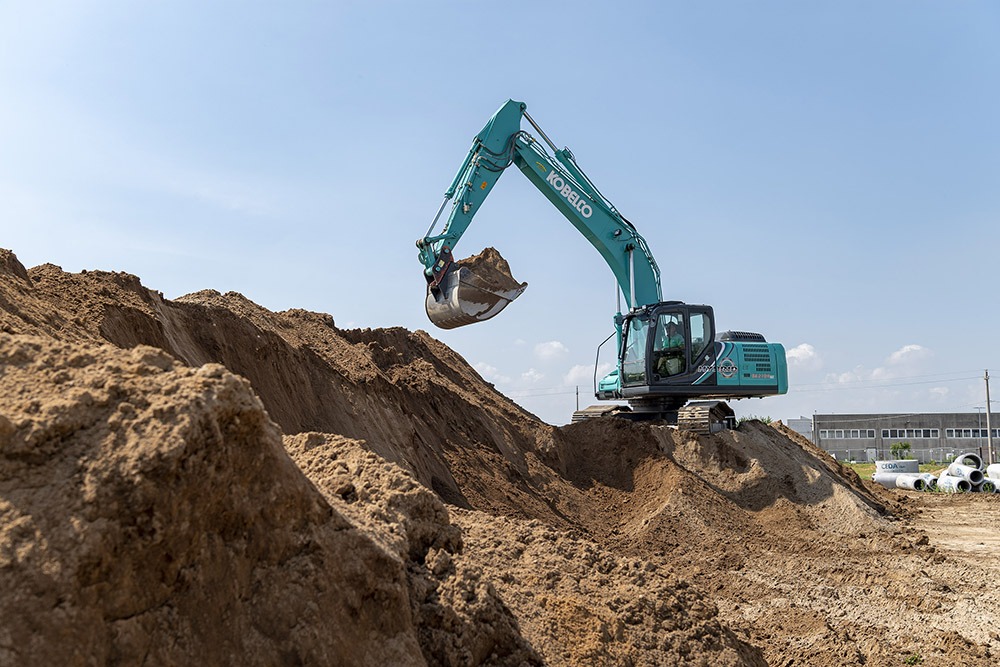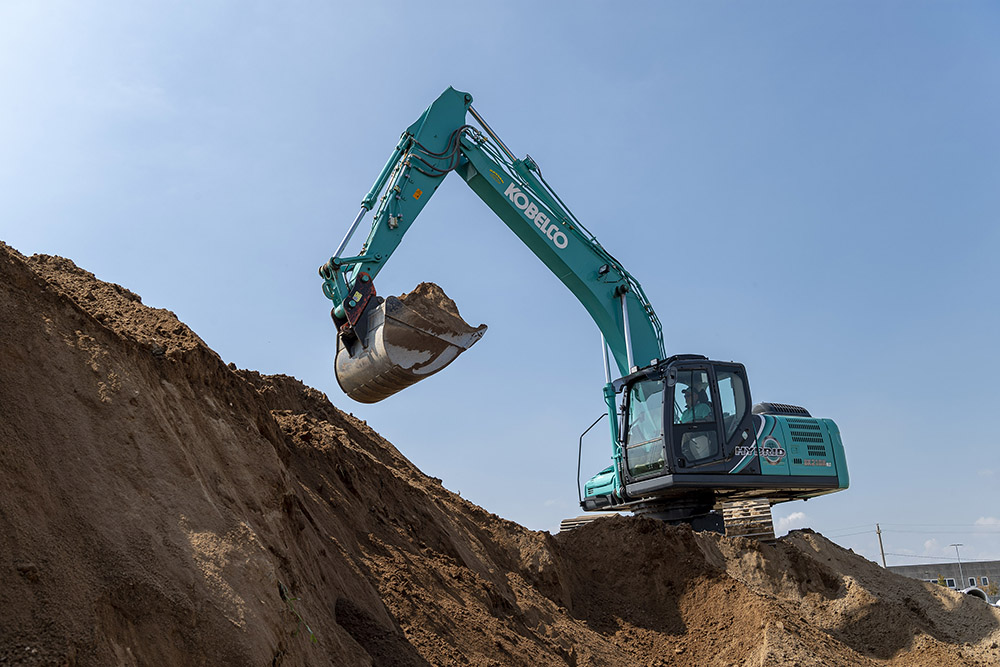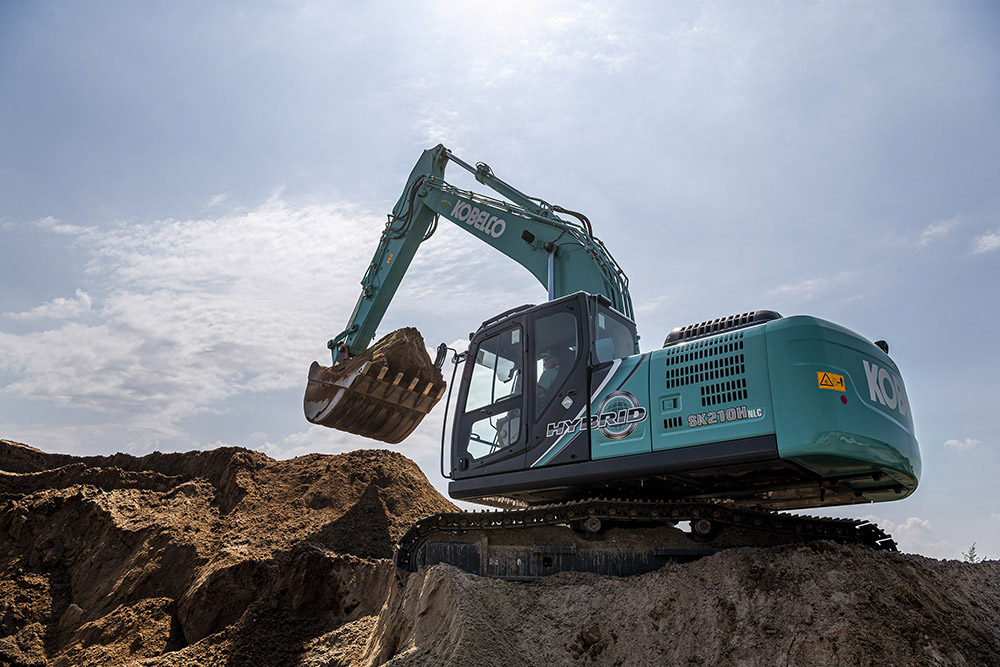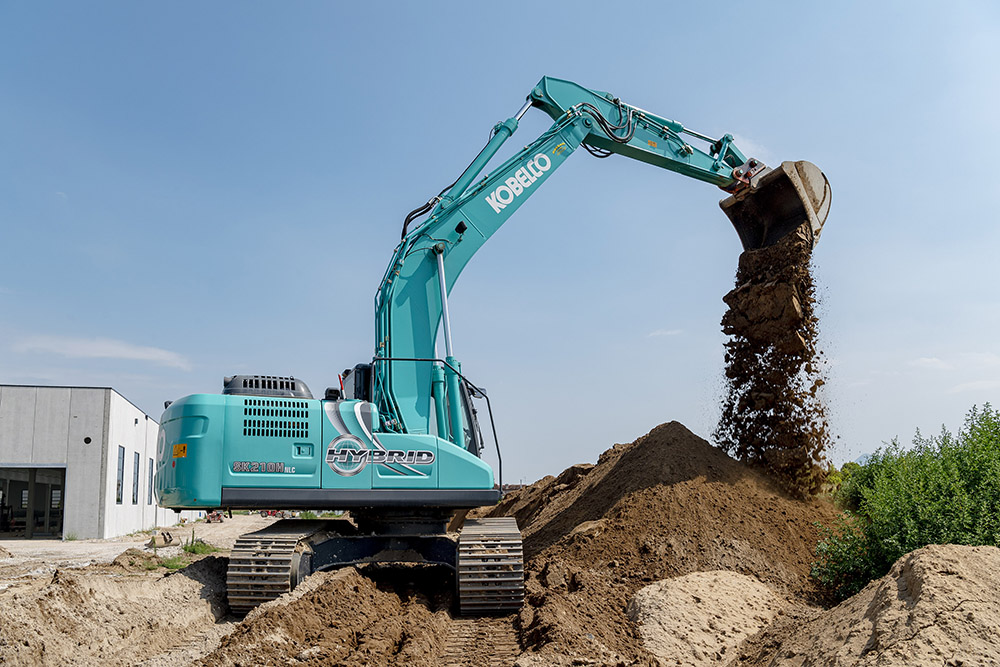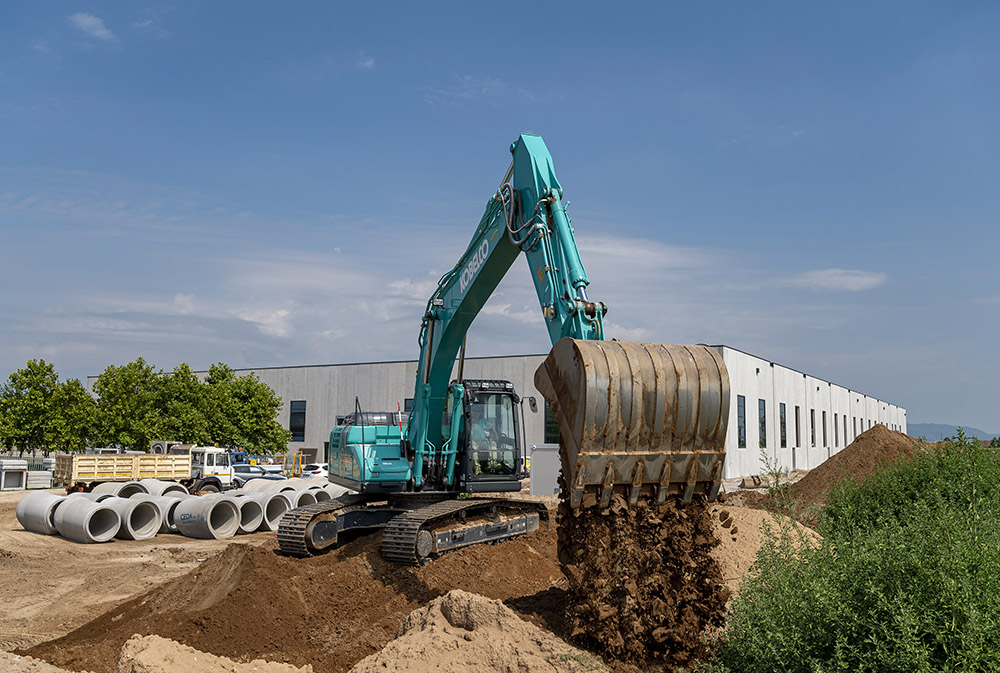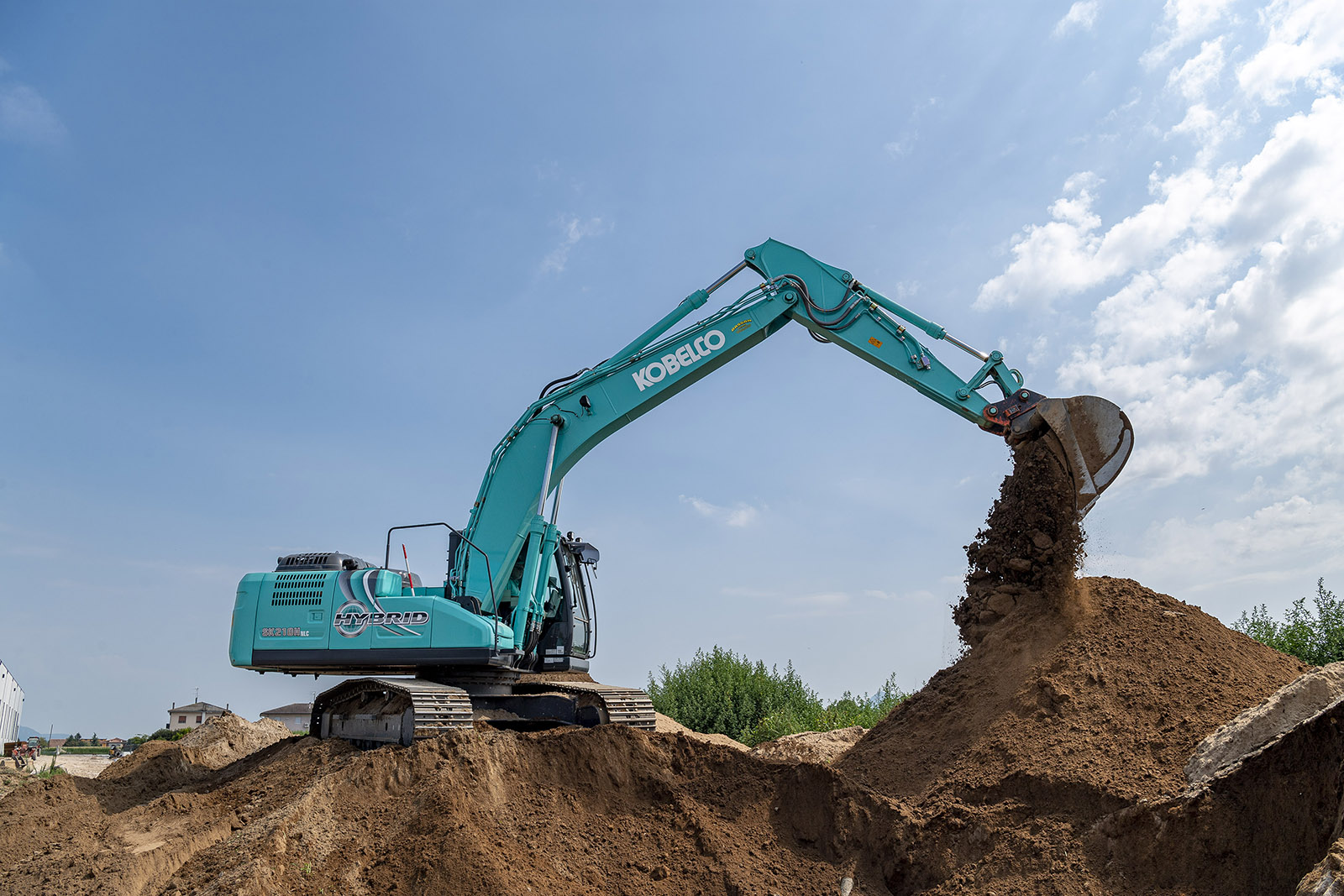 Highlights
Yohan Jouanne
Posted 5 years ago
"Nothing compares to Kobelco in terms of control use especially the swing system. The swing of the boom is very reactive, quick and sensitive to input. It is very precise compared to older machines."
Read more
OUR DEALERS
Use our intelligent dealer locator to find your nearest Kobelco Authorised Dealer.