Kobelco Construction Machinery Europe unveils redesigned website
26 November 2015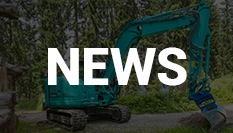 New 'kobelco-europe.com' features refreshed design and enhanced content
Kobelco Construction Machinery Europe B.V. (KCME) is pleased to announce the launch of its all-new website, sandbox4.dutchwebdesign.nl/kobelco-europe-new. Key features of the redesigned site include fast and easy access to information packaged to be truly informative. Attractive, fresh and rich content features throughout the site and is regularly updated with further spectacular imagery and quality video content where relevant. Responsive design elements built into the new website allows user-friendly interaction on all media portals (smartphone, tablet and desktop).
Utilising the latest 'search' technology within the redesigned site not only speeds up access to information but also means site visitors can, through the use of the new 'intelligent' dealer locator in association with Google Maps, swiftly acquire precise location and contact details of their nearest Kobelco authorised dealer. The same technology enables full coverage of the dealer network regions throughout Europe, Russia & CIS and Maghreb along with their respective product availability.
Also contained within the new website are dedicated sections to:
myKOBELCO is an innovative and large feature of the new website. This section enables site visitors to view customer testimonials backed up with exceptional jobsite photography. The use of a 'filter' application allows visitors to search and review testimonials by country or product to see for themselves how Kobelco Construction Machinery has applied and validated its core messages of: Built to last quality, low fuel consumption, low noise operation and high performance excavators.
Kobelco News and Event pages contain information related to the products and people of Kobelco Construction Machinery Europe B.V.. From product releases, authorised dealer and staff appointments to construction industry exhibitions and much, much more is only a hand movement and web page away.
Kobelco Career – job opportunities within all areas of KCME are highly prized; likewise KCME is keen to employ the very best within the construction industry. This section relays all details and requirements to gain employment within this rapidly growing European division of Kobelco Construction Machinery Co., Ltd. KCME is an equal opportunities employer.
Parts and service is, as you would expect, paramount to the success of any business. Whether it is the urgent supply of spare parts, technical assistance or warranty control procedures, this section of the site explains fully the goals and methods to reduce unwanted site downtime – yet another way in which "We save you money."
Social media engagement (Facebook, YouTube, LinkedIn) is a fast-growing segment of any business and KCME actively pursues networking of customers, fans of KCME products and the company. All our website pages feature active links to our preferred social media channels. Business-oriented connection is supported by the KCME LinkedIn tag.
Talking about the new KCME website Makoto Kato, Managing Director of Kobelco Construction Machinery Europe B.V. said: "Complete modernisation of the KCME website has led to enhanced content, improved search functionality and given the required optimisation for the new age of portable communications within the working field. Overall, customer and consumer interaction with KCME online today will set a new standard – in the same way Kobelco Construction Machinery products have done for over 80-years. This is a modern world; this is the world of Kobelco-Europe.com."