EXCAVATOR INNOVATORS SINCE 1930
Kobelco's Japanese-built excavators deliver superior fuel efficiency, low noise operation and advanced hydraulics for powerful, high performance.
WHO ARE WE?
WE ARE KOBELCO
From our marketing and finance managers to technical and engineering teams, everyone in the Kobelco family plays an important role in ensuring that our products are the best that they can be.
Ard Smit
"The performance of this SK210LC-9 is superb. The hydraulics are so precise, especially during leveling."
read my story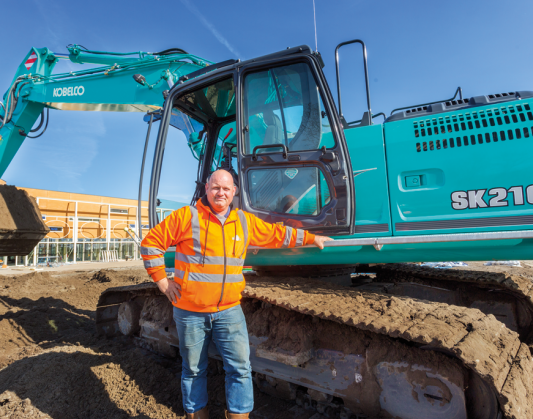 SEE US IN ACTION

GaLaBau Nuremberg 2016
20-10-2016

Kobelco Aftermovie Bauma
26-07-2016
Next Generation Champions
26-07-2016

SK350LC-10 : Job Site Visit Switzerland
05-12-2016

Kobelco Brand Video
22-10-2015

Integrated Noise & Dust Reduction System
23-10-2015
OUR DEALERS
Use our intelligent dealer locator to find your nearest Kobelco Authorised Dealer.
Latest news
12-06-2017 | The all-new SK210HLC-10 is the world's first lithium-ion battery powered hybrid excavator. Kobelco Construction Machinery Europe B.V. (KCME) is pleased to announce the arrival of the all-new Kobelco SK210HLC-10 – the first true hybrid specialist excavator in the 20-tonne operating class with Stage 4 (Tier IV) compliance. "We are very pleased to finally launchLees verder

16-05-2017 | Kobelco SK210LC-10 Scale Model received a positive review from Laster & Bagger Magazine, and the photo of the model was featured on the front cover. SK210LC-10 is the first Kobelco collector's model available in 1:50 scale and was produced exclusively for Kobelco by Motorart. The process of creating a scale model is lengthy andLees verder