EXCAVATOR INNOVATORS SINCE 1930
Kobelco's Japanese-built excavators deliver superior fuel efficiency, low noise operation and advanced hydraulics for powerful, high performance.
WHO ARE WE?
WE ARE KOBELCO
From our marketing and finance managers to technical and engineering teams, everyone in the Kobelco family plays an important role in ensuring that our products are the best that they can be.
Andreas Wolf
"The SK260SR is compact, yet very stable."
read my story
FEATURED VIDEO
New SK75SR-7
walkaround video
This next-generation midi machine offers superior performance, greater efficiency and productivity with increased power and speed over the previous models, as well as one of the most sophisticated operator cabins in class.
Watch this newly released video to see the key features and improvements.
FANSHOP
SK400DLC-10 scale model just arrived
Arriving just in time for Christmas after a production delay, we can finally tell you that the SK400DLC-10 Next System scale model is in stock.
Complete with a nibbler and NEXT system in 1:50 scale this is the model that we know collectors have been waiting for.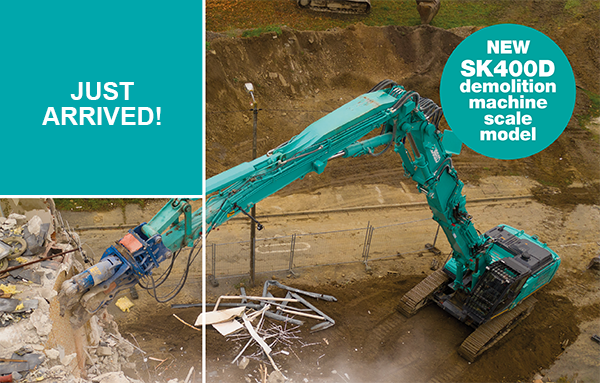 Kobelco Highlights
OUR DEALERS
Use our intelligent dealer locator to find your nearest Kobelco Authorised Dealer.