Kobelco Construction Machinery strengthens German dealer network
01 December 2015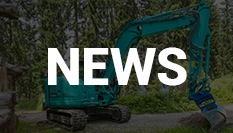 Lopez-Infantes Baumaschinen GmbH & Co. KG joins Kobelco's expanding European network of trusted dealer partners
Kobelco Construction Machinery Europe B.V. (KCME) is continuing its European network expansion with the addition of a new authorised German dealer. Lopez-Infantes Baumaschinen GmbH & Co. KG is now responsible for the service and supply of Kobelco construction machinery throughout the eastern part of the North-Rhine-Westphalia territory ("Nordrhein-Westfalen").
Established more than 25 years ago, Lopez-Infantes Baumaschinen GmbH & Co. KG has built a strong reputation for the service and supply of construction equipment across West Germany. The dealer is also renowned for providing bespoke solutions to meet its customers' ever changing needs, and prides itself on its longstanding relationships with its client base. Managing Director, Manuel Lopez-Infantes, believes that adding Kobelco construction machinery to his product portfolio not only expands his premium offering but will enable him to grow his own distribution network.
Lopez-Infantes Baumaschinen GmbH & Co. KG joins an already established German dealer network, which includes EMB Baumaschinen GmbH, KARI Baumaschinen GmbH, F.R. Baumaschinen GmbH and Herbers Baumaschinen Vertrieb GmbH. This new appointment highlights KCME's commitment to supporting Kobelco customers across Germany by working with dedicated dealers who have specialist knowledge of their individual markets.
Philippe Le Bourhis, General Manager Sales and Field Marketing of Kobelco Construction Machinery Europe B.V. said: "Germany has always been a very important market for Kobelco and the appointment of Lopez-Infantes Baumaschinen GmbH & Co. KG reinforces our commitment to this territory. We are extremely pleased to welcome Manuel and his team to the Kobelco brand – we're confident that their specialist knowledge of the West German market will result in higher levels of service and support for customers of Kobelco."
A full and easy to view list of the complete European Kobelco dealer network is available via a new Dealer Locator on the official Kobelco Construction Machinery Europe B.V. website. For details please visit sandbox4.dutchwebdesign.nl/kobelco-europe-new