Kobelco SK210HLC-10 Hybrid wins 2nd prize at MATEXPO Green Award
06 November 2017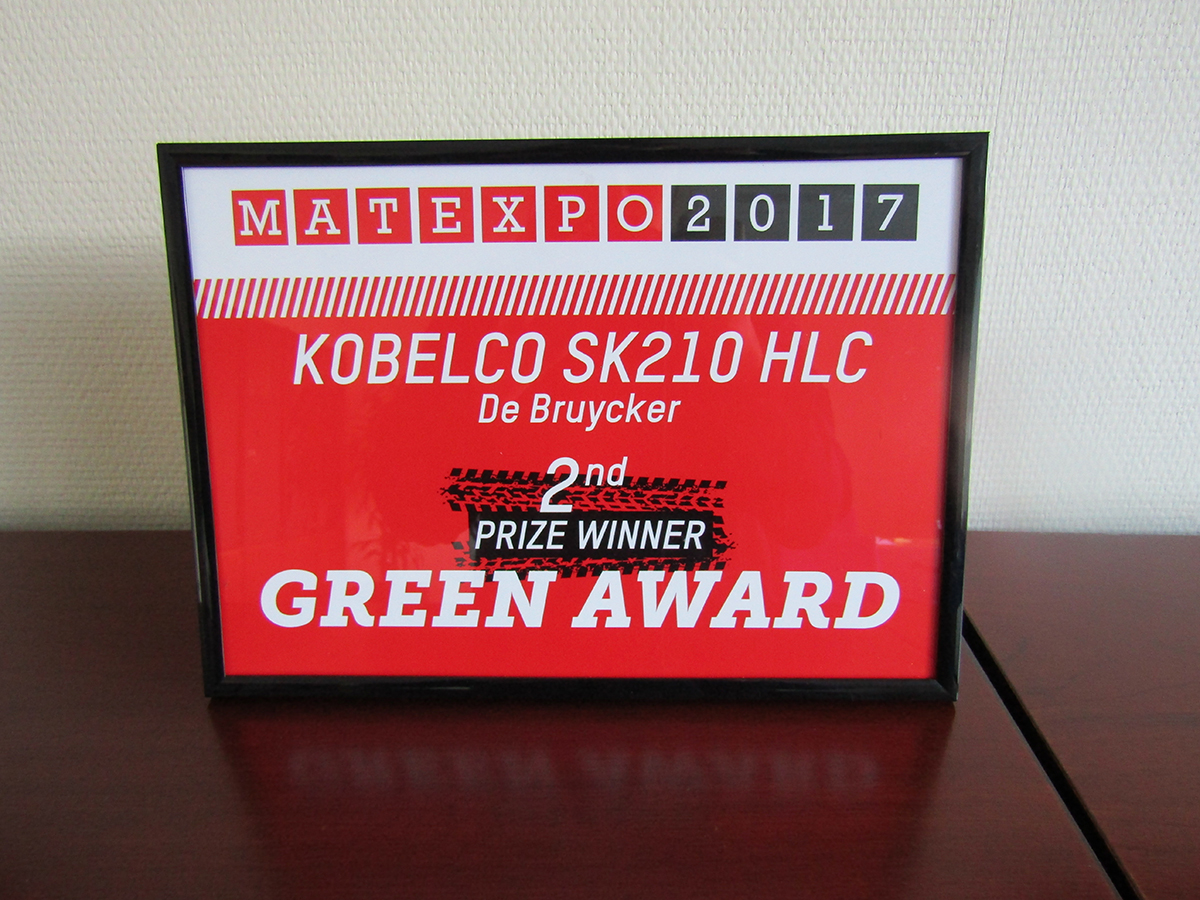 The SK210HLC-10 Hybrid excavator was introduced to the European market this year and has been recognized for its innovative technology and reduced impact on the environment at the MATEXPO exhibition in Belgium.
About the Award
For the sixth time, MATEXPO has awarded the Innovation Award and the Green Award. These prizes distinguish the biggest technical innovation and the most environmentally friendly machine or innovation during the exhibition.
The candidates for the Green Award must make a positive contribution to the quality of the environment or by minimizing the harm upon the environment.
The SK210HLC-10 Hybrid excavator was exhibited by Kobelco Authorised Dealer De Bruycker and was among twelve other contenders competing for the Green Award.
About SK210HLC-10
Unlike existing hybrid excavators that employ super capacitors, Kobelco SK210HLC-10 is working with a large size Lithium – Ion battery. In addition, a powerful 25 kW generator motor supplies energy to the battery or – if the engine load is high – assist the combustion engine.
The usage of Lithium-Ion battery technology results in both further fuel saving as well as a smooth operation of the engine.
The SK210HLC-10 is using the same engine as the standard 20-ton model. This implies that there is no compromise to performance in case of Kobelco hybrid. This 20-ton engine runs at a slower pace for smooth operation and outstanding exhaust emissions.
Swing movement is completely electric and therefore very easy to operate. The kinetic energy, which is a result from swing deceleration, is regenerated and charged into the battery.
More information about our hybrid machine you can find on Hybrid Innovation page >>>
About MATEXPO
MATEXPO is a biennial international trade fair for construction equipment in Kortrijk Xpo, Belgium. As the third largest trade fair in Europe, MATEXPO receives more than 40,000 visitors.
Among 360 exhibitors are mainly importers of machinery for construction, recycling, civil engineering, freight handling, environment and cleaning.
Visit exhibition website: www.matexpo.com