New SK75SR-7 and SK85MSR-7 – Kobelco launches next-generation midi excavators
04 March 2019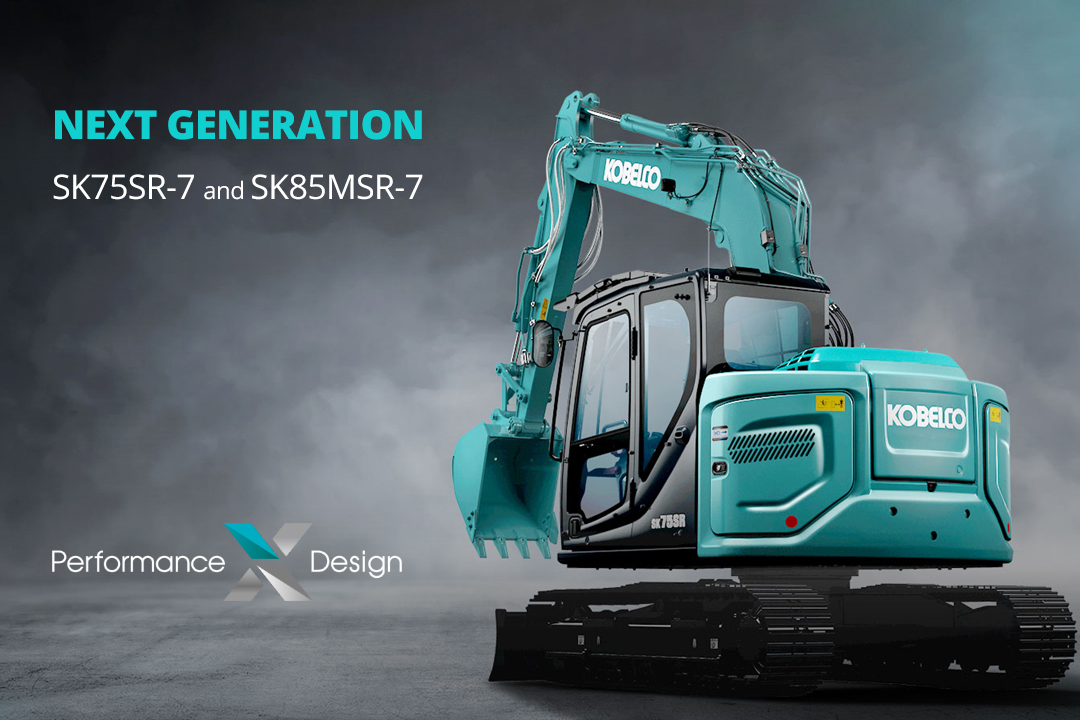 The Japanese manufacturer's new SK75SR-7 and SK85MSR-7 are set to lead the way in the mid-range category.
Following increasing demand for mid-sized excavators in Europe, Kobelco Construction Machinery Europe B.V. (KCME) is pleased to announce the launch of the all-new SK75SR-7 and SK85MSR-7. These next-generation midi machines offer superior performance, greater efficiency and productivity with increased power and speed over the previous models, as well as one of the most sophisticated operator cabins in class.
Several years of research and development, including valuable feedback from the European market on the previous SK75SR-3 and SK85MSR-3, has led to a number of significant improvements in the new SK75SR-7 and SK85MSR-7 models. For example, the distance between the upper structure and undercarriage has increased by 20mm in order to reduce damage by rocks, and the machines' blade geometry has been improved, making it easier for operation in mountainous areas.
Other key improvements to the machines' all-round performance include a 15% reduction in digging cycle time and 37% increase in arm digging speed for improved productivity, and a 27,9% increase in engine output. In addition, the machine's bucket digging force has been increased by over 14% from 52.7 to 60.3 kN for superior power when working in areas of hard ground.
With their short radius designs, the SK75SR-7 and SK85MSR-7 are also ideal for working on jobsites where space is limited, such as in residential areas. The inclusion of Kobelco's innovative iNDr (Integrated Noise and Dust Reduction Cooling System), a superior method of noise suppression that promotes low noise, exceptional engine cooling, enhanced reliability and minimal machine downtime, reinforces the machines' urban working credentials.
When it comes to fuel efficiency, the SK75SR-7 and SK85MSR-7 feature three working modes that can be used to balance work volume with optimum fuel consumption. H-mode is used for heavy working, S-mode normal working and Eco-mode for prioritising fuel efficiency over work volume.
Fuel consumption can be monitored and work modes can be changed via the 10-inch colour multi-display in the cabin, which is also the largest in class. Reinforcing Kobelco's commitment to reducing its carbon footprint, the SK75SR-7 and SK85MSR-7 also comply with Stage V of the EU emissions standards, which are set to come into force in 2019.
Particular care and attention has been given to the SK75SR-7 and SK85MSR-7's new larger size cabin in order to promote increased operator comfort and safety. A Kobelco-branded Grammer heated air suspension seat is installed as standard for excellent shock absorption and superior operator comfort, and the armrests and joystick moves with the seat for optimum working position. The levers can also be moved horizontally in order to reduce operator fatigue.
The ROPS and FOPS II-compliant cabin provides increased operator safety while the LED-spec work lights and rear/side cameras offer excellent visibility on site. In addition, all maintenance related items are concentrated at the right hand side of the machine for easy access and the FOPS II guard can be opened for window maintenance.
The SK75SR-7 is available with fixed monoboom and offset boom configurations. The SK85MSR-7 is available with swing monoboom and can also be fitted with a two-piece boom. This special two-piece configuration enables operators to work across a wide operating range while still providing smooth hydraulic operation, high performance and increased fuel efficiency, and gives more digging space within the same area.
Commenting on the introduction of the new SK75SR-7 and SK85MSR-7, KCME Product Manager, Peter Stuijt, said: "There is an increasing market for midi machines (less than 10 tonnes), particularly in the UK, Germany, France, Austria, Italy, Norway, Sweden and Benelux. With this in mind, we have spent a number of years developing our SK75SR-7 and SK85MSR-7 in order to meet market demand as well as exceed the expectations of our European customers."
"As well as offering superior performance, greater efficiency and productivity with increased power and speed over the previous models, we expect the SK75SR-7 and SK85MSR-7 to be particularly appealing to the operators, who will appreciate the higher level of cabin comfort and improved safety features."
The Kobelco SK75SR-7 and SK85MSR-7 can be found on KCME's outdoor stand FN1016 at BAUMA 2019.
For machine specification and to download the brochure, go to:

SK75SR-7 product page >>>
Follow our event live blog here >>>