Old meets new in San Bonifacio
Operators: Ignacio Molinarolo
Customer: RAM Costruzioni srl
Dealer: Bassan Construction Limited
Machines: SK140SRLC-5
Location: San Bonifacio, Verona, Italy
The jobsite
The city of Verona in northern Italy's Veneto region is steeped in history – from its First-century Roman amphitheatre and Eighth Century churches and monasteries, to Shakespeare's romantic 14th Century setting for Romeo and Juliet. With so much medieval and renaissance architecture, there is little wonder that construction companies are being asked to restore and renovate older buildings as part of more modern projects in an attempt to retain as much of the region's historical character as possible.
In San Bonifacio, which is located among vineyards around 25 kilometres east of central Verona and 80 kilometres west of Venice, RAM Costruzioni srl has been contracted to undertake one such project. The construction company is approximately nine months into a 12-month project to erect a brand new 45.000 sqm shopping centre, which also incorporates a 19th Century sugar refinery.
The historical sugar mill would once have been integral to the production of sugar and contribution to the economy of San Bonifacio village, but it has stood in ruins for many years. As part of the works, the original walls and chimney of the sugar mill are being renovated and the finished building will become the shopping centre's headquarters.
RAM Costruzioni is taking extra precautions to ensure that the building is strong enough to resist seismic activity and provide adequate earthquake protection – two major earthquakes struck Northern Italy in 2012, causing widespread damage. Reconstruction of the mill is taking a little longer than originally planned, although completion is still expected in December 2019.
This jobsite also incorporates a 5,000-litre concrete water tank, which has been buried seven metres underneath what will be shopping centre's car park. The tank's primary purpose is to collect surplus rain and prevent flooding – the stored water can be used to help control wild fires, or can be pumped back into the river over a period of time.
The customer
RAM Costruzioni srl is a family-owned construction and project management company based in Arcole, Verona with more than 25 years' experience. With a specific focus on industrial construction projects, the company has completed more than 120 building projects, mainly in the commercial sector, including the construction of the Ferroli S.p.A. headquarters and the Comar S.p.A. plastics factory in Verona. The company currently employs a workforce of more than 230 people.
RAM has a 30-strong team working on the jobsite in San Bonifacio and has a significant number of Kobelco excavators on site, including a SK350NLC-10, SK140SRLC-5, two SK55SRX-6 mini excavators and an SK17SR-3.
The SK350NLC-10 was RAM Costruzioni's first Kobelco excavator. However, the company's owner, Giuseppe Molinarolo, hasn't always been a Kobelco customer.
"I saw Kobelco at Samoter in 2017. I had heard about Kobelco's quality reputation and was looking to replace some of the older excavators on our fleet. Kobelco entering the Italian market three years ago was particularly well-timed for us. I now own seven Kobelco machines: SK17SR-6, three SK55SRX-6s, SK140SRLC-5, SK210NLC-10 and a SK350NLC-10.
"Although I can't directly compare these new Kobelco machines to the older models on my fleet, I am very impressed with how easy-to-use the Kobelco models are, how economical they are on fuel and how accessible our Kobelco dealer, Bassan Construction Limited, is in case we have any problems or need service support. We just haven't had any problems yet!"
The machine
The SK140SRLC-5 is a short radius machine that is ideally suited to operating in tight spaces. The machine also features Kobelco's innovative iNDr (Integrated Noise and Dust Reduction) system, which promotes low noise, exceptional engine cooling and increased reliability. The SK140SRLC-5's clever layout provides convenient access for maintenance and additional protection of key components. The machine's rear-view camera aids low-level visibility while the right side camera offers a wider all-round view. This is important on a large jobsite like this one in San Bonifacio as there are always lots of machines and workmen around and safety is an important consideration.
The operator
The SK140SRLC-5 is being operated by 48-year-old Ignacio Molinarolo, who has been in the construction industry for more than 30 years and is the brother of RAM Costruzioni's owner, Giuseppe.
"The SK140SRLC-5 is very, very quiet. It is very easy to operate and the hammer attachment is precise and delivers just enough power to crush the rocks."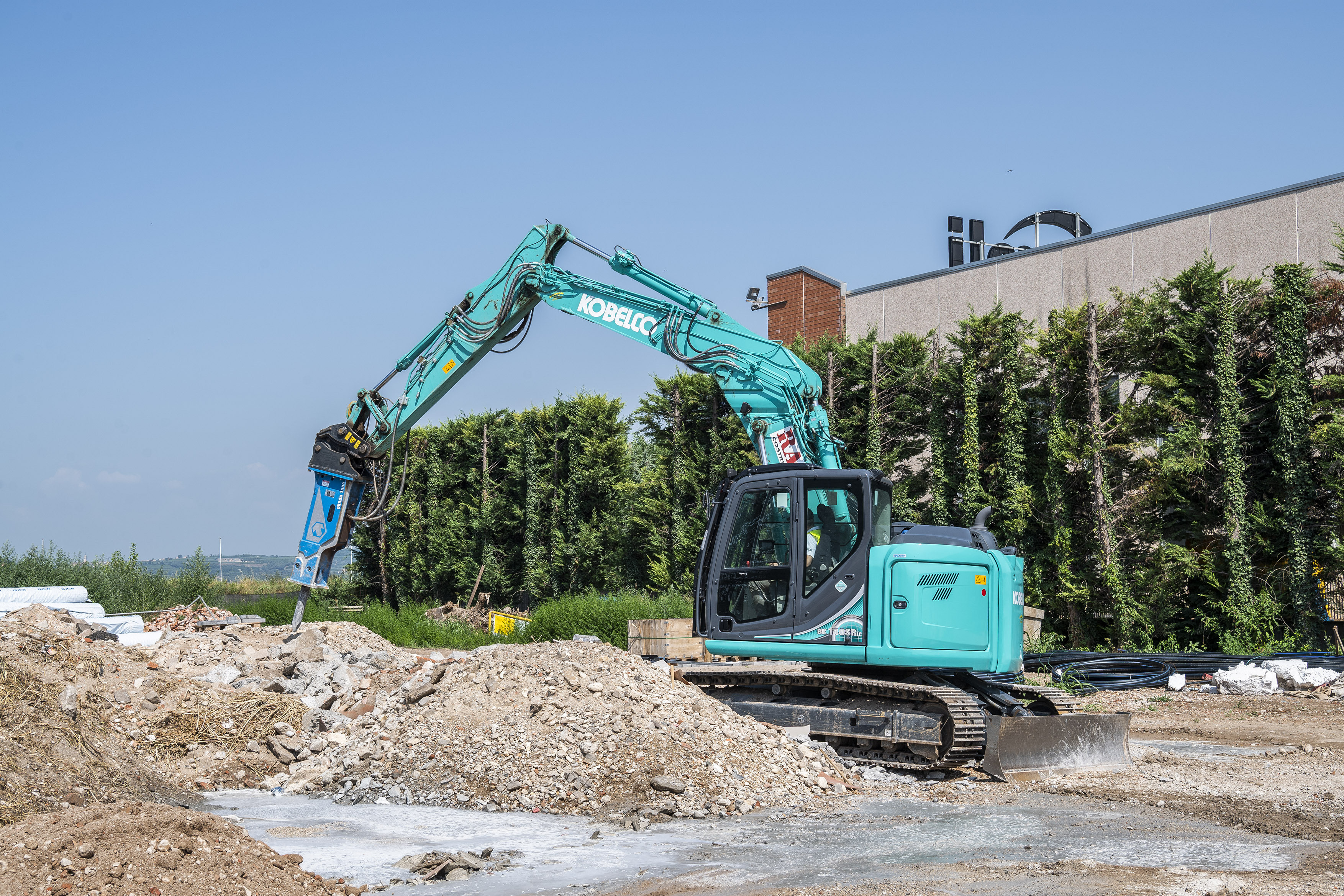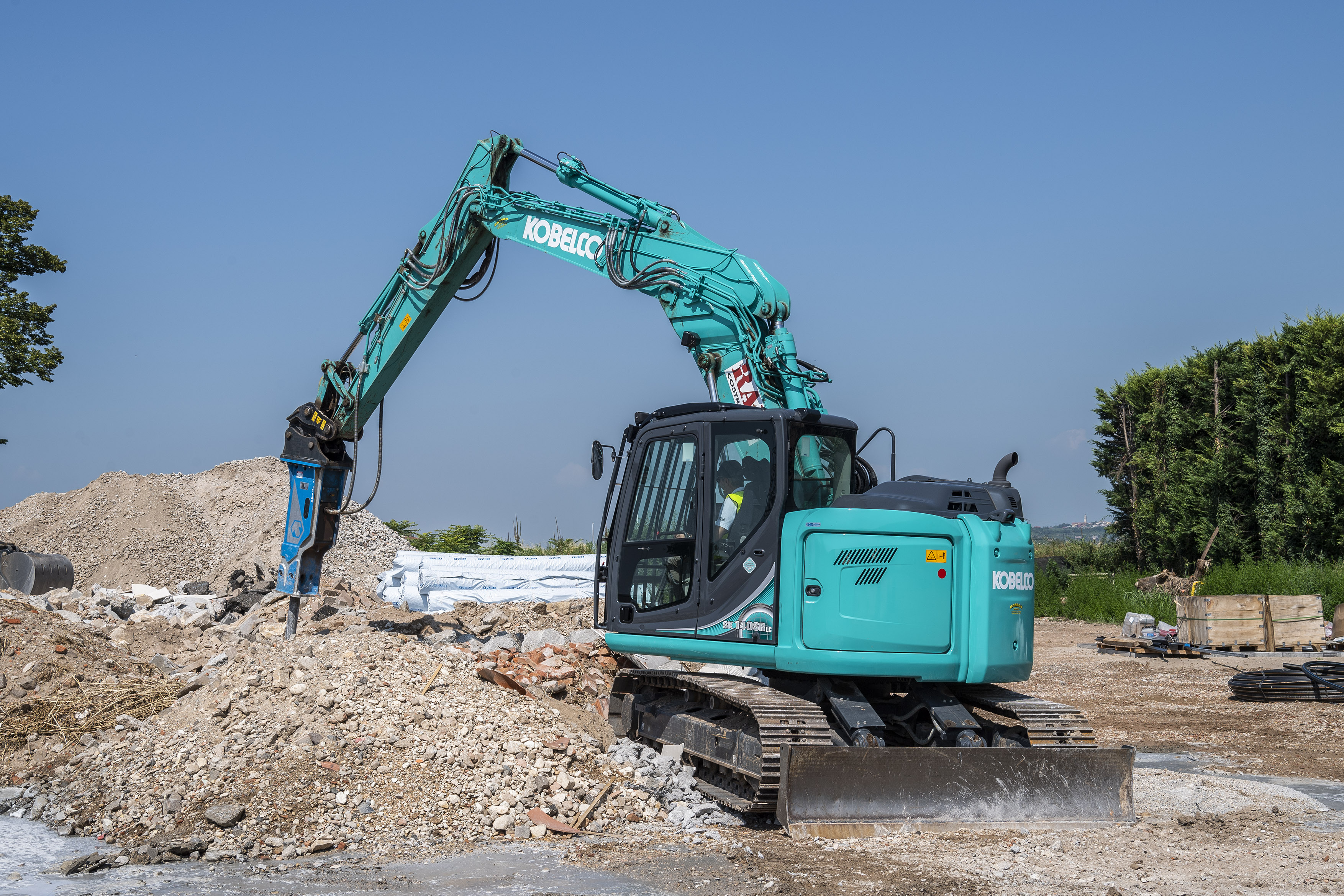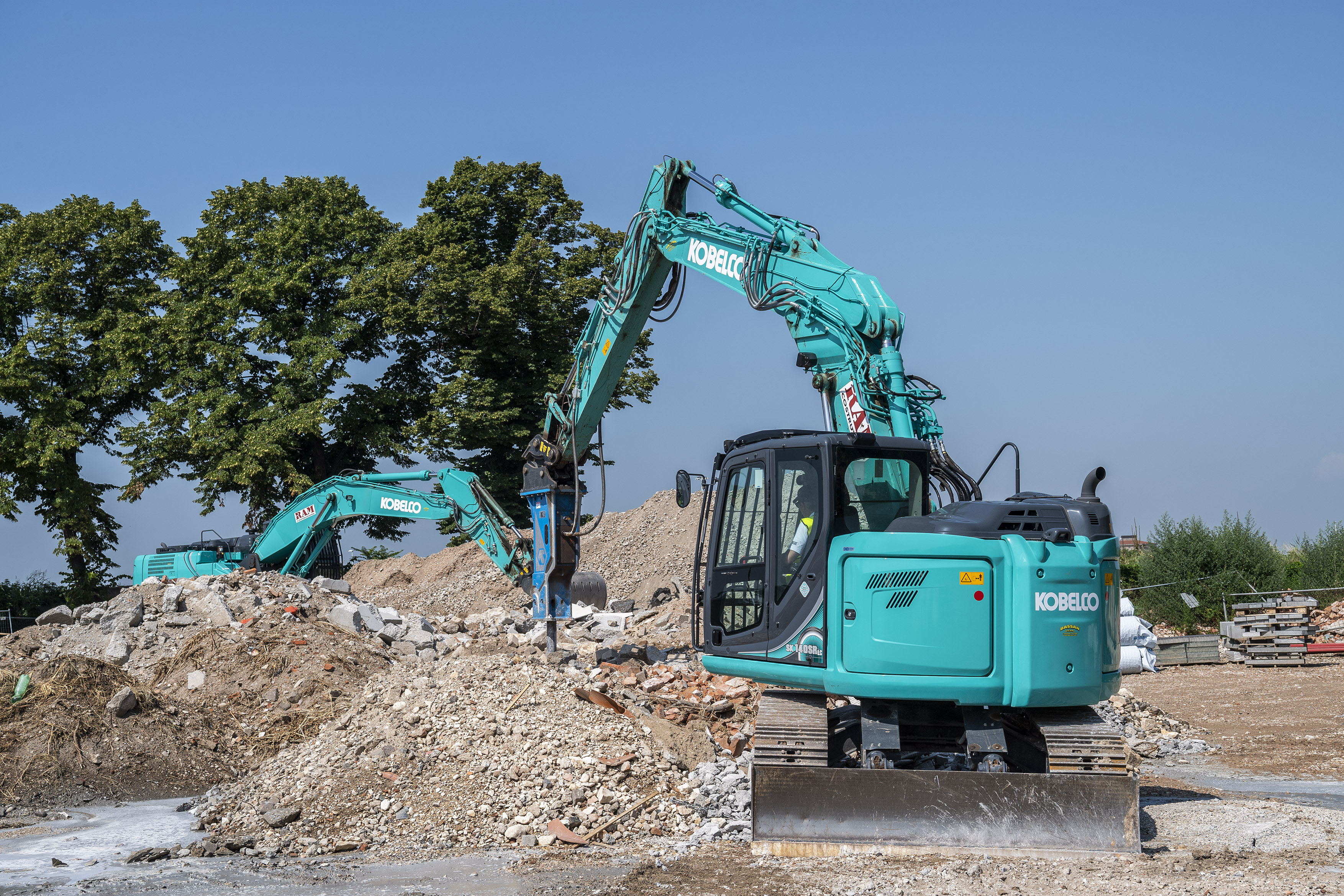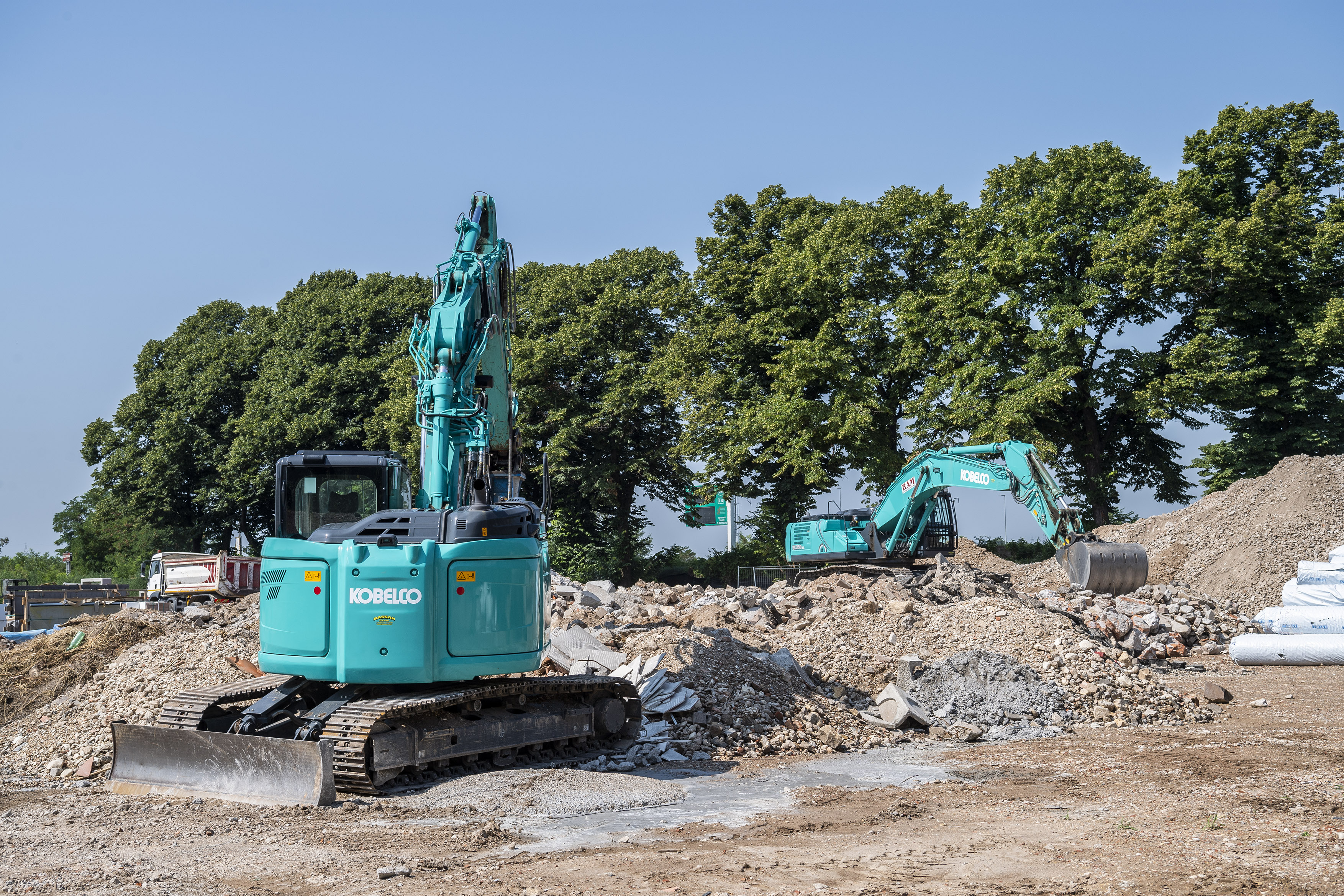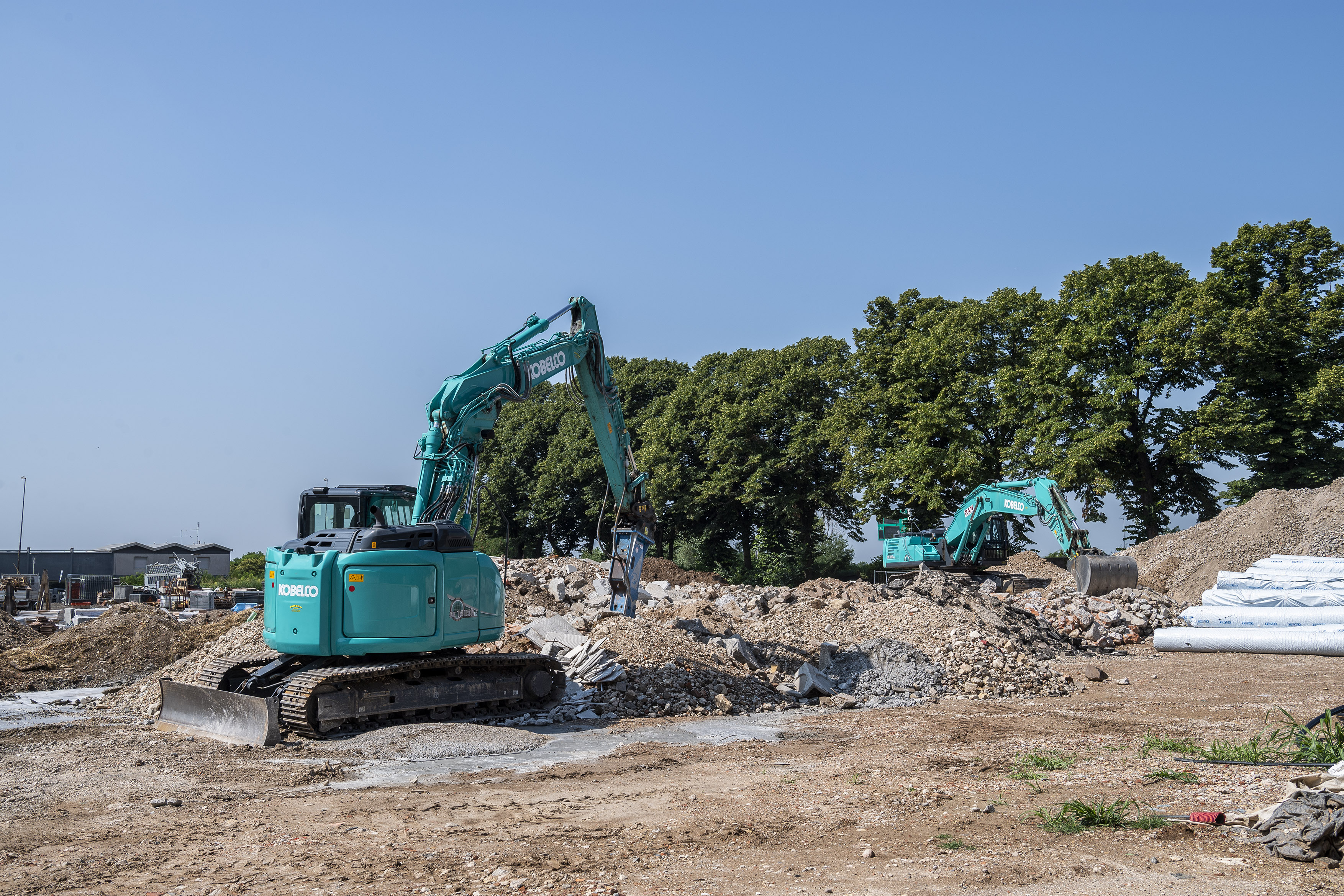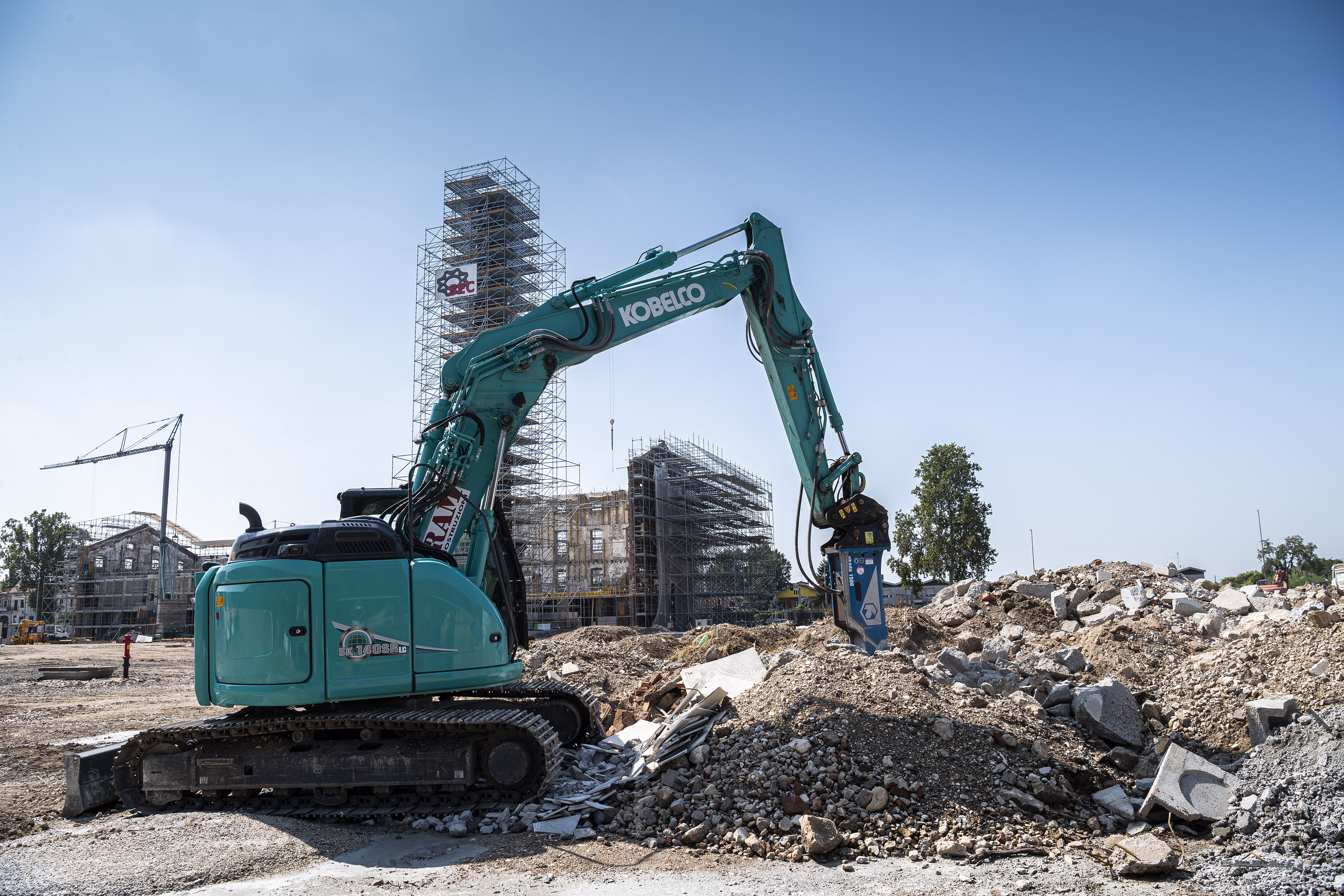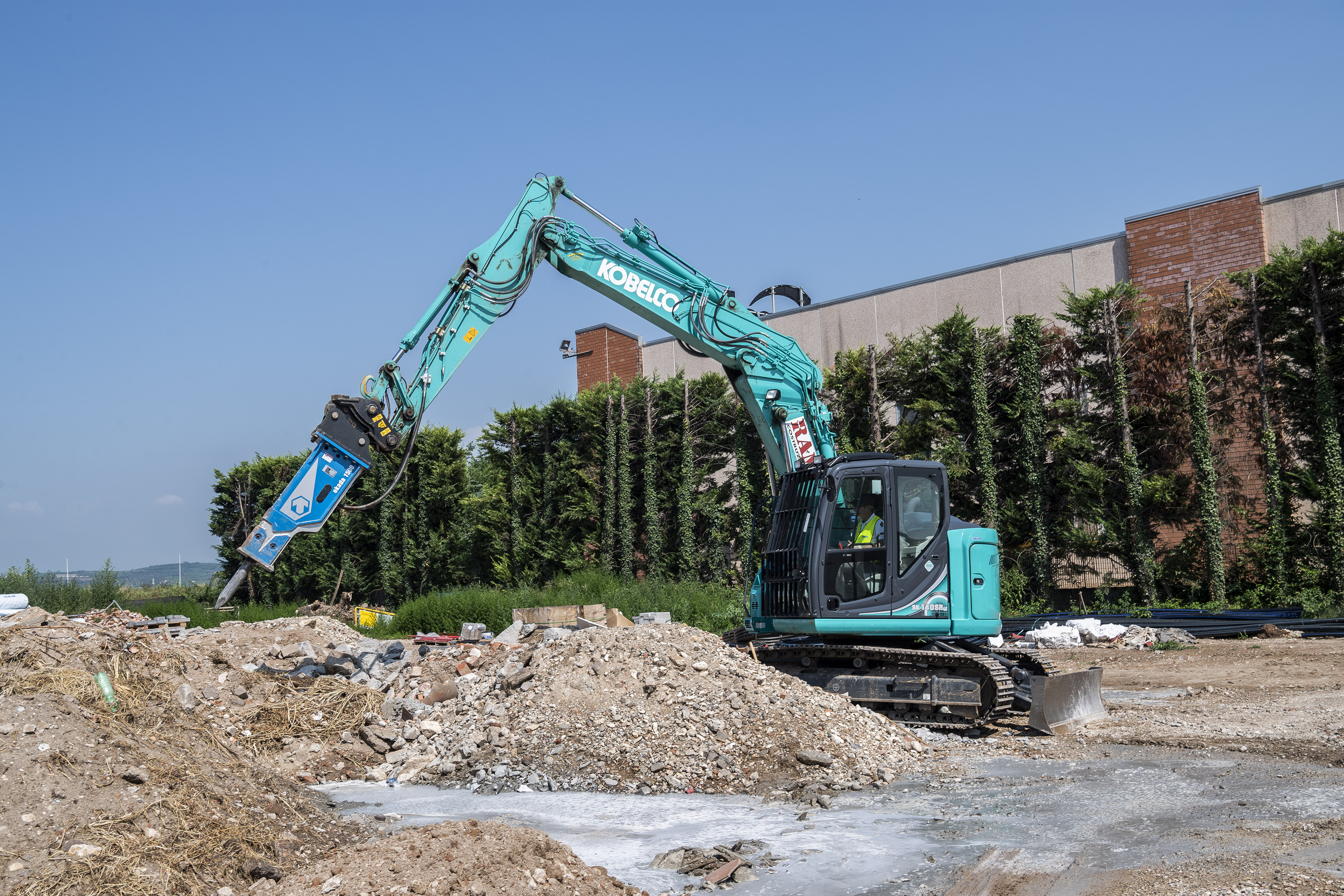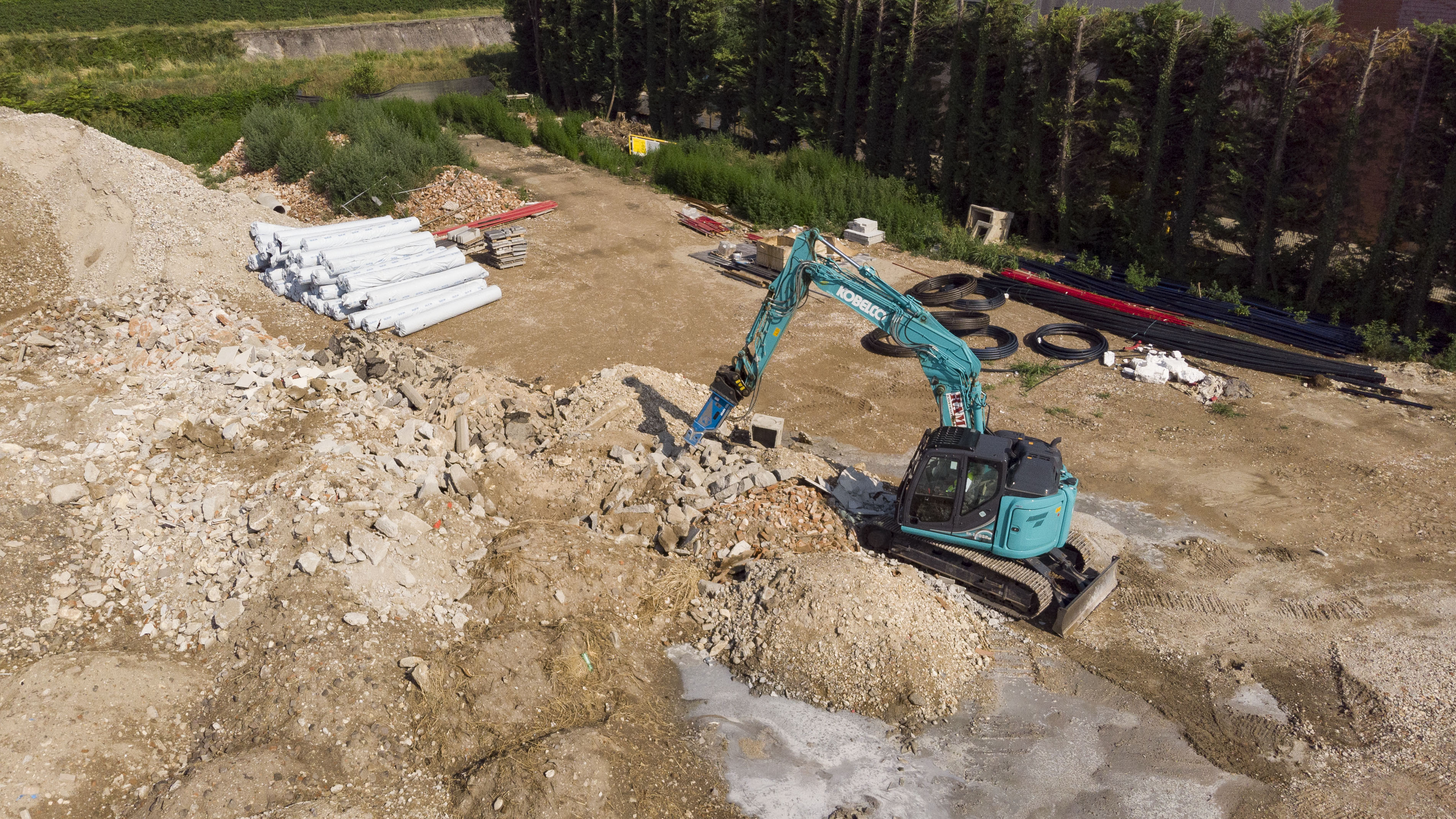 OUR DEALERS
Use our intelligent dealer locator to find your nearest Kobelco Authorised Dealer.